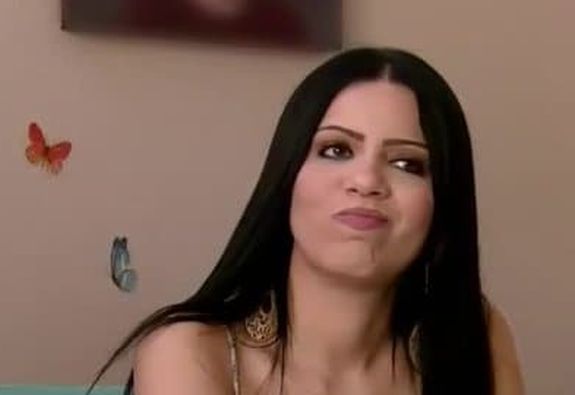 Larissa Dos Santos Limas ended up behind bars on Saturday night, following a day full of drama with husband Colt Johnson!
The 90 Day Fiance  Season 6 star was booked into the Clark County, Nevada, Detention Center– which is near the home she shares with Colt and his mother Debbie— on charges of first degree domestic battery. At press time, Larissa was still in jail and being held on a $3,000 bond. She is due to appear before a judge tomorrow morning, according to court records obtained by The Ashley.
This is a surprising turn of events, of course, given that just hours earlier Larissa was accusing Colt of various things, including trashing the home they share, hiding her phone and scaring her to the point where she was hiding in the bathroom and pleading with her Instagram followers to help her.
As The Ashley previously reported, Larissa used Instagram stories to show her followers the mess that Colt allegedly made of their home and cried that he was demanding that she pretend that they are no longer together so that he could continue to talk to the fangirls who constantly message him.
The Ashley will give you a moment to digest all that…
Several of Larissa's fellow "90 Day Fiance" stars reached out in the comment section of Larissa's posts on Saturday, offering to come help her.
UPDATE! Colt confirmed, via Instagram, that Larissa had been arrested and gave an explanation for his actions earlier on Saturday.
"Larissa was arrested this afternoon," he wrote. "She suffers from high anxiety and [severe] depression. She overreacted to problems that do not exist."
He confirmed that he did, indeed, deactivate Larissa's phone, but said he had a good reason for doing so.
"I proceeded to deactivate her phone to try to diffuse the situation," Colt wrote. "This escalated issues and matters became worse. She felt this action was a threat towards her and tried to reach out for help. Not long after her cry was posted, the police came and knocked down the front door. They drew their guns at me and handcuffed me.
"The police interviewed us but not long after they decided to arrest Larissa," Colt continued. "No one was hurt and I did not press charges against my wife. However it is policy in the state of Nevada that since we are in a domestic partnership, someone had to be arrested."
He also posted a photo of the flowers he had given Larissa earlier that day.
RELATED STORY: "90 Day Fiance" Star Larissa Dos Santos Limas Pleads with Instagram Followers to Call Police After Alleged Fight with Colt Johnson