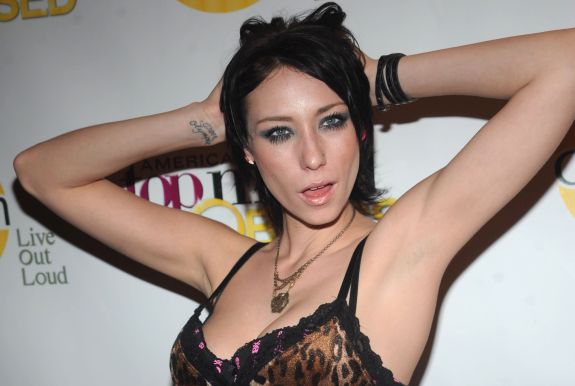 Jael Strauss— best known for competing on the eighth season of America's Next Top Model— has died, the friend running Jael's GoFundMe page confirmed on Tuesday. She was only 34 years old.
Jael's death comes just two months after she was diagnosed with rapidly progressive Stage IV metastatic inflammatory breast cancer. According to TMZ, the former model had been in hospice since Thanksgiving, and took a turn for the worse on Monday night.
"Today we lost our earth angel and she is back in the spirit world from which she came and we know she will be watching over all of us," Jael's friend Sarah Covey posted to the GoFundMe page. "She will dance at how we celebrate her life by spreading the love that she lived by daily with a reckless abandon. We can honor her best by trying to #lovelikejael."
In early October, Jael– who finished sixth during her season of 'ANTM' back in 2007–  publicly announced her diagnosis on her Facebook page.
"On October 2nd I was diagnosed with stage IV breast cancer," she wrote. "It has aggressively spread throughout my body and is incurable. With treatment it may prolong my life longer than the 'few months' doctors said I could make it. I don't want to die. I need another one of those miracles that I got back in 2013."
The "miracle" Jael was referring to is likely her journey to sobriety. Back in September 2012, Jael appeared on a memorable episode of The Dr. Phil Show, confessing that she had been battling a methamphetamine addiction. Following her appearance on the show, Jael went to treatment and, in August, she celebrated five years of sobriety and was working at a rehab center.
"I know that my story has helped so many people," she told Too Fab in 2016. "The number one important thing in my life is to help other people, so I wouldn't change that…"
Last year, Jael had even begun to model again, doing campaigns for The Leggings Project and HeartWater.
After her diagnosis in October, though, Jael put all of her effort into staying alive.
"I am doing my second round of Chemo and I'm not looking forward to it," Jael wrote on Facebook that month. "The misery is indescribable. But I'm fighting, to live another day and ain't nothing gonna get in my way."
In her last post to Facebook, on November 22, Jael reported that she had started hospice care.
"First night in hospice care," she wrote. "So many things I never knew about life. Or death. So many things."
In the comment section of the post, many people thanked Jael for helping them to get sober.
"I love you, Jael. You are a big reason why I am waking up sober this morning and I'm so grateful and thankful that our paths crossed," one person wrote.
"You were a huge part of my recovery and I won't ever forget the love you gave and I'm going to pass that spirit on," another wrote.
Jael's GoFundMe page raised over $19,000 of its $30,000 goal. That money will go toward funeral costs, as well as paying Jael's medical bills. To donate, click here.
(Photos: Brad Barket/Getty Images; Instagram)