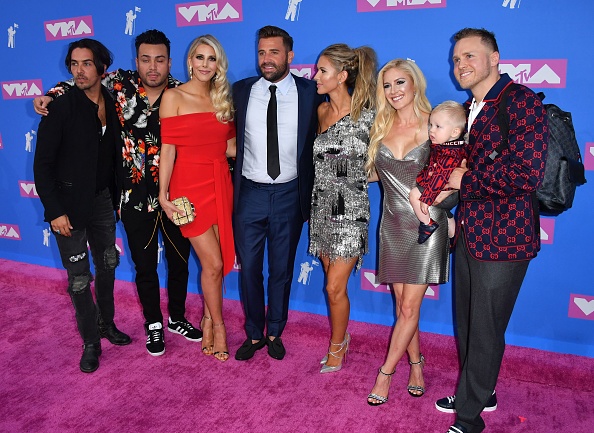 The Hills star Justin Bobby Brescia recently gave fans the scoop on the upcoming new episodes of the show, as well as the status of his relationship with Audrina Patridge.
(Strangely, we could have written that exact opening paragraph in 2008 and it would have been applicable…)
In a new interview with Entertainment Tonight, Justin Bobby talked about the status of his relationship with Audrina, who is appearing on the upcoming 'Hills' reboot, The Hills: New Beginnings, with him and (most) of the original cast.
Currently, the exes are both single, but according to Justin Bobby, they aren't ready to mingle… at least, not with each other, anyway.
He told Entertainment Tonight that a possible relationship with his ex-girlfriend was "not gonna happen."
"[That's] old school, new beginnings not for that, though," he said.
Justin Bobby may have grown older, but we're not too sure he's matured in the time since he last graced our television screens.
"[You] might [see me] meet a few ladies, but I'm so busy and fast. I'm too quick for love," he said.
(Um..?)
Justin Bobby was also asked for his thoughts on the new addition to the show, Mischa Barton. The actress joined the cast this summer, despite never having been on the original 'Hills' show.
"She's pretty quiet. She's a really quiet being, so nobody's really cracked her code yet, but we're getting to know her," Justin Bobby said, adding that he's looking forward to this show being less dramatic than it's predecessor.
"Everybody's not taking it as seriously as we used to," he said. "We're having fun. I have more fun with comedy than I do with drama, at least, I handle it better."
"Quiet being" Mischa must be filling the hole left by some of the original cast members, such as Lauren Conrad and Kristin Cavallari, who won't be appearing on 'New Beginnings.'
"We're not missing anybody," he said. "Anybody who's not there, we're not missing anybody."
Back in August, Justin Bobby was less tactful (go figure!) while discussing Lauren & Co.'s absences on the new series.
"It's a good cast. We've got all the good people left," Justin said in an interview the day MTV announced that it was rebooting 'The Hills.' "It's gonna be good. Everybody's happy. There are good vibes. When you've got s**tty people running around, it creates this ambiance you don't need."
'Hills' cast members who are slated to appear in 'New Beginnings' with Justin Bobby and Audrina include Heidi Montag, Spencer Pratt, Justin Bobby Brescia, Stephanie Pratt, Frankie Delgado, Whitney Port, Brody Jenner and Jason Wahler. Brandon Lee— the son of actress Pamela Anderson and drummer Tommy Lee— has also been added to the cast.
'The Hills: New Beginnings' will premiere in early 2019 on MTV.
RELATED STORY:  Audrina Patridge Films For 'The Hills: New Beginnings' As Her Ex Corey Bohan Files Court Order to Keep Their Daughter Off the Show
(Photos: ANGELA WEISS/AFP/Getty Images; Instagram)