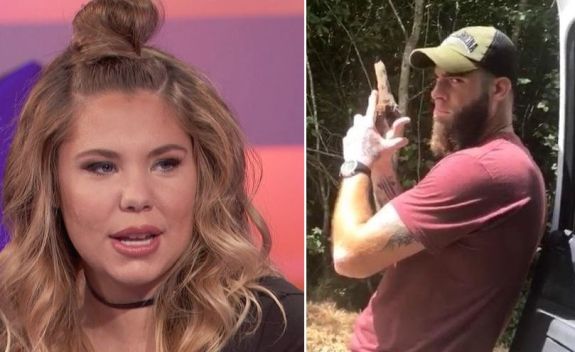 Kail Lowry didn't hold back while discussing the recent shenanigans of her former Teen Mom 2 co-star David Eason!
During the latest episode of her Coffee Convos podcast, Kail talked about David— who is the husband of Jenelle Evans— and his run-in with the Secret Service last week, as well as the creepy videos he's been posting lately showing himself shooting things and bragging about his weapons.
"I definitely think that he is unstable," Kail told her co-host Lindsie Chrisley.

As The Ashley has previously reported, Jenelle has been vocal about her support of David and his hi-jinks, regardless of what the consequences are for his actions. Kail criticized Jenelle for blindly supporting David.
"For me, as a woman who's been married before… yeah, stand by your husband but also not if they're completely out of their mind," Kail said. "He needs to be checked into a facility of some sort."
Kail also stated that she was worried about Jenelle's safety after David posted a series of videos showing him threatening to shoot anyone who comes on The Land unannounced, and then shooting at targets to demonstrate his skills. (You can watch some of the videos below, but be forewarned that there is a lot of naughty language in the videos!)
Kail said she was so concerned about Jenelle after watching David's videos that, despite their ongoing feud, she texted Jenelle to confirm she was OK. Kail said the phone number she had for Jenelle no longer belonged to the 'Teen Mom 2' star.
"I then reached out to a producer on the show and asked if we had confirmation that Jenelle was OK and I never got an response on that," Kail said, adding that the videos of David shooting guns while the couple's children are nearby worried her the most.
"He is going to set himself up, I think, to get into a lot of trouble. The whole situation is really unfortunate and sad because you can hear the kids in the background of him shooting at whatever he's shooting at," Kail said. "That's completely irresponsible."
"What concerns me, though, is the kids running around while he's shooting targets…I just think there needs to be some type of safety around [guns], and him doing that while the kids are running around outside is probably not the safest thing to do."
David— who was kicked off 'Teen Mom 2' in February after going on a homophobic rant on Twitter— recently started a YouTube channel to keep people posted on his latest hijinks, rants and assorted shenanigans. (The first video he posted has already gotten him into trouble with the Wilmington, North Carolina, police.)
Kail stated that she believes David continues to post controversial videos because he is no longer allowed to appear on 'Teen Mom 2.'
"He loves the attention and he has to get it some way or another because he's not on the show anymore," she said.
It looks like, even after the trouble David's "self tow job" got him into, Jenelle is standing my her man. On Thursday, she posted a photo of herself with David to Facebook Stories, along with the hashtags "#ForeverAndAlways" "#LoveYouAlways" and "#AgainstAllOdds."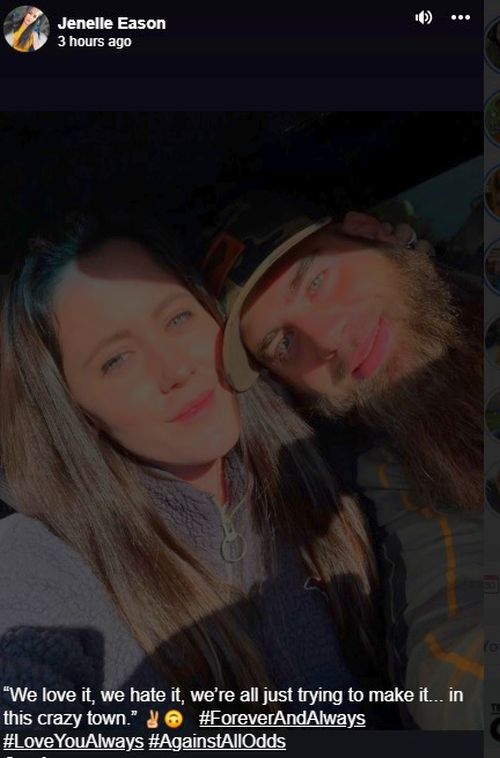 Listen to the entire Coffee Convos podcast episode below!
RELATED STORY: 'Teen Mom 2' Star Jenelle Evans & Husband David Eason Under Police Investigation After Posting Video of David Illegally Self-Towing a Stranger's Truck
(Photos: MTV, Instagram)