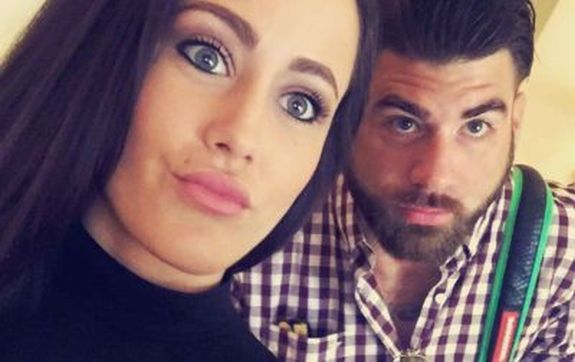 Teen Mom 2 star Jenelle Evans and her husband David Eason took it upon themselves on Wednesday to aggressively tow a stranger's truck because they believed the truck's owner parked too close to David's boat. As per usual, the controversy-loving reality stars filmed the entire incident– and it seems that the Wilmington, North Carolina, police are none-too-thrilled with the Easons' do-it-yourself "On The Land" Towing Service!
Wilmington Police Department Spokesperson Jennifer Dandron confirmed to local WECT News that they are investigating the incident.
"We were made aware of the video soon after it was posted online and immediately began investigating it. This is an absolutely inappropriate way to handle parking issues," she told the news outlet, before confirming that the truck's driver has been identified.
In the video, which David said he posted to his newly created YouTube channel because Instagram is still locking him out (over his other recent shenanigans), David can be seen hooking a winch to a truck that is parked behind his boat. He then uses his own truck to try to pull the stranger's truck backward. When his first attempts fail, David declares that he has to "drag it f**king sideways!"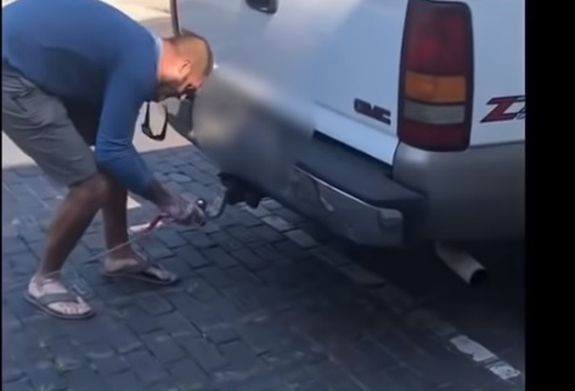 The stranger's truck starts screeching as it is pulled backward aggressively. Jenelle can be heard cackling behind the camera.
"Pulled that motherf**ker out of the way!" she declares gleefully.
David proudly posted the video to his new YouTube channel, promising subscribers even more videos of  On-The-Land (and around The Land) hijinks!
"Learn the right way to deal will a$$holes who think it's cool to block you in a parking space," he wrote. "Good thing my trailer has a folded tongue that allowed me to get my truck out so I can tow him out of the way, in order to move my boat. Subscribe to my page to see a lot more interesting videos in the future!"
According to WCET, the Wilmington PD is now investigating the incident, and it has yet to be determined if David and/or Jenelle will face charges.
The incident occurred in Downtown Wilmington.
Of course, this is just the latest controversial video to come from David. Last week, after getting a visit from the Secret Service, David posted a series of chilling videos in which he threatened to shoot anyone who came on The Land unannounced. He also showcased his arsenal of weapons and ammo in the videos. One day later, in a second video, he seemed to be recanting some of his statements, though. He also announced that Instagram had blocked him from logging into his account.
In the YouTube video's comment section, David and Jenelle were scolded for what they did.
"What did they even do wrong? They were perfectly in their space," one person wrote of the other driver's truck. "Looks like your boat motor was in their space. You two are so childish. If someone did this to y'all, oh my lord you two would flip out."
"Destruction of property because you're annoyed? Cute," another person wrote. "You broke the law, they did not. There was plenty of room for them to park there and if you didn't want people to park there you should have pulled the boat into both spots and paid for both spots. You literally just posted evidence against yourself thinking you were in the right. This is comedy gold, but I hope the owner gets a nice new truck out of your stupidity."
Watch David's video of the incident below. (Be forewarned, though, that it does contain plenty of naughty language!)
UPDATE! Ben Sharp, a reporter for WECT, has interviewed the owner of the truck that David and Jenelle "towed." According to tweets posted by Ben on Wednesday night, the owner– Terry Hill–claims that the incident took place in June, and that his truck's transmission was ruined because of what the Easons did.
"I have just wrapped up an interview with Terry Hill, the man whose truck was towed by Eason," Ben tweeted. "Terry confirmed it was his truck in the video. He had to replace his transmission after this. The incident happened June 13."
Ben stated that WECT reached out to David for a comment, and David initially tried to lie and say that it was staged and they used his friend's truck in the video as a way to increase subscribers to his YouTube account. However, Ben then told David that he knew this was a lie, given that he had just interviewed Terry, the real owner of the truck, who does not know David and Jenelle.
"David Eason, reached by email, claims this was a YouTube stunt to gain followers," Ben tweeted. "David said this was his friend's truck, and even doubled down when I told him we were interviewing Terry. David repeatedly denied requests for an interview, saying he didn't have time."
In the video, Jenelle can be heard commenting that the owner of the truck did not have any money left in their parking meter and seemed to use that as a reason for their "tow." Ben explained why Terry did not have any money in the meter.
"Terry also had a handicap sign on his truck. He has knee problems. People with handicap signs can park for free in downtown Wilmington without paying anything in the meter," Ben tweeted.
Terry reportedly told Ben that he will not try to get the cost of damages back from David. However, the Wilmington Police are still investigating what happened.
"Terry, whose truck was damaged by David Eason, tells me he has no intention to sue David," Ben tweeted. "Terry told me he just feels bad for David, who verbally threatened Terry that day. The local police are currently investigating, they have not released any charges filed yet."
Terry's interview appeared on the local news on Wednesday. Watch it below:
Full Local News & Interview #TeenMom pic.twitter.com/pNFvGf5jKw

— *Cause I Find You* (@TMMamaDrama) December 20, 2018
UPDATE #2! On Thursday, Jenelle responded to the news report featuring Terry. In a message shared to her Facebook page, she blamed Terry and blasted WECT for being "fake news."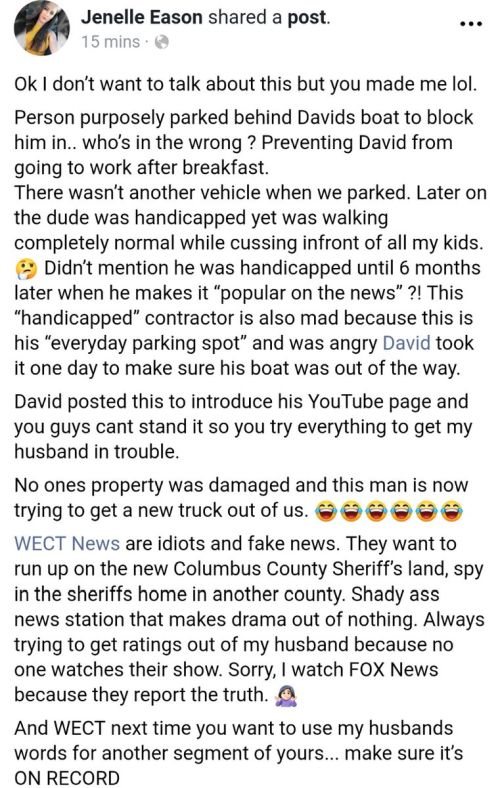 RELATED STORY: Jenelle Evans' Husband David Eason Clarifies His Statements About Shooting Trespassers on "The Land"
(Photos: YouTube, MTV)