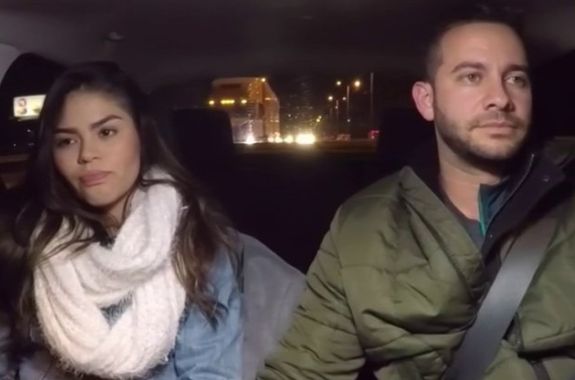 The drama continues between 90 Day Fiance stars Jonathan Rivera and Fernanda Flores, with all signs pointing to their marriage being truly over.
Last week, Jonathan and Fernanda (kind of) addressed the rumors circulating that said they had split. Jonathan claimed that Fernanda left him to go to Chicago to pursue a modeling career. At the time he said he, "could only give her so much."
He recently expanded on what went wrong in their whirlwind romance.
"Listen, this is the last comment I'll make," Jonathan said. [Sure, Jan…]
"We wouldn't have been married had we not had the time constraints," Jonathan wrote in the comment section of one of his recent Instagram posts. "90 days isn't enough time to get to know someone. We had the best intentions."
Jonathan confirmed that Fernanda's model dreams were a large part of the reason they split.
"Commitment means everything, but it's a two-way street," Jonathan wrote. "When you give me an ultimatum of closing my business or moving to continue my relationship so you can pursue your dreams, you put me in a tough position. I work too hard to just give it up. I'm also committed to my business and responsibilities."
Some fans, however, are still speculating that this is just a ploy to get the couple more screen time, or possibly a spot on one of the franchise's spin-off shows. When a fan accused Jonathan and Fernanda of being together but having to pretend to be fighting in order to get ratings for the show, Jonathan confirmed that was false.
Surprisingly, Jonathan still had nice things to say about his ex.
"I know she'll be a star," he said. "I'll always support her."
Jonathan said he does not think Fernanda was using him just to get screen time, as some fans suggested.
"Fernanda and I were already approved for the K-1 before ever being approached by the show," he wrote. "I don't believe her intentions were for fame, that may have changed."
He also defended himself against fans who accused him of not working hard enough to save his marriage.
"Two years of trying isn't sufficient?" Jonathan wrote to one fan. "This didn't happen over night…"
Jonathan didn't weigh in on whether the young age of his bride was a factor in their split. Fernanda was only 19-years-old when they got married (although in the comment section of the Instagram post, he tells a fan he thought she was 24 when they first met).
Fernanda has remained relatively tight-lipped on her split from Jonathan. Although she did post a photo of herself shooting a gun, along with a caption about "something" trying to destroy her, she has turned the comments off on her Instagram posts so that fans can't weigh in.
To catch up on what other "90 Day Fiance" couples have been up to lately, click here!
RELATED STORY: "90 Day Fiance" Stars Jonathan Rivera & Fernanda Flores Address Split Rumors 
(Photos: TLC, Instagram)