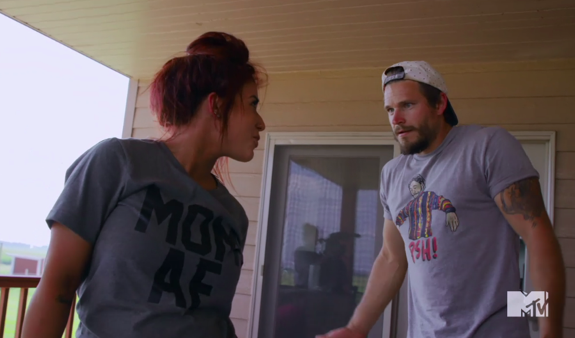 Buckle up your gaggle of children, throw on your favorite "Mom AF" shirt and get ready to stand by your man… it's time for another episode of Teen Mom 2!
We first check in with Briana who is sipping on a fruity concoction out of a lightbulb glass. (The DeJesus family collection of McDonald's Jurassic Park collectible plastic cups must have been in the dishwasher?)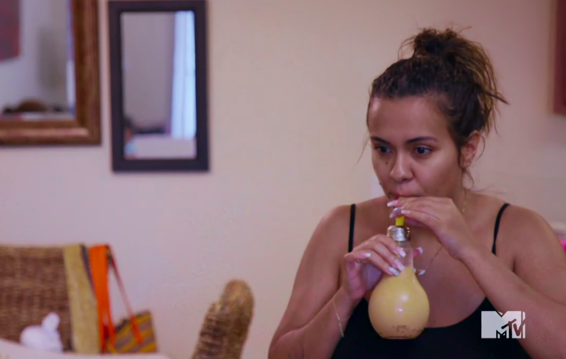 Briana's lightbulb elixir seems to have put her in a good mood as she's decided to let Devoin take Nova out for an afternoon of fun and games, via an Uber ride, naturally. (As Briana tells us, Uber is Devoin's only option, given that he doesn't "have no car or license.")
Devoin arrives and appears to be having a hard time standing up straight. He manages to pick Nova up and bid the DeJesus gals farewell, all without ever really opening his eyes.
Devoin will be taking his daughter to an establishment called "Monkey Joe's." We can assume that "Monkey's Joe's" is like Chuck E. Cheese's— same skull-splitting noise level and same rip-off arcade games but minus the big furry rat.
Devoin and Nova finally make it to Monkey Joe's (surely after spending a good hour or so waiting while the other people in their Uber Pool got dropped off). The two enjoy playing some arcade games while Devoin tries to make small talk with his daughter about her upcoming first day of school. (Clearly his Uber driver gave him some ice breaker suggestions in exchange for a five-star rating. #WinWin)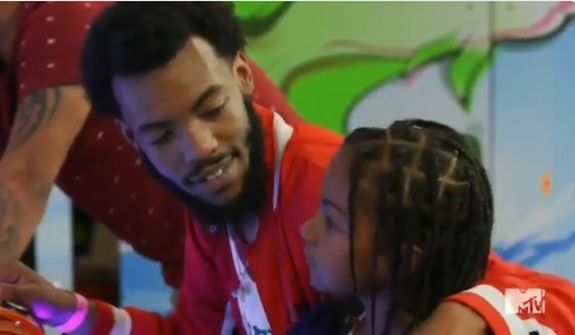 Over in West Virginia, Leah has just picked Addie up from her first day of kindergarten and she's less-than-thrilled that she didn't get to play on the playground very much.
"We just got to rest our eyes," Addie tells Leah.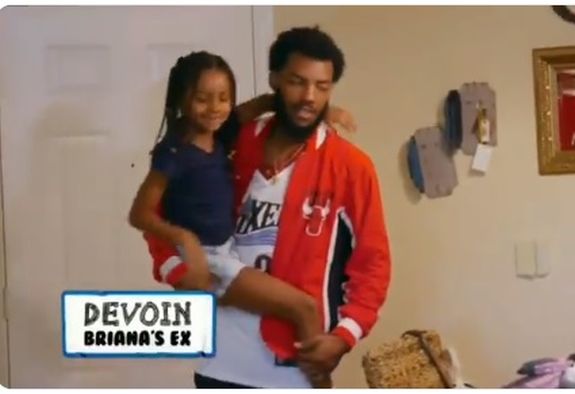 Back at her house, Leah calls Corey to see how the other girlseses' first day of school went. She tells Corey that she's looking into getting an special needs advocate to help them work with the school regarding Ali's needs. She says she's looking up some phone numbers for attorneys who may be able to help them fight the school to get Ali better care.
Corey agrees. (We know this because they had to bust out the subtitles so we could understand good ol' Corey Tyler's mumbling.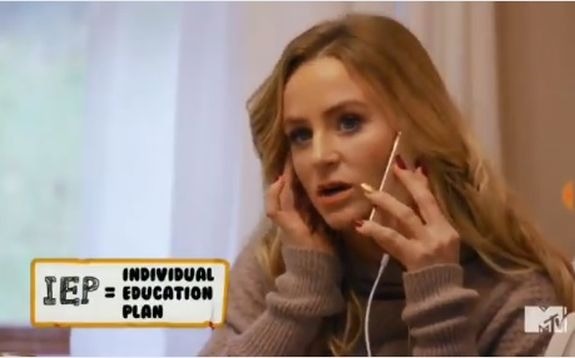 Next we check in with Chelsea, who is busy herding all of her assorted animals to take them inside. Pete the Pig makes an appearance, as does a dog named…Barbara! (I can just hear Barbara Evans sitting at home, watching the episode and talking to the TV: "Well, Chelsea, I see ya named ya dog afta me!")
Anyway, Chelsea's mom, South Dee-ko-tah Mary is also hanging around Chelsea's new Log Mansion. Chelsea is 33 weeks pregnant, and Mary thinks that Chelsea could go into labor at any time (dontcha know!)
Chelsea gets up from her chair and discovers a pool of liquid under her butt. She gets nervous, wondering if her water has broken. Chelsea looks at the camera and makes sure the viewers at home know that the "wetness" is not due to her peeing her pants.
"I just want that to be clear!" she says as she rubs her butt.
She calls Cole over to help her determine whether she sat in water or if she's about to pop baby number three out, right there next to the chicken coop and pig pen.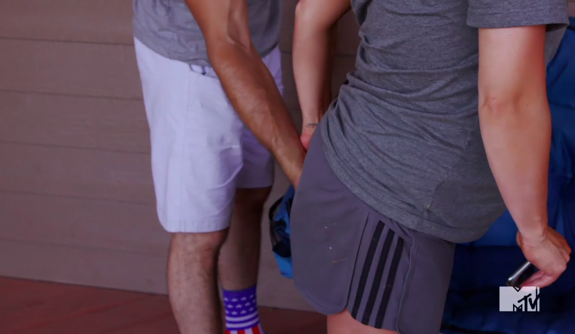 Cole determines that the buttcheeks in question are, indeed, moist. However, he is unsure if the moisture was caused by a leak in Chelsea's baby chute or just a wet chair.
Chelsea's mom suggests she take a ride to the hospital to get "swiped" and find out what the mystery substance on her gym shorts is.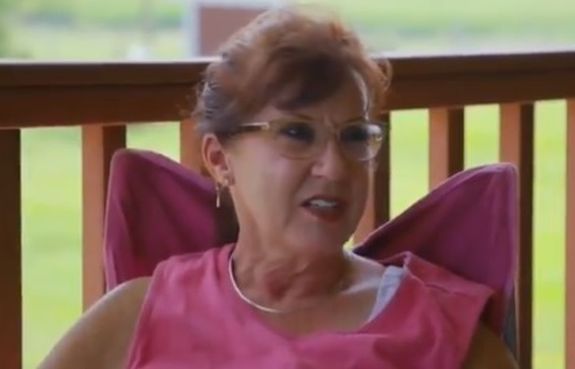 South Dee-ko-tah Mary tells Chelsea that, had her water broken, she would be feeling wet in her front (aka her gentleman greeter would feel like a 'crick'). Chelsea is concerned that the baby will come too early, resulting in her having to stay in the NICU.
Cole and Chelsea decide to go get Chelsea checked out at the hospital, just to be sure she's not in labor. On the drive over, Chelsea has some contractions and she starts to panic.
Over in North Carolina, Hurricane Florence has just passed over The Land. Jenelle had all the kids at her house during the storm, but everyone came out unscathed (but perhaps not "unscabied.")
Jenelle tells her mom Barbara all about the wet and wild weather. For some reason, Jenelle is really proud that she and Lurch didn't evacuate as they were advised and instead hunkered down on The Land until the storm passed.
Hey, some things are just too valuable to leave behind. I mean, Jenelle's endless supply of trucker hats, and Lurch's Hooked on Phonics tapes aren't gonna save themselves! Luckily, though, the hurricane didn't actually hit Jenelle's home.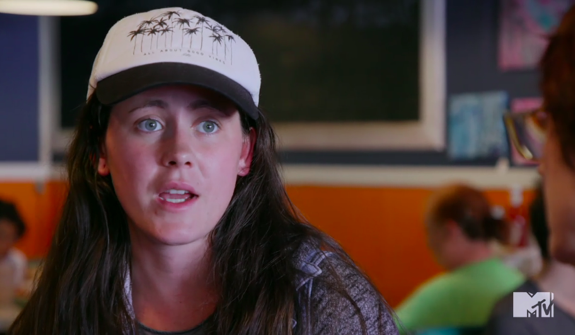 Aside from leaky roofs, a nearly-collapsing floor, and having no electricity, the Evans-Eason clan survived on The Land.
Jenelle says that she and the family bathed in their swamp-water-filled pool to maintain their impeccable hygiene.
"I really felt like we were in a third-world country," Jenelle says.
Well…that's probably how most people who visit The Land would describe the place…
Jenelle says that Nathan's mom Doris suggested that Kaiser ride out the storm at her place, rather than sit in Jenelle's leaky and dark house and bathe in the swamp pool.
"She was insinuating that she could take better care of Kaiser during a hurricane than I can!" Jenelle says.
Um…I'm pretty sure Chelsea's pet pig could take better care of that boy than Jenelle does…just sayin'…
Anyway, things start to get really HIGH-larious when Jenelle starts bragging about all of Lurch's survival skills. She credits his doomsday prepping for preparing them for the hurricane, as well as "the whole Kim Jong-un thing."
I…CAN'T….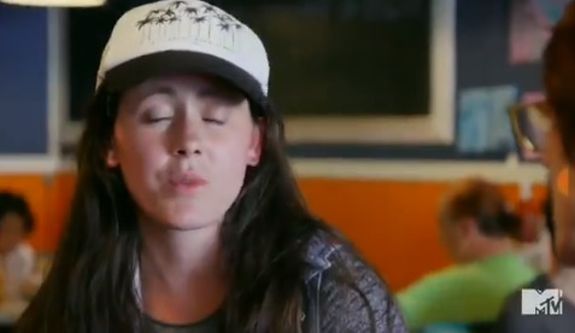 Over in Delaware, it's almost time for Lux's first birthday so Kail and her trio of boys are off to do some cake testing. (You know Kail is secretly pretending this is a cake-testing for her wedding to Lux's dad, Chris!)
Kail and her crew maul some pastries, and then they head home. Kail decides it's time to burn some sage and talk about Chris with her friend Kathy. She says that the sage-burning is to "get rid of negative energy," but I'm convinced it's some sort of love spell concoction Kail's cooking up to rub on Chris when he comes over for Lux's birthday party.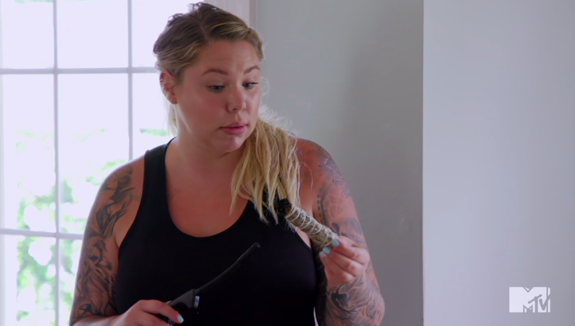 "I don't know if Chris and I are in a relationship," Kail says [spoiler alert: they're not]. "He's the one person I feel like I never really got over.
Kail tells Kathy she isn't interested in dating other people, though she'd forgive Chris if he was dating other people himself. She tells Kathy she's "addicted to the chaos" which coincidentally would be a great alternate title for this show.
Kail says that even if Chris "cheated" on her right now, she'd be right back to drooling over his Instagram photos in about two weeks.
I think that's nice…
Back in Florida, Brittany has crawled out of bed and relocated to the couch. She commends Briana for getting out of taking Nova to Monkey Joe's because she has "the soul of a fat person…you don't wanta be walkin' nowhere doin' nothin'".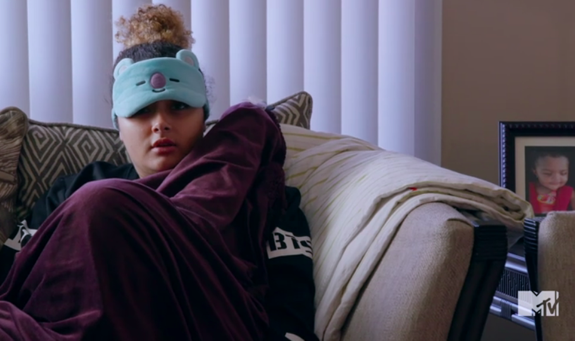 Brittany reminds Briana that she can't have Dr. Miami-enhanced body swingin' all over the damn place. She could poke a kid's eye out! Safety first!
Next, we swing back down to The WV, where Leah's "setting" at her boyfriend Jason's house, calling up a special needs law-yer to talk about Ali's education plan. Leah says that this will be the first time she's spoken to the law-yer so…why not do it on-camera!?
Leah gets the attorney up-to-date on everything and is hopeful about how things will be handled with Ali going forward. She hopes that the school bus will agree to take Ali's "willchair" with her each day to school.
After Leah hangs up, Jason says that he's down to help Leah in any way that he can. (Careful there, Jason. The last guy who said that was Jeremy, and he ended up in a van full of trash, old fast food wrappers and jackets, hollerin' on the TV cameras!)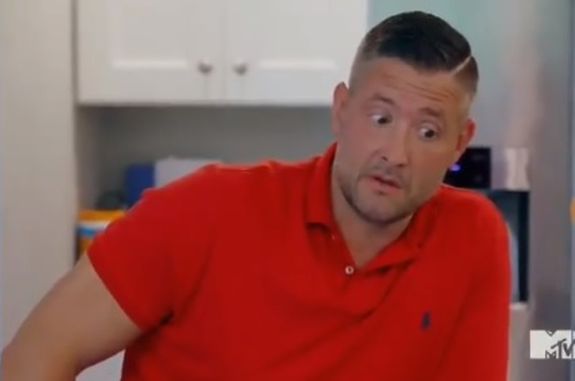 Meanwhile in Delaware, Lux's birthday is finally here, but MTV is cordially NOT invited due to Chris and his family deciding to RSVP "yes" to the event. The MTV crew basically had to chill out in creepy vans outside the house while Chris & Co. yucked it up at the party, but they were allowed to come back in once King Chris had left.
(I will give Chris credit for resisting those MTV paychecks, though, even after all this time. All of the girls' other significant others/baby daddies/general bootycalls have eventually cracked and agreed to film because they were unable to turn down that MTV dough!)
Anyway, Kail is busy wrangling kids and patting herself on the back for convincing Chris to come to the party.
She tells Producer Patrick that things between her and Chris go back and forth, but it's totally obvious that she is expecting Chris to one day realize how much he loves her and that want to be with her forever.
Kail then tells Producer Patrick that as thrilled as she was to have Chris and his family at Lux's party, it made her wish that her own family was in attendance, namely her mom—who we affectionately call Smirnoff Suzi. As longtime fans of the show know, The Suz has never been close to the Kail or Kail's kids…or sobriety for that matter!
All of Kail's baby daddies have families that are very involved, and that makes Kail feel left out. She says that she's thinking about trying to reconnect with her mom, whom she hasn't seen in years.
We are then are treated to a few flashback clips of Suzi (in all her spiky-haired glory) during Kail's 16 and Pregnant episode, as well as a clip from an early season when Kail tells Dr. Drew that she left baby Lincoln with Suzi for two hours, only to find Suzi tanked when she arrived home.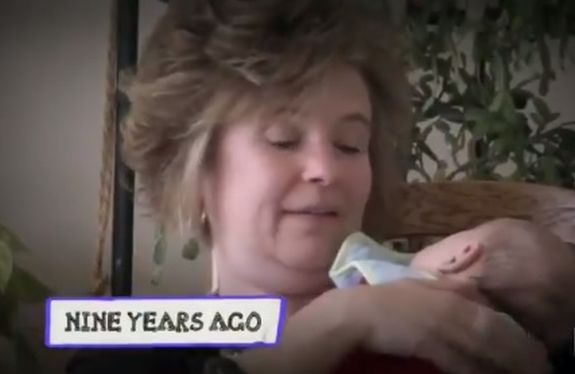 "She'd be sober for a week and then go missing for a week," Kail tells Producer Patrick of Mommy Dearest. "I was Isaac's age staying home by myself, and I had every bar in town memorized and I would call to see if my mom was there."
Anyone else think that Suzi and Catelynn's mom April would have made great drinking buddies?!
Speaking of Catelynn, Kail is about to film a podcast episode with her and Tyler Baltierra, so she decides to talk about the issue with them. She hopes that Ty and Cate can tell her how to have a relationship with Suz without wanting to beat her to death with an empty vodka bottle on the regular.
Back in North Carolina, Jenelle heads to the pumpkin patch with two-thirds of her kids and Barb for some quality photo ops to post on social media. It's the fall version of "family picnic time."
Of course, Lurch has been shut-out of the Great Pumpkin Patch Caper, which Jenelle is not too happy about.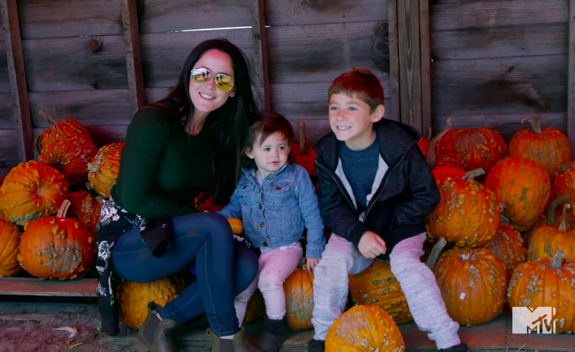 The next day, as Jenelle and Barb are slopping down their free meals at a restaurant, Producer Kristen informs Jenelle that, while she was busy forcing her kids to smile for the camera at the pumpkin patch, Lurch was blowing her phone up, threatening to show up and shut down filming.
"He's like, 'How dare you take Ensley to the pumpkin patch?'" Kristen says Lurch texted her. "'If you continue to film with Ensley, I'll come there and ruin the whole shoot. You're not going to push me out of my own life! You should be ashamed of yourselves, all of you!'"
"Yeah, yeah yeah," Jenelle says. (We can almost see the wheels in her head turning, trying to wiggle her Lurch-of-a-husband out of the mess he's created.)
Jenelle says she didn't know about the texts, but immediately starts defending Lurch for sending them anyway. She says Lurch felt left out for not getting to be in the social media photos and he's placing the blame on MTV.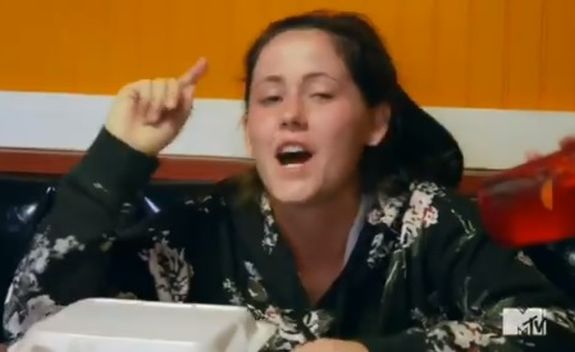 Jenelle then seems to switch game plans mid-sentence. She starts to laugh hysterically and says that Lurch was probably just trying to make Kristen "s**t her pants."
It was all a joke, guys! That rascally Lurch was just playing a funny on the MTV producers!
"He was just trying to f**k with you because he was pissed off," Jenelle says.
Kristen does not look convinced, but Jenelle continues to brush the whole thing off because David is totally harmless, dude.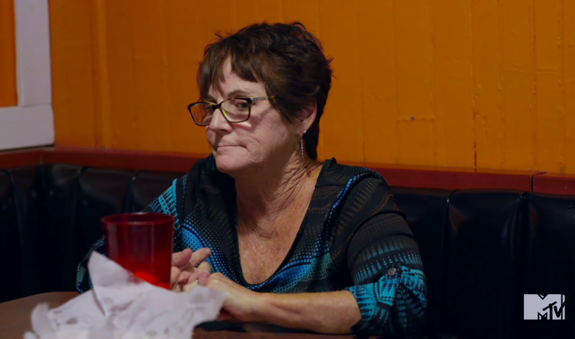 Back in Florida, it's time for Nova's first day of school. Briana has suited up in her finest Fashion Nova track pants for the occasion. (Roxanne is probably wearing her signature red pumps, just in case a kid tries to mess with Nova. We all know what Roxanne is capable of doing when she's armed with shoes!)
Stella is coming along too, and she doesn't seem to be thrilled about the trip.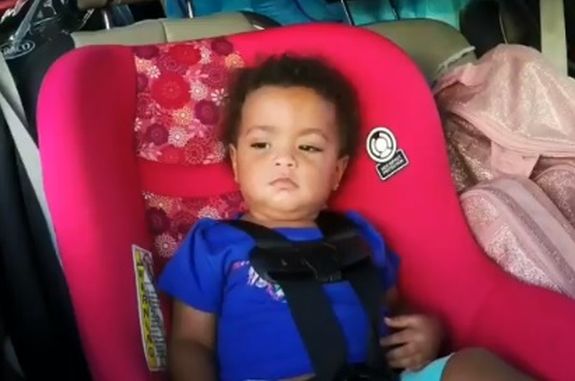 They pull up to Nova's school (which is apparently inside the Publix Grocery Store? Do the kids attend K-6 in the deli, then move over to the paper products aisle to attend junior high or…?)
On the way in, Nova remarks that there are not any kids outside. (Um…that's because you go to first grade in a grocery store, hun…)
Briana makes Nova stand there and take the obligatory "hold the weird sign so I can post your photo on Instagram" picture.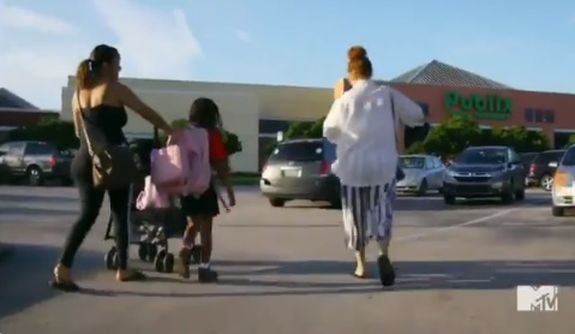 Once they're inside the classroom, Nova's being stared at like a fish in a fish bowl. (After all, she is the only kid who brought a camera crew to the first day of school.) Nova begins to get emotional and is crying. Roxanne says Nova has a case of separation anxiety—the same thing her Aunt Brittany suffers from when she's away from the couch for too long.
Later that day, Roxanne, her pumps, and Briana go to pick up Nova at school. Nova survived her first day of 1st grade and, just like Addie, is not too happy with the lack of recess allotted. Despite the shortage of playtime, Nova said she had a good day and then Briana randomly reminds her that she can go visit her dad whenever she wants.
Next, we head to New York City, where Kail and her co-host Lindsie are recording their podcast with Cate and Tyler. Once they start rolling, Tyler says Butch is killing it in his new drug-free lifestyle, while Kail says she doesn't even know if her mom knows she's had a third kid.
She says that, whenever Suzi isn't lying in a pool of her own vodka-smelling vomit, she's a really good person, and she wants her kids to experience that.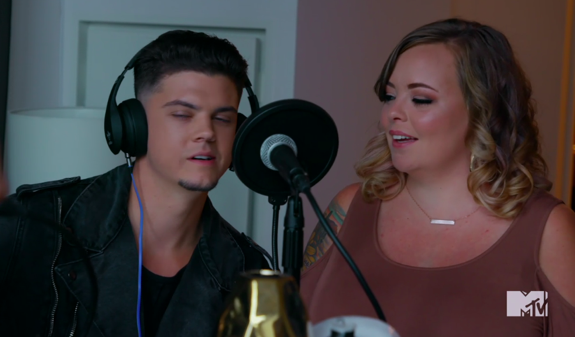 Tyler says he learned to cope with Butch's wicked ways through lots of therapy and learning to accept the fact that addiction is a disease.
(When he starts talking about having to do "a lot of inner work," you can almost see Kail's eyes roll back into her head…)
Kail doesn't know if she's ready to welcome her mom and her mom's drinking problem back into her life.
Catelynn suggests that she give Smirnoff Suzi some healthy boundaries if she starts a relationship with her again. (Can I just add that Catelynn looks amazing in this episode. There's not a sweaty side-bang or zebra hoodie in sight!)
Meanwhile, in South Dakota, Chelsea and Cole learn that the random wet spot Chelsea discovered wasn't her water breaking, but rather her body "lubin' up" to prepare for birth. Chelsea is relieved that the baby is staying put for the time being. Chelsea says the doctor was able to feel the baby's head during the check-up and Cole is kind of bummed that he didn't get to sneak a feel himself.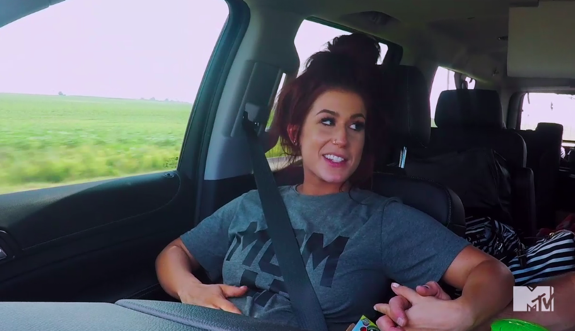 The episode ends with Jenelle's infamous 911 call, in which she says David assaulted her and possibly broke her collarbone. (You can read all about that here and here, by the way!)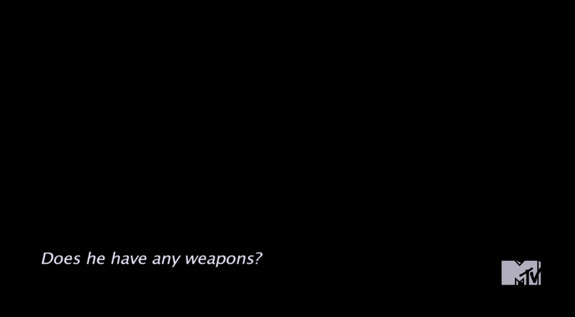 Though we have to wait until the next episode to learn what really went down on The Land, we're putting our money on Jenelle blaming it all on "Kim Jung Un."
Until next time!
To read The Ashley's other 'Teen Mom 2' recaps, click here!
(Photos: MTV)