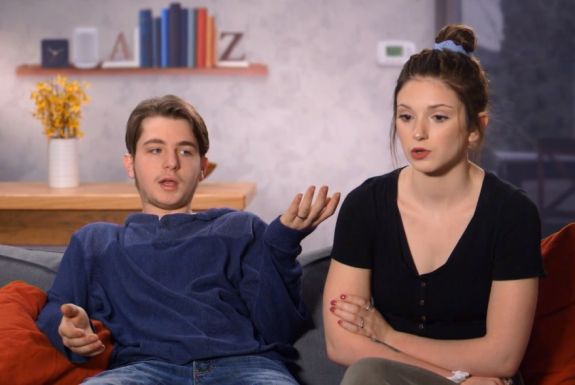 Nearly a week after Unexpected star Caelan Morrison complained on Snapchat that his ex McKayla Adkins was refusing to allow him to see his children, the reality TV dad finally got to see his son Timothy and newborn daughter Gracelynn.
"Today was a good day," Caelan's mother, Shelly, captioned a series of Instagram photos of her and Caelan with the kids on Sunday.
Caelan may have won the battle, but it appears that the war between him and his baby mama rages on. As 'Unexpected' viewers know, McKayla and Caelan share two children together, son Timmy (whose July 2017 birth was featured on the show) and daughter Gracelynn (who was born in January).
The couple's rocky relationship has played out 'Unexpected'since Season 1. (Here's a quick run-down in case you've forgotten: moving in together, planning a wedding, moving out, breaking up, getting back together, getting knocked up again, breaking up, etc.)
McKayla and Caelan broke up shortly before the birth of Gracelynn, and things with the couple have become toxic. Last week, Caelan took to Snapchat to air his grievances about his baby mama.
"For everyone asking why I don't post pics of my daughter and my son all the time [it] is because I can never see them," he wrote. "McKayla will not let me be a father or be in those kids' lives and it kills me every day to have to go through this. I hope you all can see."
McKayla responded to Caelan's Snapchat claims, denying his accusations and making accusations of her own.
"Caelan was just over yesterday," she wrote on February 25. "He spanked Timothy so hard that I had to scream at him. Then he threatened to take me to court and when I said okay go ahead he left and told me he's sign[ing] his parental right away bc there's no point in him being in their lives. Just an FYI."
Caelan was just over yesterday. He spanked Timothy so hard I had to scream at him. Then he threatened to take me to court and when I said okay go ahead he left and told me he's sign his parental rights away bc there's no point in him being in their lives. Just a FYI

— Mckayla Adkins (@mckayladkinss) February 27, 2019
She also tweeted her reasons for giving Caelan limited contact with his kids.
"He was just over my house and left bc I told him he's not seeing our kids outside of my home bc I don't trust him," she wrote. "He doesn't have a reliable car or a car seat for that matter and he was pissed bc he spanked Timothy really hard and I freaked out."
She also defended her actions to nay-sayers on Twitter.
"Regardless of being slammed on social media and people assuming the worst about me I will do anything and everything to protect my kids and make sure they're okay," she wrote. "They're my priority and always will be. I don't care about Caelan's feelings, as long as my kids are safe."
This is not the first time the ex-couple has fought over Caelan's rights to the kids.
"Actually, I can stop him from seeing Timothy and the new baby if I wanted," McKayla told a fan on Twitter before Gracelynn's birth. "I have full custody. Caelan has 0 rights to either of the kids but I would never do that."
In the past, McKayla has accused Caelan and his family of only wanting to be involved in the kids' lives when the TLC cameras are around, something Caelan and his mother have denied.
"But I won't be [allowing them around the kids] until they get their s**t together and can act like human beings rather than ripping me and my family apart every chance they get," McKayla wrote on Twitter in January. "They don't even want to be involved in the kids life unless we're filming."
Caelan's mother Shelly has also battled with McKayla on social media. She recently got into a brutal social media brawl with McKayla, in which she denied McKayla's claims that she only wants to see her grandkids when they're filming for 'Unexpected.'
"Look at my Instagram pictures every weekend pretty much I had Timothy but yet she tweeted a few weeks ago when she was mad that I only see him when the cameras are here," Shelly tweeted. "We hadn't filmed for months I had that baby every weekend so you decide who tells the truth."
McKayla has yet to reveal why she allowed Caelan and his mother to see finally see Gracelynn and Timothy. However, she, Caelan and the whole crew will be back for the upcoming new season of 'Unexpected,' so it's almost certain we will see their fights play out on the show.
RELATED STORY: 'Unexpected' Star McKayla Adkins Welcomes Second Child, Days After Social Media Feud With Baby Daddy Caelan Morrison
(Photos: TLC, Instagram)