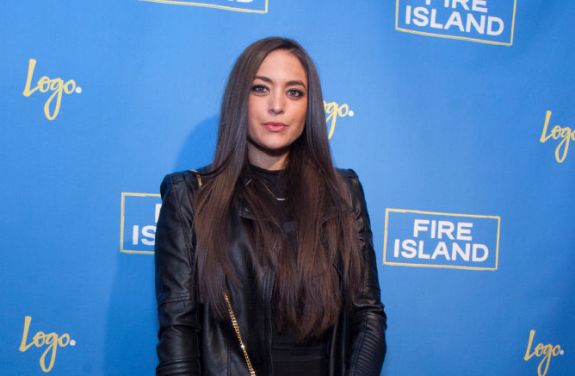 Call the cabs, we're going to a wedding!
Jersey Shore star Sammi "Sweetheart" Giancola announced on Tuesday that she has accepted a proposal from her longtime boyfriend, Christian Biscardi.
Sammi shared a picture on her Instagram of Christian popping the question.
"I'm completely overwhelmed with happiness," Sammi wrote in the photo caption. "Yesterday was the best day of my life! I get to marry my other half, best friend, and soulmate. I look forward to spending the rest of my life with you!"
Her new fiancé also shared the pic to The 'Gram, along with the caption, "I am beyond excited to get to marry my best friend! Here's to the future Mr. & Mrs. Biscardi."
(In the comment section of Sammi's post, Christian joked, "I love you and I'm equally thrilled that no one is going to tell me to put a ring on it 76,000 times a day!")
Sammi and Christian have been together just over two years. Before dating Christian, Sammi's most notable relationship was the tumultuous on-and-off one she had with her 'Jersey Shore' co-star Ronnie Ortiz-Magro which, as 'Jersey Shore' fans know, did not end well.
Sammi was the only original 'Jersey Shore' cast member who did not return for Jersey Shore: Family Vacation. At the time, Sammi said that she would be focusing instead on her "business and relationship" and that she was skipping doing the show because she wanted to "avoid potentially toxic situations."
So…basically she was avoiding Ron.
Although Sammi chose not to appear on 'Family Vacation,' she has remained close with most of her 'Jersey Shore' roommates, most of whom were quick to congratulate her on her engagement.
"OMG I'M SCREAMING SAMANTHA I LOVE YOU!" Nicole "Snooki" Polizzi wrote in the comment section of Sammi's Instagram post. "You deserve the world and I love him!"
"Omg! Omg omg I'm so freaking happy for you!" Jenni "Jwoww" Farley wrote.
"FINALLY!" Angelina Pavarnick commented. "Congrats love!"
Not surprisingly, Ronnie has yet to publicly comment on his ex's engagement. Although he's been a chaotic, sometimes violent on- and off-again relationship with his baby mama, Jen Harley, for the past few years, many 'Jersey Shore' fans have accused Ronnie of still being in love with Sammi.
After the news of her engagement broke, fans speculated on how Ronnie— who is newly sober after completing rehab— would take the news.
"Welp…There goes Ronnie off the deep end. But seriously…Congrats to a healthy relationship," a fan wrote on Twitter.
— Jeanine Cleirbaut (@JCleirbaut) March 5, 2019
"Yay! Congrats. You needed someone who loves you for you," another fan tweeted. "And who doesn't bring drama to your life, and who treats you right… sorry Ron."
Now he'll really have to move on. The torch needs to be extinguished. Congrats to Sammi & Fiancé!! pic.twitter.com/DSnQx7S1T5

— JustPeachyLove (@JustPeachy_Love) March 5, 2019
Sammi and Christian have yet to reveal when or where they plan to get hitched, but it's unlikely to be televised. Sammi has not appeared on reality TV since making a few guest appearances on Snooki & JWoww in 2015 and has stated that she now prefers life out of the spotlight.
RELATED STORY: Sammi "Sweetheart" Giancola Did Not Attend Wedding of 'Jersey Shore' Co-Star Mike Sorrentino: Here's Why
(Photos: Santiago Felipe/Getty Images; Instagram; Twitter)