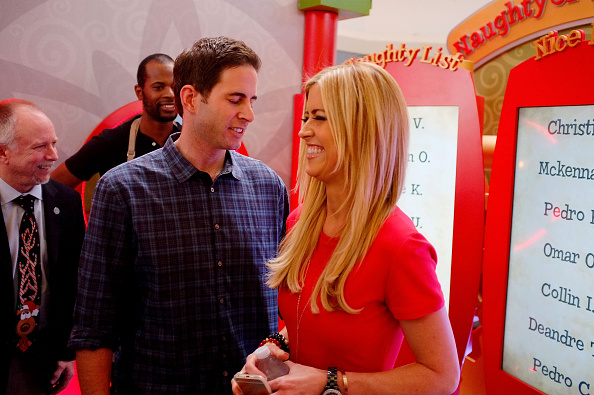 Tarek El Moussa said in a new interview that things between him and his ex (and current Flip or Flop co-star) Christina Anstead are good…but that may not be the case anymore!
During the interview with TMZ Live, Tarek talked about Christina being happily remarried and expecting a baby with her new husband Ant Anstead. While that was all well and good, Tarek then let it slip that the baby his ex is expecting will be a baby boy…something Christina had not yet made public (and was probably planning to sell to a random tabloid.)
"She's remarried, she's actually pregnant, everyone knows that," Tarek said. "She's having a son. My kids are super excited."
Oops.
After Tarek's loose lips blew her big gender reveal, Christina and Ant gave a very anti-climatic statement to People regarding their baby's gender.
"While Christina and Ant wished they could have shared the news themselves, they are very excited to welcome a baby boy in the fall," Christina's rep told People.
Chilly.
Tarek and Christina are currently filming the new season of 'Flip or Flop,' and both are working on their individual reality shows. In his interview with TMZ Live, Tarek sounded genuinely happy for his ex and her new husband, so it's unlikely he spilled the beans on their baby news on purpose.
"I'm excited for her new chapter in life," he said. "And they're a great couple and I really do hope the best for them."
Tarek also seemed excited to finally break away from Christina and do a show without her. (In January, HGTV announced that Tarek will be starring in a new solo show in which he "partners with real estate novices to help them learn the secrets of a successful flip." The currently unnamed show will premiere on HGTV sometime this year.)
"[Christina and I] have been working together so long, and we're just so intertwined with all our businesses and all our shooting that it's kind of refreshing to go off on my own now and try some new opportunities."
Watch Tarek put his foot in his mouth by revealing Christina's baby's gender in the clip below!
RELATED STORY: 'Flip or Flop' Star Christina Anstead is Expecting "Miracle Baby" After Struggling with Fertility Issues in the Past
(Photos: Jerod Harris/Getty Images; Instagram)