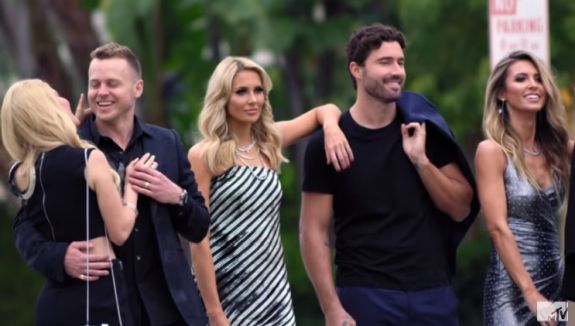 The Hills: New Beginnings doesn't premiere for another couple of months but cast member Stephanie Pratt is already giving fans a taste of what's to come: lots of drama.
On this week's episode of her "Pratt Cast" podcast, Stephanie completely unloaded about her most-recent family feud and threw a a ton of shade at her sister-in-law Heidi Montag while chatting with her podcast co-host Well Adams.
Here are 12 of the most shocking things we learned from Stephanie's no-holds-barred episode:
Stephanie is no longer speaking to Spencer or Heidi.
After being dissed by Heidi (who allegedly shared champagne with all of the girls on 'New Beginnings' except for her– the horror!) during a recent cast photo shoot, Stephanie said she's finally had enough of Speidi.
"We are not on good terms," she said. "We are not on speaking terms. I do not consider them my family."
Stephanie solely blames Heidi for driving a wedge in the Pratt family.
"If it weren't for Heidi, I would have an epic relationship with my brother, so would my parents," she said. "But Heidi does not want my brother to be connected to my mom, dad or me."
As to why she believes Heidi is this way toward Spencer's family, Stephanie said it's because Heidi "needs all of his attention."
She also said that, despite her parents buying a house for Spencer and Heidi to live in just minutes away from their own, the family doesn't get to see the Speidi Spawn, Gunner.
The Pratts made a pact to stand united as a family before 'The Hills: New Beginnings' began filming.
"Before 'The Hills: New Beginnings,' my mom, my brother and I all sat down and we said we will not let this ruin our family again," Stephanie said.
When asked how long the pact lasted, Stephanie said until last week.
Stephanie only kept the peace in the past for her parents' sake, but is now focused on her own well-being.
"That's what I'm doing right now," she said. "If my mom can't handle this, that's her issue and I cannot help her. I'm 33."
In an effort to prevent dragging her mom further into the situation, Stephanie said she does not discuss anything work-related with her.
"But I'm also not going to pretend that Spencer and Heidi are good people like I was doing for most of the series for my parents," she added.
Giiiiirl!
Stephanie claims Heidi has taken advantage of the Pratt family's money.
While both Heidi and Spencer allegedly crashed in Spencer's parents' Santa Monica beach house for seven years, Stephanie called Heidi out for being the one with her eye on the Pratt family fortune.
"Heidi is a fake person. She says that she lives by Jesus and she's always praying for everybody but at the same time she's playing my parents for money, playing me against my brother and also spending all of our money."
Stephanie did cop to using some of the family money for her own benefit, though she claimed "Heidi wants it all for herself."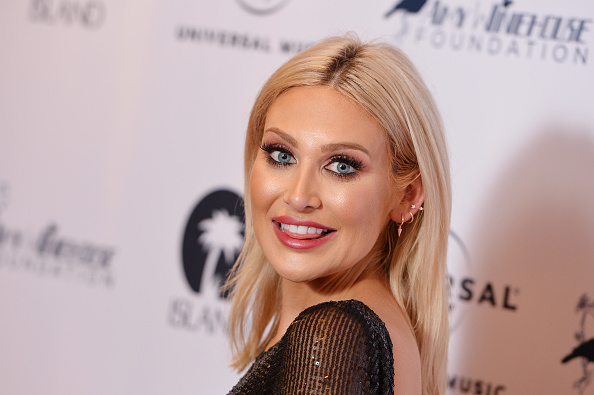 Spencer and Heidi are the reason Stephanie moved to London.
"The behavior that I've seen … I'm done," she said. "This is why I moved to London."
Stephanie went on to call Spencer and Heidi "the most toxic people I have ever met."
"They are Bonnie and Clyde 'til they die. So if they say, 'The Sky is black,' all of us are morons for saying, 'It's blue."
Stephanie also shared that she plans to "expose them for who they are."
Heidi allegedly sought out Lauren Conrad's friendship to become famous.
In addition to saying that she's never liked Heidi, Stephanie said Heidi has been a calculating person since the age of 15—and she made a bold accusation to back up her claim.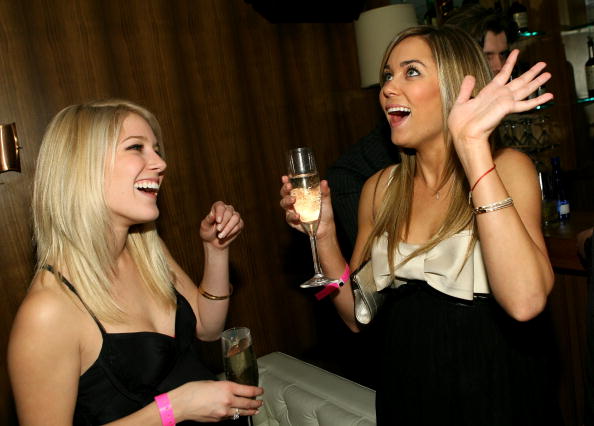 "Let me remind you that she was in high school watching Laguna Beach and she said, 'I'm going to be a famous pop star, I'm going to move to San Francisco, go to FDIM, find Lauren Conrad and become famous.' She did," Stephanie claimed.
The Pratt family drama is not part of the show.
With the upcoming premiere of the show, podcast host Wells said it was likely for some people to assume this family drama was a part of an upcoming story line on the show, however, Stephanie denied that it was.
"No, this is me exiting my family," she said.
Spencer and Heidi gave Spencer's parents their word that they would be on their best behavior on the reboot.
During the podcast, Stephanie was asked if she thought Spencer and Heidi's bad behavior is a result of the couple doing what they think makes for the best TV, but Stephanie said that isn't the case.
"No, because they promised my parents they would not be outrageous," she said.
Spencer's former(?) villain reputation took a toll on his mental health.
Another reason Stephanie doesn't believe Spencer is pulling a publicity stunt is because the bad reputation he had on the original show was "so detrimental to his mental health." As part of Spencer's alleged extreme paranoia in the aftermath of 'The Hills,' Stephanie said her brother began purchasing weapons and gaining a lot of weight.
"He would not put himself through that again," she said.
Stephanie doesn't anticipate a reconciliation between herself and Spencer and Heidi.
When asked by Wells how she can move forward and repair the issues in her family, Stephanie said there is no plan to resolve anything.
"I don't. I go back to London," she said.
Stephanie is the lowest-paid cast member on 'The Hills: New Beginnings.'
While she did not divulge her salary, Stephanie told Wells she's earning the least among the cast.
"Let's just say I'm getting a fourth of what people are getting," she said, noting that her pay is a result of her being a supporting cast member on the original show.
Stephanie optimistically told Wells that she'd be "asking for a palace" if they film a second season.
'The Hills: New Beginnings' premieres June 24 on MTV.
RELATED STORY: MTV Releases Nostalgia-Laced Trailer for 'The Hills: New Beginnings'
(Photos: MTV, John Shearer/Getty Images; Jeff Spicer/Getty Images; Michael Buckner/Getty Images; Instagram)