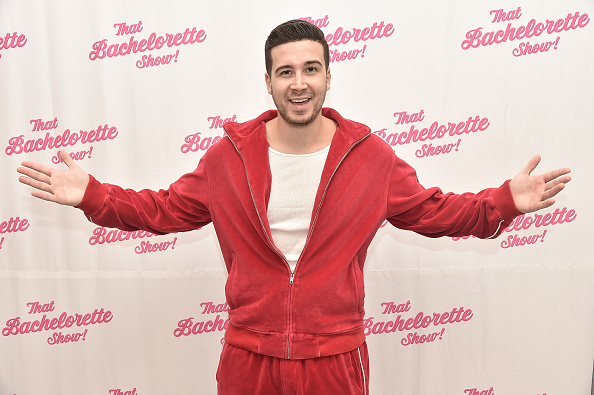 Vinny Guadagnino is currently starring on MTV's Double Shot at Love with DJ Pauly D and Vinny where he is looking for lovin'… something the Jersey Shore star has had plenty of practice with.
The Keto Guido of Jersey Shore: Family Vacation stopped by WFAN's Boomer and Gio radio show this week where, according to NJ.com, he told hosts Boomer Esiason and Gregg Giannotti that during the 'Jersey Shore' heyday, he possibly slept with 1,000 women.
While taking a trip a down memory lane, the hosts began probing Vinny on the number of ladies he has smushed since shooting to reality TV fame in 2009. Vinny confirmed that he's been with more than 100 women and when asked if the number was over 500, Vinny answered, "Probably."
"I don't know, I really have no idea," he continued. "I feel disgusting right now. It's been 10 years, I've had a good time."
The hosts then asked Vinny if the number of women he had banged was closer to 1,000, to which he replied, "I don't know … it could be."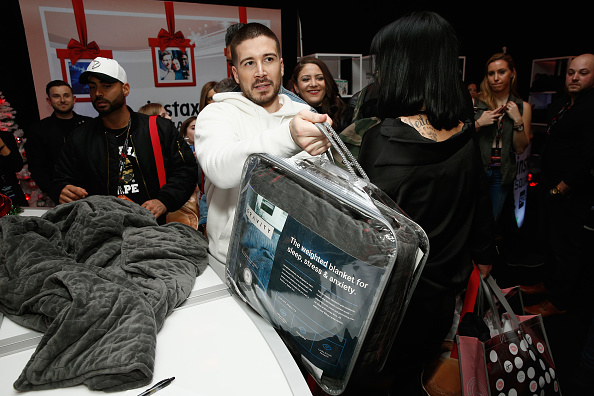 Vinny went on to defend his smush-room stats by reminding the hosts that being on the 'Jersey Shore' sometimes meant doing multiple club appearances each week in different cities and that "things happen." However, Vinny said those wild club nights are now a thing of the past.
"I've slowed down a lot," he said. "Like now, I'm going back to my room. I wanna watch Netflix, I wanna just chill. I don't wanna be in bed with somebody if I don't want to wake up to them the next day and talk to them."
While Vinny's wild nights may have let up, he hasn't completely called it quits on the party scene, as proven by his upcoming residency as a celebrity host for Chippendales in Las Vegas, which he also talked about on the radio show.
https://www.instagram.com/p/Bv1q6dwnwZ3/?utm_source=ig_web_copy_link
As for whether or not he has plans to slow down his partying ways and settle down with someone in the near future, Vinny said he's "in the middle right now."
"I'm all about what I naturally feel and I'm not gonna lie, I used to party like crazy, now I wanna be in bed by like ten o'clock," he said. " … I hate drinking regularly now, I like doing it once in a while. I hate the hangovers—being on the diet, the gym, all of that stuff.
"So I've naturally taken that progression of slowing down, but I'll admit I'm never gonna follow the rules of like, now I'm at this age, I have to be in a relationship … ."
While Vinny isn't putting pressure on himself to find love in the future, he does have some career aspirations he hopes to have achieved a decade from now.
"Hopefully I'm hosting something, hopefully I have a nice little gig [and] it doesn't have to be partying on the Jersey Shore at 41 years-old."
(Photos: Brian Ach/Getty Images; Theo Wargo/Getty Images; Instagram)