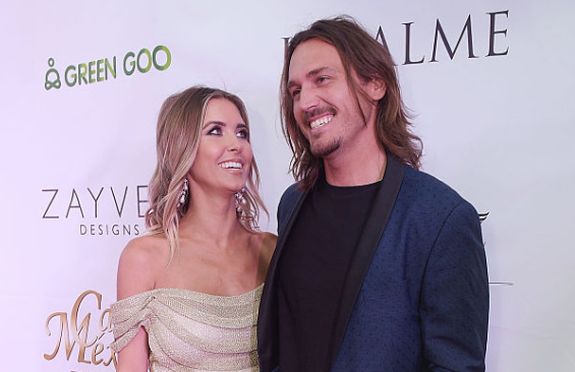 Corey Bohan has been battling Audrina Patridge in court for months to keep their young daughter, Kirra, out of the public eye, but it appears he's had a change of heart.
The Blast reported on Wednesday that Corey has agreed to allow Kirra to appear with Audrina on The Hills: New Beginnings, despite his posting on Instagram last month how happy he was to have won the battle to keep his daughter off the show.
The site reports that Corey and Audrina— who split in 2017 after just 10 months of marriage— had come to divorce terms that they could both agree on back in January, but since then, Audrina has refused to sign the documents. Corey went back to court recently to try to get a judge to order Audrina to sign the documents and get the divorce finalized.
The Blast obtained copies of the ex-couple's divorce agreement, which revealed that Corey had agreed to allow Kirra to be on 'The Hills: New Beginnings'— but no other shows or projects, unless he gives his approval.
The terms of their divorce agreement state that Audrina and Corey will share legal and physical custody of Kirra, and neither will be paying child support. Audrina— who, according to the docs, pulls in substantially more money than Corey does— will not be responsible for paying Corey spousal support, per their pre-nuptial agreement.
It's not known why Corey ended up signing off on allowing Kirra to be on the MTV show, as just last month, he was adamant that he did not want his child on TV or in Audrina's sponsored social media posts.
"It is with great honor I have been awarded split legal custody of our daughter," Corey posted to his private Instagram account in March. "And [I have been] able to keep Kirra off TV and paid social media. In addition, I have finally been vindicated and the domestic violence charges have been dropped."
(As The Ashley previously reported, Audrina filed for and was granted a restraining order during their divorce proceedings, claiming in court documents that Corey had a series of "emotionally and physically abusive episodes." The charges against Corey were later dropped, according to Corey's March Instagram post.)
In August 2018, Corey told his followers that he felt it was wrong for children to be featured on reality TV shows.
"I refuse to think it's ok for our 2yr old daughter Kirra Bohan to be shown & exploited on reality TV. Not just my child but anyone's for that matter," Corey wrote on Instagram last summer. "I stand up for what I believe in. This post isn't an attack or negative rant. This is about our daughter Kirra Bohan."
'The Hills: New Beginnings' premieres Monday, June 24 on MTV.
RELATED STORY: Corey Bohan Says Courts Ruled Their Daughter Kirra Can Not Appear on 'The Hills: New Beginnings' or In Audrina's Paid Social Media Posts
(Photos: Jason Kempin/Getty Images; Instagram)