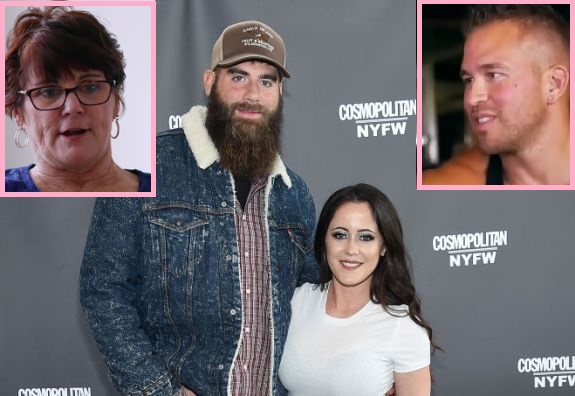 There's about to be a custody court showdown in North Carolina!
The Ashley can exclusively reveal that nearly everyone who has anything to do with the custody of Jenelle Evans' and David Eason's kids will be heading to a court hearing Thursday that's been set to discuss when, how and if the former Teen Mom 2 stars with regain custody of their kids!
The Ashley's sources tell her that Jenelle and her lawyer were at the courthouse, trying to have the CPS investigation against Jenelle and David shut down on Wednesday, but were not successful. They will be attempting to do so again on Thursday; however, they will be facing off in court with the people who currently have some of their children. (Radar Online also confirmed that the hearing will be May 16.)
The Ashley hears that Nathan Griffith (the father of Jenelle's son Kaiser) will be at the hearing, as will Jenelle's mother Barbara Evans. Nathan currently has temporary emergency custody of Kaiser, and Barbara has full custody of Jenelle's oldest son Jace.
The Ashley also hears that, surprisingly, David's ex Whitney Johnson is scheduled to appear (or someone representing her). Whitney is the mother of David's oldest daughter, Maryssa, who, along with Jenelle and David's daughter Ensley, was removed from their care earlier this week.
Whitney may be Maryssa's mother but she may not be the most-credible person to testify against David and Jenelle, as Whitney has not had custody of her daughter for several years.
From what The Ashley has heard, David's other baby mama, Olivia Leedham, will not be making an appearance.
It is unknown if Barbara & Co. will be required to make statements at the hearing.
As The Ashley previously told you, Jenelle and David were ordered by the court to turn over Ensley and Maryssa to authorities but they refused to do so, instead placing the girls in the care of someone whom the court eventually approved to temporarily care for them.
Radar Online reported that Jenelle and David visited their daughters on Wednesday at a supervised visitation center. Barbara was there, as was Jace. However, according to Radar, David was "thrown out [of the visitation center] because he was arguing with the social workers."
(The Ashley's sources confirm that an argument took place while the Easons were at the center. Nothing physical happened, though.)
"He was causing trouble [and] he was arguing with everybody," Radar's source said.
The Ashley's sources tell her that, even if the judge signs off on allowing the kids to stay where they are for the time being (with their temporary caregivers), a visitation schedule will be set up for the Easons to see their kids. That should also be determined at the hearing on Thursday.
"If the judge signs off, allowing Kaiser to stay with Nathan, and the girls to stay where they are, [Jenelle and David] will continue to have supervised visits with the kids," one of The Ashley's sources tells her. "For Jace, Barbara does not have to allow any visits, but she can if she wants to."
Nathan and Jenelle were already scheduled to begin their custody battle in court for Kaiser on May 30, but, due to all of the latest happenings, that date will very likely be pushed back.
The Ashley will update this story when she has more information.
RELATED STORY: The Daughters of 'Teen Mom 2' Stars Jenelle Evans & David Eason Have Been Removed From Their Care (Exclusive Details)
(Photos: MTV; Jamie McCarthy/Getty Images; Instagram)