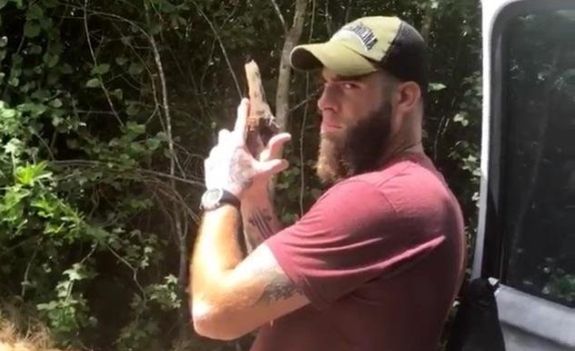 Jenelle Evans' husband David Eason has made it no secret that he carries a gun with him almost wherever he goes– and that appears to be the case, even if he's going to court to fight to get his kids back!
Several eagle-eyed Twitter users were the first to notice that there was a gun sitting on the Easons' car dashboard when the couple got into their car on Thursday during the lunch break for their custody court case. (TMZ tried to claim that it was the first to report about the gun, but this is not the case.)
I cleaned up a video @ImFcknRakin posted of what looks like a gun on David and Jenelle's dash as they were leaving court today.
If it's not a gun I'm not sure what else it could be. 🤷🏼‍♀️
If it is a gun it's pointed right at Jenelle. 🤦🏼‍♀️ pic.twitter.com/h7nsTeCBve

— NC Sequoia Farmer 🌲 (@Dudenelle) May 17, 2019
The gun was noticeable in a video posted by TMZ, but at no time did Jenelle or David reach for the weapon. (You can see the gun in question around the 19 second mark of the video below.)
(By the way, The Ashley did not write about the gun because she was not able to confirm that the object was, indeed, a gun, despite how much it appeared to be one.)
On Monday, a rep for the banished-from-'Teen Mom 2'-couple confirmed via a statement to Us Weekly that the object was, in fact, a gun. The "rep" also stated that it was not illegal for David to have the gun in his car.
"In the state of North Carolina, if you aren't a felon you can have a gun with no permit," the statement reads. "The gun has to be in 'plain sight' if you do not have a concealed carry permit. This is so when the cops pull you over or you're out in public you cannot even have your shirt over the holster or you will be charged with a felony."
How is this legal? For starters, David has never been convicted of a felony. While he has spent considerable time behind bars in the state of North Carolina, he was only convicted of misdemeanors. (Jenelle has also never been convicted of a felony.)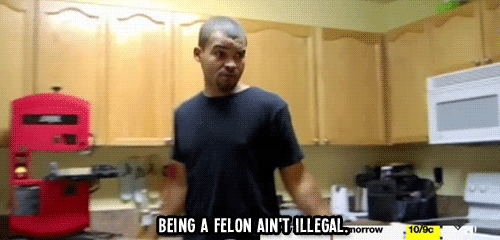 The Ashley also looked up North Carolina's laws about carrying a firearm to a courthouse. It appears that it was lawful for the Easons to have the gun because it was left in their car in the court parking lot. Had David or Jenelle brought the gun inside the courthouse, it would have been against the law in North Carolina.
According to the National Center for State Courts' website, "It shall be unlawful for any person to possess, or carry, whether openly or concealed, any deadly weapon, not used solely for instructional or officially sanctioned ceremonial purposes in the State Capitol Building, the Executive Mansion, the Western Residence of the Governor, or on the grounds of any of these buildings, and in any building housing any court of the General Court of Justice."
During his recent child support court hearing, David admitted in court to owning "many weapons, including handguns, shotguns and semi-automatic weapons," and about "2,000 rounds of ammunition." Over the past year, David has frequently bragged about his extensive weapon collection on social media. His videos and social media posts even prompted a visit from the Secret Service back in December 2018.
David got into more gun-related trouble earlier this month, when he admitted to shooting and killing Jenelle's dog Nugget. That caused big problems for the Easons, with MTV using the incident to finally cut ties with Jenelle and fire her from 'Teen Mom 2.' Immediately after that, the Columbus County Sheriff's Office and the Columbus County Animal Control launched a joint investigation into Nugget's death. CPS also began an investigation into the Easons' home life, which eventually led to all of their children being taken away.
As The Ashley previously told you, Jenelle and David are due back in court on Wednesday to continue fighting to get their kids back into their care.
RELATED STORY: The Latest on Jenelle Evans' & David Eason's Custody Court Battle: Day 2
(Photos: Instagram, MTV, Twitter)