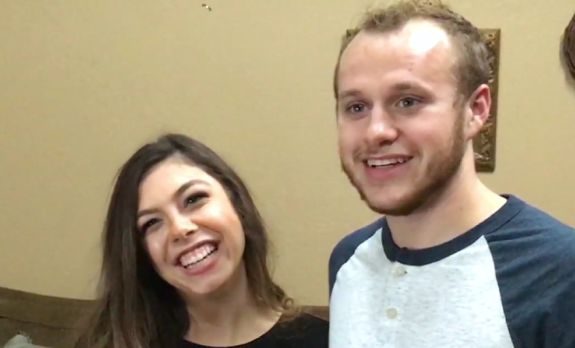 Yet another Duggar couple is expecting!
Josiah and Lauren Duggar announced on Monday that Lauren is pregnant for the second time since they got hitched last year. During the most-recent season of Counting On, the couple opened up about the miscarriage Lauren had with her first pregnancy back in October.
Lauren and Josiah announced the pregnancy in a series of photos released by People magazine.
In one pic, the couple holds a sign that says "Rainbow After the Storm: Baby #2," in an obvious nod to this being their "Rainbow Baby," which is a term commonly used for the pregnancy that follows a miscarriage.
"Every good and perfect gift is from above and we are looking forward to this new season of parenting together!" the couple told the magazine in a statement. "God's faithfulness to us in our most difficult moments has sustained us and brought us such love and comfort. We cannot begin to tell you how much we are looking forward to holding this baby in our arms this fall."
In a video made for TLCMe, Lauren and Josiah talked about the pregnancy.
"Recently we walked through losing a little one through miscarriage," Josiah says in the video. "We're just excited to have another little one on the way now."
"We're just extremely grateful for this baby," Lauren adds. "Going through a lot really shows us how good God is, and that miracles do happen."
On Instagram, the couple announced the pregnancy, while also revealing that they have given their first baby a name.
"We are so excited to announce that baby #2 is on the the way!" they wrote in the caption of an announcement photo. "It's hard to fully express just how grateful we are for God blessing us again with another precious gift! So, as we rejoice of the life of our second sweet baby, we also remember (balloon as symbolism) our other sweet baby, Asa, in heaven. God is so incredibly good!"
In the video announcement, the couple then reveals that they found out Lauren was pregnant "at like, 4 in the morning."
"I went to the store and got a test because I thought for sure she was probably expecting," Josiah says. "And sure enough she was!"
"We were both overjoyed, and just crying because we were so thankful for our sweet blessing," Lauren added.
Lauren and Josiah's baby won't be the only "blessing" coming to the Duggar Family this year. Nearly every married Duggar kid is currently expecting a baby, including Jessa and Ben Seewald (who are expecting their third child in June); Joseph and Kendra Duggar (who are having baby number two in October); and Josh and Anna Duggar (who are expecting baby number six in November), and Joy and Austin Forsyth (who just announced they're pregnant with their second child). In addition, Duggar cousin Amy Duggar King and her husband Dillon are also expecting their first child.
(So…basically the only married Dugs who haven't announced they have a "bun in their oven" are Abbie Duggar, Jill Dillard and Jinger Vuolo…)
Jim Bob and Michelle Duggar (of course) released a statement about Josiah and Lauren's pregnancy. The statement oddly included an advertisement for some sort of Bible media channel.
Here's Ma and Pa Duggar's statement (complete with the weird plug to sell stuff).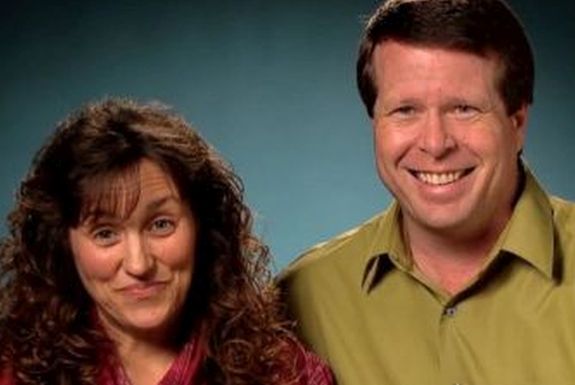 "We are so thrilled for Lauren & Josiah expecting! It was very difficult losing their first child in a miscarriage, but now God has blessed them with another child on the way."
As per usual, ol' JB and Michelle had to somehow make their kids' announcement all about themselves.
"This year we are going from 12 to 17 grandkids, soon they are going to outnumber our own kids," the stated. "We are so grateful for each one of them. It's not easy raising kids in today's world. Over the years we have asked God for wisdom to help keep our children on the right track and to point each of our family members to a close relationship with God.
"One of the resources that has been priceless are the messages at [Embassy Media]. The practical Biblical teachings have inspired us and taught us how to lead our children spiritually, how to have a close marriage relationship, how to resolve conflict and how to conquer anger. We pray that each one of our descendants will make a positive difference in this world. -Jim Bob & Michelle"
Lauren and Josiah have not revealed how far along Lauren is, or if they're having a boy or a girl. They did state that, should their baby be a girl, Lauren will get to choose the name. If it's a boy, Josiah will choose.
Watch Lauren and Josiah discuss their latest blessing in the video below:
RELATED STORY: 'Counting On' Stars Joy & Austin Forsyth Are Expecting Their Second Child: See Their Baby Announcement
(Photos: TLC, Instagram)