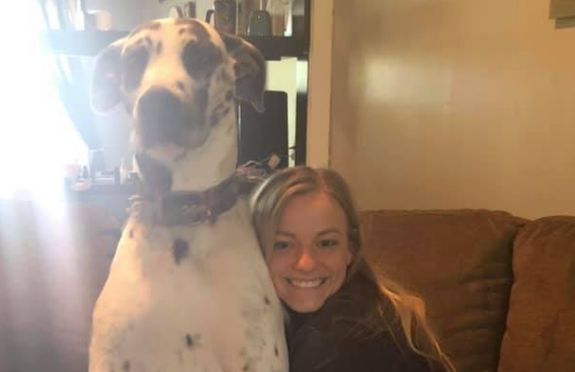 Mackenzie McKee is telling her side of the story after she was accused of abandoning her dog in her backyard while she went on vacation with her husband, Josh McKee.
The former Teen Mom 3 star admitted in a Facebook post made earlier this week that she did leave her dog in an outdoor pen while she and Josh went to The Bahamas, and, although she had family members caring for Hank (a Great Dane), Animal Control took the dog after getting a call from Mackenzie's neighbors.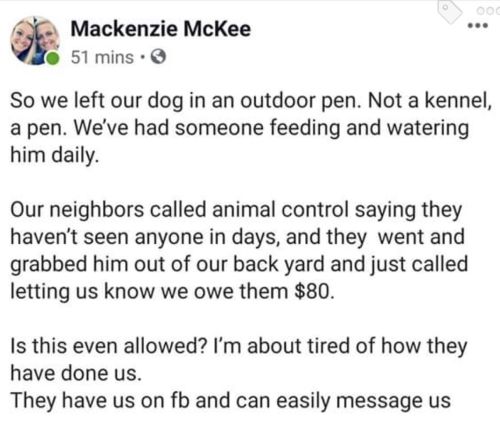 Photos of the dog's pen showed a muddy floor full of dog poop. In one photo, presumably taken by the neighbors who called Animal Control, the dog is standing on a wood plank that was added by the neighbors so it wouldn't have to stand in the mud.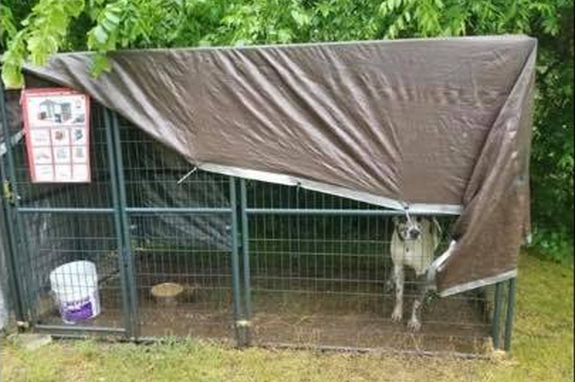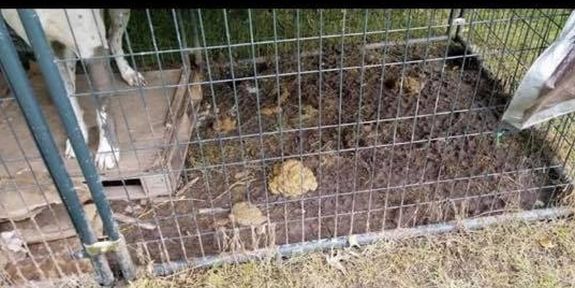 Mackenzie's hometown of Miami, Oklahoma is currently under tornado watch, and the former 'Teen Mom' star and her husband are stuck in a Florida airport.
The Ashley reached out to Mackenzie for comment on the story, and she told a different version than what her neighbors and other outlets are saying.
"[The dog] was being fed, watered and check on and played with daily," Mackenzie told The Ashley. "The pen was his sleeping arrangement, which is better than a kennel, which he will not go into. I refuse to force him into a kennel. His pen was also being cleaned out. I did nothing wrong!"
Mackenzie admits that animal control did take Hank, but it was not without her knowledge and consent.
"Animal Control called me before taking him and said, 'Your neighbors said no one has been here in days' which was not true," Mackenzie said. "My mom, grandma and Josh's brother were on top of his care."
She stated that her mother– Angie Douthit— was heading to their home to fetch the dog due to tornado warnings when Mackenzie got the call from Animal Control.
"As they were calling me, my mom was about to get [the dog] because we had tornado sirens going off back home," Mackenzie said. "I asked [Animal Control], 'Did I do anything wrong?' and they said 'You passed a wellness check. I'm just doing my job. He is OK.'
"They offered to take [the dog] to a proper shelter and I told them to please take him and keep him so my mom can focus on getting my kids in shelter," Mackenzie said. "She agreed and that was that. I'm thankful she did."
Mackenzie and Josh are the parents of three kids: Gannon, Jaxie and Broncs. Mackenzie's mother Angie is currently battling Stage 4 cancer.
Mackenzie told The Ashley that she and Josh are trying to make their way home, but are not able to at this time.
"Me and Josh are stuck at the Florida airport and our hometown is flooded," she said. "We can't even go home."
Mackenzie has been open on social media about her struggles with Hank. According to her past posts, her neighbors have complained about the dog in the past. Last month, Mackenzie stated that she was trying to re-home the dog, and had, but he ended up coming back to their home after just a few hours.
"I prayed and prayed over this situation, that he gets placed in the home where he belongs," she wrote of the dog in April. "We had 4 people fall through on coming to get him because the re-homing fee was too much for him. So we decided to give him to a wonderful lady with a 40 acre farm. Me and josh spent the morning loving on him and helped her load him in her car.
"I cried and cried and than headed to the gym to let some steam off," her post continued. "But I asked God to place him where he belonged and he did. Because within a few hours the lady brought him back because her dog didn't like him. SO HANK IS BACK WITH HIS MOMMA AND HE IS HAPPY. So on that note I'm sure my neighbors will be disappointed in this post. However, I just called and got the fence that is being installed soon."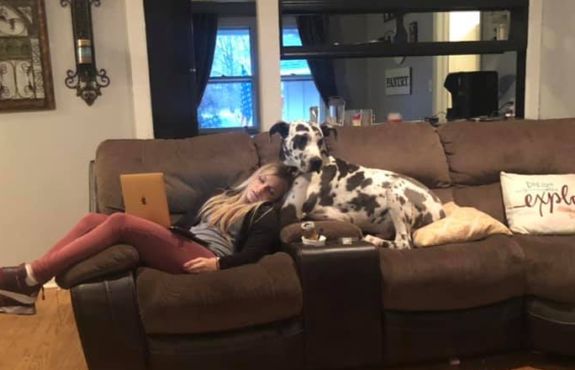 On Tuesday, Mackenzie talked about her love for Hank in a series of tweets.
"Lies…. all lies… that is all," she wrote. "If you guys think that my neighbors were telling the truth, you are out of your mind. They have had it out for us since we moved in in October and moving is in the near future. love hank more than words could ever describe. I paid 4K to have his fence installed 2 weeks before vacation and they stalled it out longer. So for you all to pull the "don't pay for vacation if you can't afford proper care for your dog" bull s**t is insane as well.
I spend more time and money on hank than my shitty neighbors have ever done with their bull mastiff that I've never seen leave his pen. Yes I said pen. We bought that pen for Mr. Hank because he hates kennels and I think he needed more sleeping room… Trust me when I say I looked into all options. So once again. We bought a big pen for him to sleep in. He was checked on and let out to run and play 3x a day which we payed for…"
In her tweets, Mackenzie said that she plans to go claim Hank, and that no animal abuse took place.
"Me nor my mother or the other two taking care of him support animal abuse," she tweeted. "Please know the full truth and story before telling a woman to kill herself and she is a piece of s**t… If you follow me on snap, you see that hank is nothing less than loved to an extreme level by us… He's been through several expensive dog houses. Lol. This was only a sleeping arrangement girl. I mentioned earlier on night 2 he destroyed his dog house. This is why when home, he is inside and sleeps on our bed. He is loved…"
RELATED STORY: Briana DeJesus Feels Bad Jenelle Evans Got Fired From 'Teen Mom 2' But Mackenzie McKee Says MTV "Made the Right Decision!"
(Photos: Facebook, Instagram)