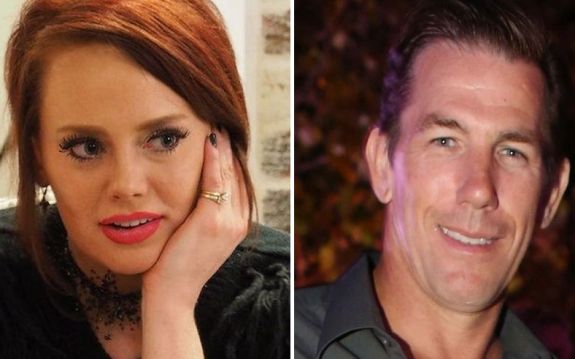 Score one point for T-Rav… and one point for us nosy people who have been following his nasty custody battle with Kathryn Dennis!
Kathryn reportedly got quite the tongue-lashing from the judge handling her fight with Thomas Ravenel for the custody of their kids. According to The Blast, the Southern Charm star was ordered to pay Thomas a total of $3,500 in attorney fees, after the judge reversed the recently-made decision to seal the couples' court documents from the public.
Kathryn was the one who requested the court docs be sealed to protect her kids' privacy, but Thomas asked the court to reverse the decision to seal the case, due to the fact that Kathryn was talking about him (and the case) during the new episodes of 'Southern Charm.'
The Blast reports that both Kathryn and Thomas were able to plead their cases, but the judge ultimately ruled in favor of Thomas and chose to unseal the case. The judge also harshly scolded Kathryn for asking that the case be sealed in order to protect her children's privacy…but then sacrificed that privacy by discussing the custody case on TV and in interviews.
"[Kathryn] remains dedicated to discussing the custody case in the media; discussing the father of her children, and her very private life. Therefore, sealing the record serves no legitimate purpose, nor does it protect the children – who are routinely exposed to the public and media," the judge stated, according to court docs.
The judge held nothing back while criticizing Kathryn for giving interviews about the case and her kids.
"It is clear to the Court that contrary to her own Motion and her Counsel's argument, Mother has no interest in protecting the privacy of her children, based upon her frequent communications with the entertainment media," the court docs state.
The judge also pointed out that both Kathryn and Thomas have each put their kids—daughter Kenzie and son Saint— in the public eye, and stated that, even though Thomas is no longer on 'Southern Charm,' he is still considered a public figure. For these reasons, as well as the fact that so much of the couple's "dirty laundry" has already been made public, he determined that unsealing the case could do no addition harm to the kids.
Kathryn and Thomas' custody battle has been going on for nearly a year, and continues to get nastier by the month. Last month, Thomas asked a judge to cut down Kathryn's time with their kids because he believes Kathryn's boyfriend Hunter Price is shacking up with her. Kathryn had previously requested that Thomas' girlfriend, Ashley Jacobs, be kept away from the kids and prevented from posting photos of them to her social media accounts.
Stay tuned…
RELATED STORY: 'Southern Charm' Star Kathryn Dennis Says She Has Gotten Rid of Everything Her Ex Thomas Ravenel Gave Her: "I Just Don't Want That In My Life"
(Photos: Aaron Davidson/Getty Images; Bravo)