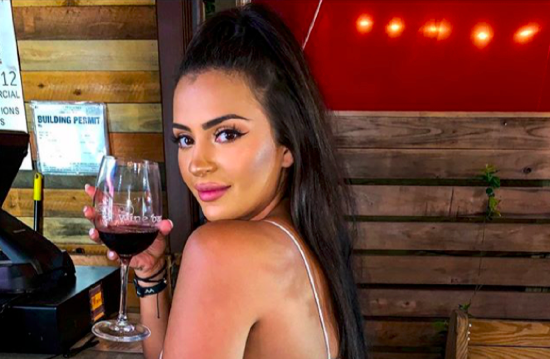 Floribama Shore star Nilsa Prowant found herself in hot water (and handcuffs) this weekend after (allegedly) flashing some randoms and kicking in a car window—- aka acting like a cast member from any MTV 'Shore'-family franchise.
TMZ reports that Nilsa was arrested early Saturday morning in St. Petersburg, Florida. The police report obtained by the site claims that officers and a large crowd observed Nilsa revealing her breasts from a balcony and encouraging those below her to check out the view. According to local WFLA News Nilsa's Floribama-flashing went down at the 260 Nightclub.
The report goes on to claim that Nilsa was told to leave after her impromptu peep-show, but instead became "belligerent and erratic," according to the arrest report. After Nilsa was placed into the car of someone who was going to drive her home, she allegedly lost it and kicked the rear driver-side window until it shattered.
Nilsa was arrested and booked for disorderly conduct and exposure of sexual organs, both misdemeanor offenses. Nilsa (and her sex organs) have since bonded out of jail with a total bail of $400. It's unclear whether or not the MTV cameras were rolling during Nilsa's wild night; however, the show is currently filming Season 3 in St. Petersburg so it's a possibility.
MTV Floribama's Nilsa Prowant Arrested for Flashing Breasts, Smashing Window https://t.co/a2IW0hqGGT

— TMZ (@TMZ) July 7, 2019
Season 3 of 'Floribama Shore' is set to premiere this fall on MTV.
RELATED STORY: 'Floribama Shore' is Coming Back…But Not to Panama City Beach! MTV Reveals New Location for Season 3
(Photos: Instagram)