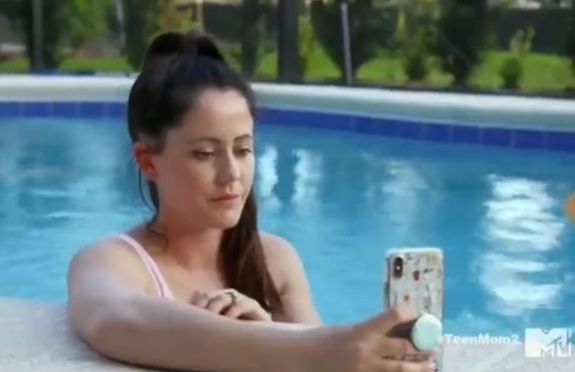 Jenelle Evans made a full return to social media on Monday, answering questions about everything from her recently dismissed custody battle (which she previously said prevented her from speaking out on social media), her baby daddy Nathan Griffith (who she is apparently none-too-happy with after he spoke out on Twitter yesterday) and how her kids are adjusting to being back on The Land.
Jenelle first hit Twitter, where she slammed Nathan for posting a link where fans could file a complaint in regard to Jenelle and David's custody case outcome. In a series of tweets that were aimed at Nathan (who is the father of her son Kaiser), Jenelle seemed to be letting out all of the anger she had pent up for Nathan over the last few months.
"Want to share to the world how many times you were late to court and on breaks? Want to share how your cell phone went off in the middle of our hearings? Want to share how many times you and your side chick break up and get back together @groundlevelup?" Jenelle tweeted, tagging Nate's Twitter handle.
"Want to share how you took off to Florida as soon as you heard the news Kaiser was back with me?" she added. "You don't stick around for anything. You don't even help your mom with your sick stepdad. You put on the biggest front. You even make my mom sick….Should we share what me and your sister talk about on the daily? How many times are you going to keep your s**t show up? Thought we moved past all the bulls**t. Apparently not."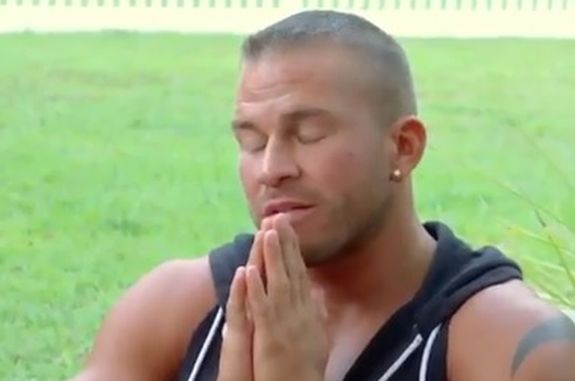 Jenelle then took a swipe at Nathan's girlfriend Ashley Landhart (aka the Florida "side chick" she referred to in her previous tweets.) She stated that, although she and David Eason got along with Nate and Ashley at Kaiser's recent birthday party, it was all a front.
"As soon as Kaiser's party was over, Ashley had to go tweet some s**t about David but [was] all nice to his face," Jenelle wrote. "Don't trust her at all."
Jenelle later deleted the tweets.
She then took to Instagram, asking fans to ask her questions that they wanted answers to. In an effort to make Jenelle's "talkin' words" easier to read, The Ashley has turned Jenelle's Q&A session into the tidy list below! (Naturally, she only included the most-interesting responses Jenelle posted!)
View this post on Instagram
Q: How come you choose d**k over your kids? That's not a true mom.
Jenelle: "I didn't 'choose' anyone. I chose to keep my family together. Sorry."
Q: Do you miss your MTV crew?
Jenelle: "The people? Yes. The drama? No."
Q: Will you be on the next 'Teen Mom' series?
Jenelle: "Have no idea. You would have to ask @MTV"
Q: Why would you attack Amber [Portwood for being arrested] while she's down? Knowing you don't like being attacked. (By the way, this is likely what this person is talking about.)
Jenelle: "When did I attack Amber? I mean, I can say a lot about her right now, like she did about my husband but I'm not."
Q: Was it a hard decision to stay with David after the dog incident? [David killed Jenelle's dog Nugget several months ago.]
Jenelle: "Honestly yes. We were on bad terms for almost a week. Didn't talk much. He knows how upset it made me. Now that we are getting over this incident our relationship has got a lot stronger. David has completed anger management as well."
Q: Is Nathan even allowed to share the complaint link he did yesterday?
Jenelle: "IDK but he's really immature for posting that. I've had many judges rule in a way I didn't like and never once did I post a bad thing about the judge on social media. I find it extremely disrespectful."
Q: Will you get your turn to tell your side of things at some point?
Jenelle: "Yes, I've been filming/documenting my experience through all of this. I will put it altogether and let you guys see how my life was completely turned upside down soon."
(The Ashley would like to note here that it was Jenelle filming, not MTV or anyone associated with MTV. Jenelle has not been filmed for 'Teen Mom 2' since April.)
Q: Do you still have an open CPS case or did they close out? Is court with them done with?
Jenelle: "Court is completely done with. The CPS case is dismissed. Everything they had as evidence was basically all hearsay."
Q: How's everything been since having all the kids back? Does Jace get to live with y'all too?
Jenelle: "Everything and everyone is doing great. We are super grateful and happy. Jace will live with us full time soon but not now."
Q: When you get Jace full time will he still have visitation with [your mom] Barbara?
Jenelle: "We will see. Have no idea what the future can hold."
Q: Will y'all consider letting Maryssa go to public school like the other kids?
Jenelle: "Yes she is going to. I do want to point out she wanted to try out homeschooling to begin with."
Q: Why should Nathan have supervised visits if he just [kept Kaiser] all that time [during the hearings] alone? 50/50?
Jenelle: "He didn't keep Kaiser alone, and if he did then he would be in contempt of the custody order. But there's a lot of behind the scenes details about why it's supervised."
Q: Do you think you and Nathan should have split custody or keep it the same? Why/why not?
Jenelle: "Keep it the way it is now. There's a lot of details behind why there is supervised visits with Nathan."
Q: Why are you acting like you and David are good parents?
Jenelle: "It's not acting, it's facts."
Q: What's your next move financially without 'Teen Mom?'
Jenelle: "Makeup kit launch, possibly another book, and other opportunities I can't mention at the moment."
Q: What are you kids favorite activity to do with you and your husband?
Jenelle: "Jace loves to fish with David, Kaiser loves to play hunting outside, Maryssa does scuba a lot with him, and Ensley loves to swim/watch movies with him."
Q: Are Kaiser and Ensley happy now that they're home with you?
Jenelle: "Happy as can be!"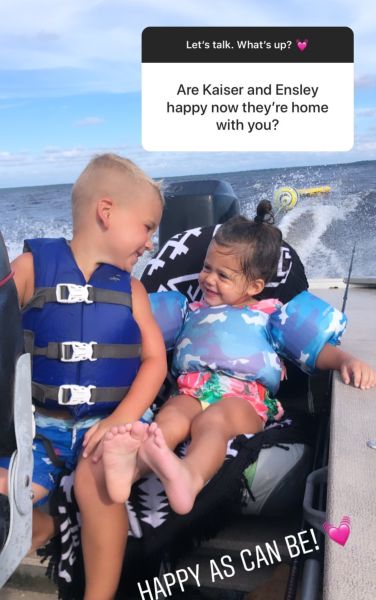 Q: How does it feel to have your kids ripped from your arms and [have] everyone calling you a horrible mom?
Jenelle: "Doesn't bother me whatsoever because my babies are back in my arms…obviously goes to show that some of you believe anything you read online and don't know anything close to the truth."
RELATED STORY: 'Teen Mom 2' Dad Nathan Griffith Breaks Silence About Son Kaiser Being Sent Back to Live with Jenelle Evans, Reveals How Fans Can File Complaint About Judge's Decision
(Photos: MTV, Instagram)