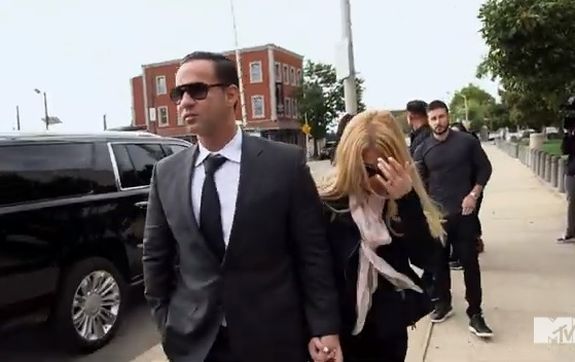 Mike "The Situation" Sorrentino had plenty of support on the morning in October 2018 that he was sentenced for his tax evasion crimes, and now MTV is giving us an inside look at what was happening with Mike– and the rest of the Jersey Shore crew— on that day.
In a new sneak peek of the premiere episode of Jersey Shore Family Vacation Season 3, posted by People magazine, we see Mike arrive at his sentencing hearing as the rest of his roommates show their support— and talk about how nervous they are for their friend.
"I'm terrified," Nicole "Snooki" Polizzi says as they wait for Mike to arrive. "Like, I'm not in a good mood right now."
"Hope for the best, prepare for the worst," Jenni "Jwoww" Farley tells the group.
To lighten the mood, Pauly D and Vinny Guadagnino make some jokes at their friends' expenses.
"Angelina, your ride's here!" Pauly says as a garbage truck drives by.
"Not right now!" she says. "I can't laugh at a moment like this!"
The roommates all realize that they showed up to the hearing wearing black.
"It looks like we're going to a funeral," Pauly says, to which Nicole replies, "It feels like it, honestly."
While all the 'Shore' stars donned their darkest duds for Mike's hearing, Vinny points out that none of them were dressed appropriately for a day in court.
"Pauly looks good, but he's wearing Yeezys," Vinny says. (Pauly explains he had no dress shoes.) "Jenni looks like she's a former prosecutor mixed with a p0rn star. And Ronnie looks like he's going to court…as a criminal."
Nicole tells the cameras that she's hoping Mike's judge isn't too harsh on him.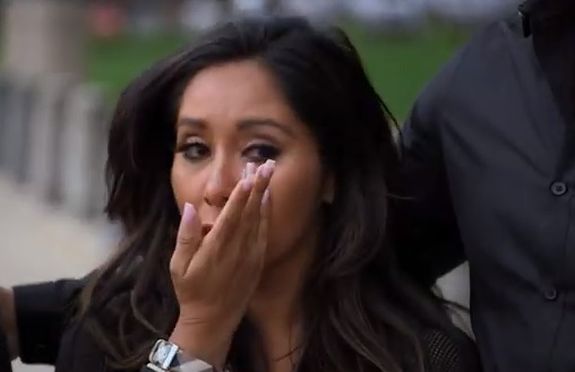 "If Mike gets a Judge Judy-type judge right now, he's f**ked," she says. "He doesn't fit in in prison. Ronnie does, but not Mike!"
Mike then pulls up in a car, accompanied by his now-wife Lauren.
"My heart is racing right now, but at the end of the day, I need to hold my head high with grace and class, for myself and my family," Mike says in a voiceover.
"Mike is the most positive person I've ever met," Vinny explains. "But even for him this is a monumental moment, a tough moment. He will truly be tested today."
'Jersey Shore Family Vacation' Season 3 premieres Thursday, July 11 on MTV.
Watch the sneak peek below!
RELATED STORY: The Situation Gets Hitched & Goes to Prison, Jwoww Gets Divorced: Get Your First Look at 'Jersey Shore Family Vacation' Season 3
(Photo: MTV)