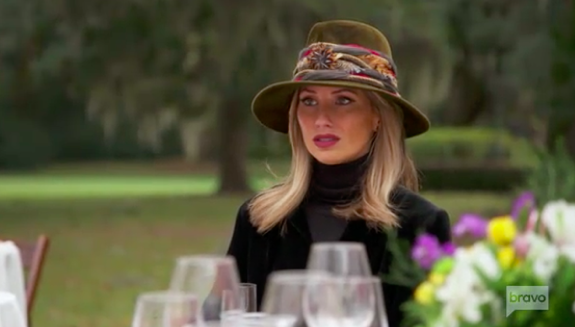 Ashley Jacobs made her return to Southern Charm on last night's episode and in keeping with the skeet-shooting theme, she came in with a bang—- on screen and on social media.
To the surprise of literally no one, the return of Thomas Ravenel's on-again/off-again girlfriend resulted in awkward confrontations with nearly every remaining 'Southern Charm' cast member, including Whitney Sudler-Smith, who came to the defense of his mother Patricia Altschul (who was not in attendance during the skeet shoot).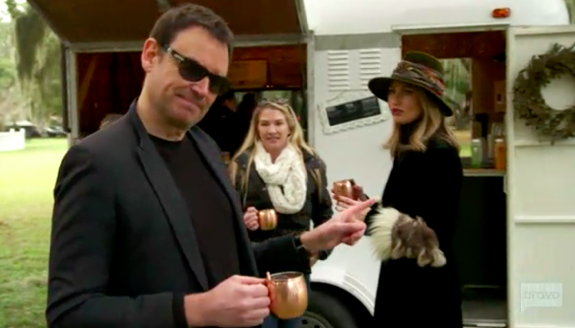 Whitney and Ashley had a charming exchange of words when they met up at Eliza Limehouse's event, which was shown on last night's episode. The topic of Patricia came up, and Ashley told Whitney that Patricia is "almost 80. You'd think she would know better."
When Whitney told Ashley he thinks she's delusional, Ashley stated she feels the same about him.
"Same. [Patricia] made my life a living hell, too. I have nothing kind to say about her. It's a hot topic and I just don't want to get into that," Ashley said.
During his interview on last night's episode, Whitney accused Ashley of bad mouthing his mother, beginning at last season's reunion when Ashley blamed Pat for some of the bad press Thomas had received.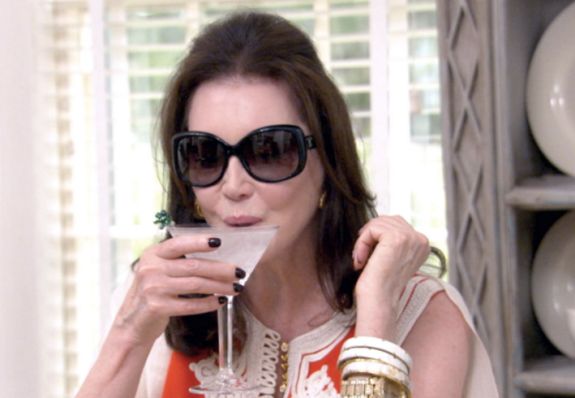 "Ashley insists on besmirching my mother and her reputation with some conspiracy theories," Whitney explained. "None are true."
The feud began even before the episode aired, and continued afterward as well. Prior to the episode airing, Pat posted a less-than-flattering photo of Ashley to her Instagram, warning 'Southern Charm' viewers of the "crazy town express" coming their way.
https://www.instagram.com/p/BzwBaZOBUsT/?utm_source=ig_web_copy_link
While Pat received a mixed response for her social media slam, she not only defended it, but said Ashley actually deserved worse.
"She interjected herself into this season spewing lies and insulting the cast. She deserves this and more," Pat commented on the photo.
After getting wind of the shade Patricia threw her way, Ashley made it known in a series of posts to her Instagram story that she's standing by her accusations that Pat was involved in the attempted take-down of Thomas.
As The Ashley previously told you, a judge has ordered Patricia to be deposed in the custody case between Thomas and Kathryn Dennis, despite Patricia's best efforts to not get involved. As of last night, Ashley is claiming that Patricia's unwillingness to testify is not rooted in her not wanting to get involved with the custody case, but rather "for fear of becoming/being known as Perjuring Pat."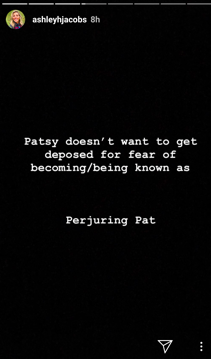 Ashley also altered a screen grab of a headline to accuse Pat of "conspiring to frame Thomas for rape"—a nod to the sexual assault allegations made against Thomas by his children's former nanny, Nanny Dawn, in October of last year. (Thomas himself mentioned in court paperwork filed earlier this year that he believes Patricia may have information about the women teaming up to accuse him of sexual assault.)
In another post, Ashley warned "Patsy" that she "might win on social media but you won't win in court."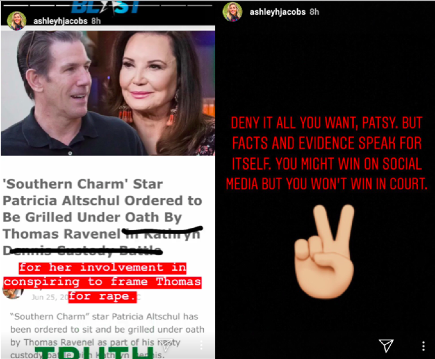 Ashley then asked her followers to smother her with a pillow if she "ever made it to 80 yrs old and you see me posting a picture of a 34 yr old girl (from a reality tv show) on my social media."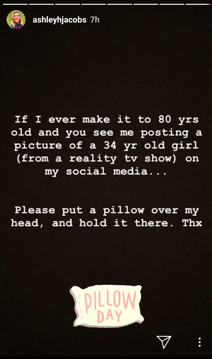 Ashley– who is a nurse– obviously received a lot of backlash on her posts. However, the nay-sayers did notstop her in her quest to trash Patricia.
She concluded her posting spree by apologizing for her rant and then playing the "she started it first" card.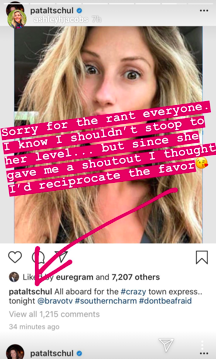 Despite last night's tense (and at times, painfully awkward) episode, Cameran Eubanks praised her 'Southern Charm' cast mates on Instagram for keeping things classy.
"No tables were turned over. No glasses were thrown. No wine poured on anyone. Our Mamas raised us better. Proud of everyone on last nights episode for ultimately behaving….and that is what is 'Southern Charm,'" she wrote.
RELATED STORY: 'Southern Charm' Star Patricia Altschul Ordered to Be Deposed in Thomas Ravenel & Kathryn Dennis' Custody Case
(Photos: Bravo, Instagram)