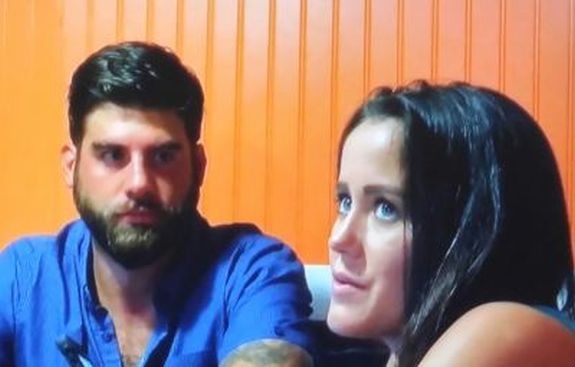 Columbus County investigators say that David Eason will not face charges in relation to the death of his wife Jenelle Evans' dog Nugget. The Columbus County Sheriff's Office released a statement on Thursday to let the public know that it has concluded its investigation into the dog shooting claims…which the former Teen Mom 2 star is now claiming she made up for publicity!
No. Seriously…
In the statement, the Columbus County Sheriff's Office gave a detailed account of what it's been doing in regard to the investigation over the last few months.
It stated that it has concluded its investigation into the animal cruelty claims, and that David will not face charges. Jenelle will also go charge-less, even though investigators say she admitting making the story up for publicity.
The Ashley has broken down the Columbus County Sheriff's statement into a timeline so it's easier to understand. (She is only including the events listed in the CCSO's report, and not what was happening in the world of Jenelle and David otherwise!)
April 29: "Jenelle Eason contacted Columbus County Sheriff's Office by public service. Eason advised that on April 29th, at approximately 6:30 pm, her dog bit her daughter, leaving a scratch on her face. Eason advised that her husband, David Eason, threw the dog outside. She then advised that after David realized that the dog scratched their child, he went outside and shot the dog. During this conversation, Jenelle stated that she did hear a gunshot but did not witness the incident."
May 1: The Columbus County Sheriff's Office launched a joint investigation into the death of Nugget.
"Columbus County Sheriff's Office visited David Eason at his residence on [The Land]. The responding deputy was following up on a previous welfare check request on a child [made by Jenelle's ex Nathan Griffith for his son Kaiser] at that residence. While at the residence, the deputy also communicated with Eason in reference to the animal cruelty allegations. The deputy witnessed a juvenile at the residence that appeared to be in good health.
"A Columbus County Sheriff's Office Criminal Investigator attempted to make contact with Jenelle by visiting her at her residence. The investigator was unable to make contact with her in person. A message was left on her voicemail. David reached out to the investigator and advised that he and Jenelle were meeting with their attorney at the end of the week. The investigator attempted to contact Jenelle on the day they reportedly met with their attorney. However, again, she did not answer the phone."
This is the same day that David seemed to confirm he killed Nugget, justifying his actions in an Instagram post by stating the dog bit Ensley in the face. He posted a video of the dog snapping at Ensley but did not reveal if it was the snap that cost Nugget her life.
"A dog is a dog and I don't put up with that s**t at all," David wrote on Instagram. "I'm all about protecting my family, it is my life's mission. Some people are worth killing or dying for and my family means that much to me."
May 13: A search warrant was executed for David and Jenelle's home (aka The Land).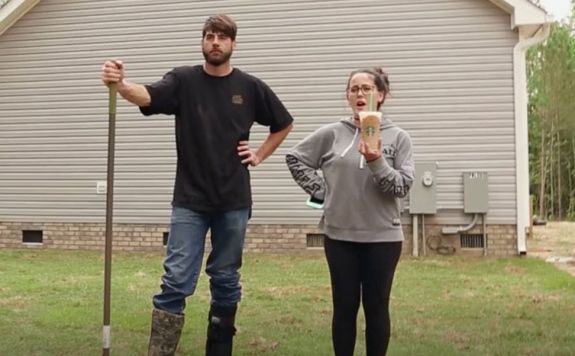 "The Easons did not have prior notice of the search," the CCSO statement reads. "The Columbus County Department of Social Services accompanied the Sheriff's Office to serve four custody orders. At the initiation of the search, no one was home. Contact was made with David and he advised he would arrive shortly. Upon arrival, David willfully signed a consent to search form.
"Columbus County Sheriff's Office conducted a search of the residence and property. No weapons were located inside of the residence or on the property. Investigators processed the residence and the property, locating no blood evidence or any other physical evidence to validate that an animal had been fatally injured on the property. Jenelle was not present during the search."
May 14: Investigators interviewed Jenelle, who told them she didn't hear anything that made her believe her dog had been shot, although she admitted she did not know where Nugget currently was. She also told investigators she wanted the investigation into the dog's death closed, stating she filed the animal cruelty report for "publicity" and because she didn't know where Nugget was.
"Columbus County Sheriff's Office Criminal Investigators met with Jenelle in reference to the allegations she reported," the statement reads. "David was not present during this meeting. Jenelle was questioned concerning the incident she reported to Columbus County Sheriff's Office. Jenelle's accounts were inconsistent with her original account of the events that occurred on April 29th.
"Jenelle advised that she was inside with her children at the time of the alleged event. She advised that she never heard or saw anything to indicate that David shot her dog. Jenelle advised that she did not want the Columbus County Sheriff's Office or the District Attorney's Office to continue with the investigation. Jenelle advised that this was her decision that she made on her own free will. She advised that she was not coerced into making this decision."
She then stated that she didn't even know if Nugget had been shot, or if she was dead.
This is, of course, a much different account than she gave to Us Weekly just days after Nugget's alleged death.
"Jenelle stated that the reason she filed the animal cruelty report was for the publicity and because she did not know where her dog was," the news release states. "The evidence collected indicates that the allegations of animal cruelty were fabricated. Therefore, Columbus County Sheriff's Office is closing this investigation. No charges will be filed in this case."
(This means Jenelle will also not face charges for fabricating a story to police.)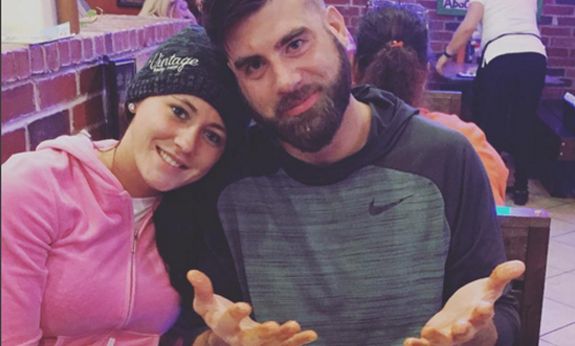 The Sheriff's Office did make mention of the fact that angered 'Teen Mom 2' fans and animal lovers flooded the phone and email lines of the county's animal shelter, Sheriff's Office and other public service venues in regard to Nugget's death.
"Columbus County Sheriff's Office has dedicated many hours investigating the reported allegations. Columbus County Sheriff's Office, along with Columbus Central, the District Attorney's Office, Columbus County Department of Social Services and Columbus County Animal Control were inundated with phone calls and emails concerning this investigation due to social media posts advising the public to contact the above agencies," the statement reads.
"The quantity of calls and emails that the Sheriff's Office and the above agencies received were so abundant that individuals had to be removed from their normal duties to answer thousands of redundant calls. This slowed the progress of the investigation, and delayed normal daily operations."
The agency then blamed social media misuse for holding up the investigation.
"Social media can be a great tool when utilized for positive interactions. In this case, social media posts were utilized to incite follower's emotions to gain publicity," the statement reads. "Sheriff Greene and Columbus County Sheriff's Office were quoted in numerous social media posts. However, the 'quoted' statements were never made by Sheriff Greene or Columbus County Sheriff's Office. We must remember that reality television and tabloid journalism are for entertainment purposes only."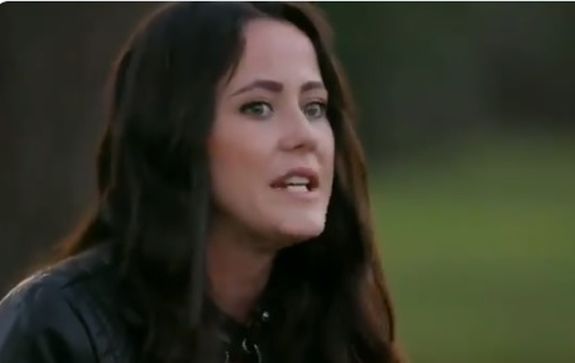 The CCSO then gave an update on the mysterious white powder that was sent to Jenelle and David's home in May. Jenelle called 911 to report that the substance had been mailed to her and had spilled out all over her car (and David).
The CCSO stated that the substance did not test positive as a narcotic or harmful substance.
"The Eason's received an envelope in the mail, hand addressed from the Brunswick County Clerk," the statement reads. "When David Eason began opening the envelope, a white powder substance fell out of the envelope. The substance was tested and did not test positive for narcotics or other harmful substances. This investigation has been closed. All leads in this case have been exhausted."
So…to sum things up here: David will not face any charges, Jenelle will not face any charges, Nugget has never been found and the mysterious white powder was just powder.
UPDATE! Jenelle is apparently unhappy with the statement the Columbus County Sherrif's Office released today. In comments made under one of her Instagram posts, Jenelle answered a fan's question about whether she really did admit to making up the story about the dog being shot.
"So you fabricated the story about the dog being shot?" the fan asked Jenelle.
"F**k no, trust me I have an appointment with my lawyer about what was posted," Jenelle wrote back. "They say I falsified a police report butttt they decided to not press charges? That sounds weird."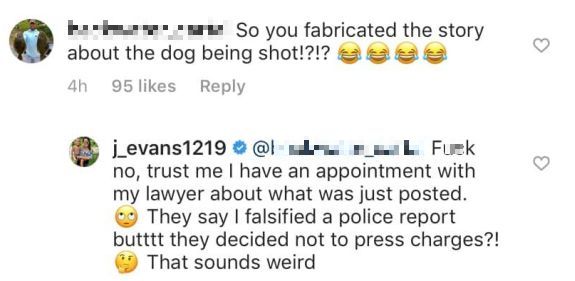 She also called out one of the local news stations, WWAY3, which was one of the first news outlets to report the Columbus County Sherriff's Office's statement.
"WWAY TV … before you quote someone make sure they actually said it first. You're legally not allowed to do that," she wrote on Facebook.
She later gave an interview to The Hollywood Gossip, denying some of the things mentioned in the CCSO's statement.
"I never made a report against David in the first place," Jenelle told the site. "The cops called me and left me voicemail asking me to call them back about the 'dog incident.'"
"I called back the Chief of Police because he wanted to speak with me the beginning of May 2019. When I called him, before I can even speak, he said to me, 'Mrs. Eason, I need to know the truth about this situation. I have many media outlets calling me about it and I want to tell you right now if this is a publicity stunt you need to tell me because I have other cases including things like rape that I have to deal with. If you are doing it for publicity then I understand and will close the case and you can go about your business.'
"When I responded I told him, 'Yes, what you heard is true about my dog. This isn't a publicity stunt and I'm not sure where my dog is or what happened to my dog but you would have to call David and ask. I was inside my house with my kids when David went outside with the dog.'"
Jenelle then told The Hollywood Gossip her version of the events on the day Nugget was allegedly shot, and the period of investigation afterward.
"I told them I hear gunshots all the time at my house and my neighbor down the road even shoots his cannon sometimes. Told them I don't remember if I heard a gunshot or not. I never saw anything and was in the house with my kids the entire time (Ensley, Kaiser, and Maryssa)," Jenelle said. "[My stepdaughter] Maryssa even got on stand in court, with the CPS case, and testified that the story of the dog did in fact happen. Not sure why the police would lie about this entire investigation."
She also offered insight on some of the stuff that was mentioned during the CPS hearing.
"Detective Jacobs got on stand during court also and tried saying my house was 'filthy' and 'cluttered' when he conducted his search," Jenelle said. "My lawyer proved Detectives Jacobs wrong during his testimony by showing him my Ring camera of the night he was there and it showed my house to be spotless and no clutter. These police ended their 'investigation' a month ago and told David's lawyer, Bill Gore, that they were closing the case. I honestly think they are doing this for their own publicity because they could have wrote up their 'press release' weeks ago. I've never in my life dealt with a police department ever 'releasing a press statement' about their investigations."
(The Ashley can interject here that this does happen all the time. Police departments do, indeed, release press releases on high-profile cases.)
"I feel very attacked and exploited for no reason," Jenelle said. "The Columbus County Sheriff's Office is so crooked with their business that Detective Jacobs continued to call and harass me and David for weeks, had Mr. Bill Gore send a letter to leave us alone, then had to call Detective Jacobs to tell him to stop calling both of us about the incident.
"They didn't find anything against me in any sort of way. I never broke the law to begin with… We have footage of the entire search when the police came from two different angles," she added. "One from David's phone and one from mine. If the police want to keep up their lies we can post the truth some more."
Jenelle stated that only David knows what really happened with Nugget that day.
"You would have to ask David what happened. I was not outside," she said. "No more details I want to share, just want to move on with my life. This was an incident that should have never went public to begin with."
RELATED STORY: Former 'Teen Mom 2' Star Jenelle Evans Calls 911 After Receiving Mysterious Powder in the Mail: Listen to Her 911 Call
(Photos: Instagram, MTV)