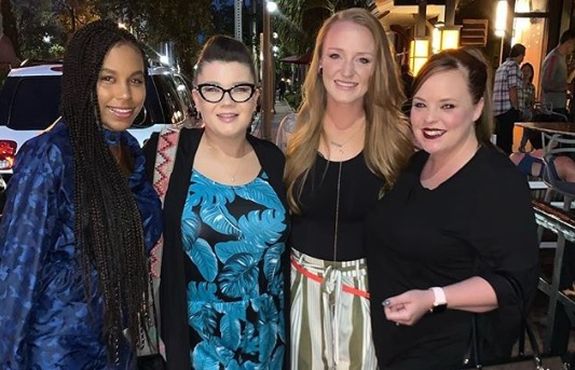 Amber Portwood had plenty of support as she walked into the courtroom on Thursday for a scheduled pretrial conference. She was there in regard to the three felony charges against her that stem from her July 5 arrest for domestic battery against boyfriend Andrew Glennon. Her Teen Mom OG co-stars— Maci Bookout, Catelynn Lowell and Cheyenne Floyd— as well as Amber's ex Gary Shirley and his wife Kristina— rallied around Amber, in addition to her mom Tonya and an MTV film crew.
(Surprisingly, the 'OG' girls didn't don all black a la the Jersey Shore Family Vacation crew at Mike Sorrentino's sentencing.)
Catelynn told fans on Twitter that she was heading to see Amber on Wednesday to support her.
"There is always two sides to every story… u r only hearing one side sooo [peace] out I love you @AmberLPortwood I'm on my way to you now," Catelynn wrote on Wednesday, later adding, "I DO NOT condone abuse! I AM supporting a friend in need! That's what friends are for. When I went through all my crazy mental illness stuff my friend helped, me supported me, and loved me!!! And I'm going to do the same!"
Once inside the courtroom, Amber got some good news. According to Radar Online (and confirmed independently by The Ashley via online court records), the "No Contact" order preventing Amber from seeing her son James was dropped.
Marion Superior Judge Angela Dow Davis dismissed the No Contact Order, despite the State's objection to her doing so. She is still only permitted to supervised visitation with James, as there is still a CHINS (Child In Need of Services) case pending.
The no contact order for Andrew remains intact.
According to court records, the State of Indiana filed a motion for an In Camera Review for the Department of Child Services on Thursday.
"A judicial proceeding is said to be heard 'in camera' either when the hearing is had before the judge in his or her private chambers or when all spectators are excluded from the courtroom," the definition reads.
MTV cameras were outside the courtroom and, while they are filming (some) of this stuff for the show, from what The Ashley hears, the show's producers have yet to figure out how they will "handle" the situation.
"The girls were technically done filming for the season, but this is obviously such a big part of Amber's current story, it has to be documented," one behind-the-scenes source told The Ashley. "What they do with the footage is still up in the air."
(The Ashley will update you when she hears more on this.)
The next pretrial conference has been set for August 22; however, Amber does not have to appear, as it is listed as "attorneys only."
To see more photos of Amber and the 'Teen Mom' crew at the court hearing, click here!
RELATED STORY: Andrew Glennon Responds After Amber Portwood Posts She's "Heartbroken" Over Him Allegedly Texting Another Woman: "You're More Than Welcome to Have a Pity Party!"