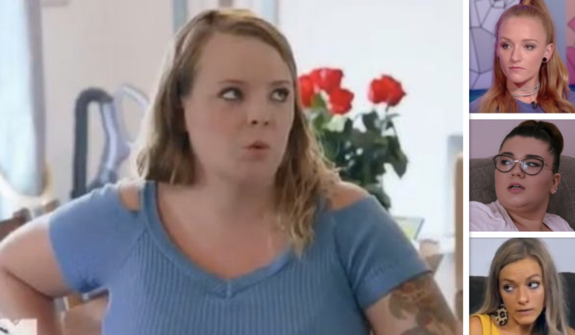 As the Season 9 premiere of Teen Mom OG draws closer, Catelynn Lowell is calling out three of her co-stars for not reaching to her after she suffered a miscarriage last year.
In December, Catelynn revealed she had a miscarriage on Thanksgiving Day, just days after finding out she was pregnant with her fourth child. (Cate and husband Tyler Baltierra are parents to daughters Nova, 5, and Vaeda, 1, and the biological parents of Carly, who was adopted shortly after her 2009 birth.)
This week, however, Cate shared that only one of her 'Teen Mom OG' co-stars reached out to her after the news of her miscarriage had been made public: Cheyenne Floyd. In an interview with Us Weekly, Cate admitted she was upset that the other girls– Amber Portwood, Maci Bookout and Mackenzie McKee— didn't bother to check in with her.
"Cheyenne is the only one that ever reached out to me," Cate told Us Weekly. "She was like, 'I'm so sorry. How are you doing? I'm here to talk,' and we would message back and forth. For her to just ask, 'Are you OK?' I was like, 'Wow.' … I just let her know how important that was to me that she really reached out just to see how I was doing."
Earlier this month, Cate even took a moment to give Cheyenne a shoutout on social media for being such a great friend.
"I want to take a moment to thank you so much for being a great friend," Cate posted along with a photo of herself and Cheyenne. "For reaching out to make sure I was OK when one of the hardest things happened to me! When I first met you when they brought you on the show I knew you and I would get along! So glad to have you a part of our crew."
Cate said not hearing from her other co-stars did "bug" her, as she feels as though she's reached out to them "when they're going through things."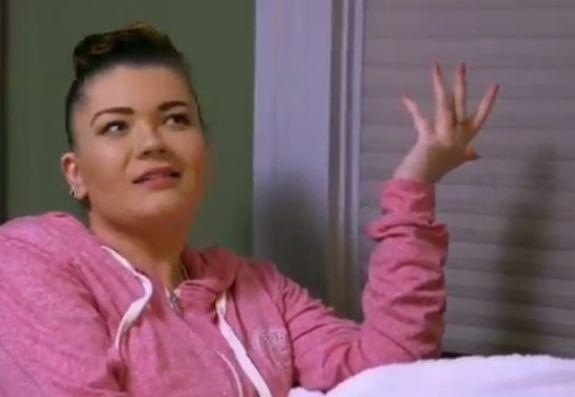 "I try to be there, but I also have to have that mindset that everybody is not going to do what I would do," she said.
(As 'Teen Mom OG' fans saw, Cate— as well as Maci and Cheyenne— flew to Indiana to to support Amber at her court hearing in 2019.)
While (nearly all of) Cate's co-stars stayed silent after her loss, she said she's regularly communicated with the group over the years to catch up.
"Not so much parenting advice, but it's really like, 'Hey, how are you doing? How is your relationship? How is the family? What's been going on,'" she said.
So far Maci, Amber and Mackenzie have all remained silent in regard to what Catelynn said.
Cate's storyline on the upcoming season of 'Teen Mom OG' will reportedly revolve around her miscarriage.
Season 9 of 'Teen Mom OG' premieres Tuesday, January 26 on MTV.
UPDATE! Amber Portwood is claiming that she did, in fact, reach out to Cate after the miscarriage but Catelynn must have "forgot." Click here to read Amber's interview.
RELATED STORY: It's Over! 'Teen Mom OG' Star Amber Portwood Splits with Belgian Boyfriend Dimitri Garcia
(Photos: MTV; Twitter; Instagram)