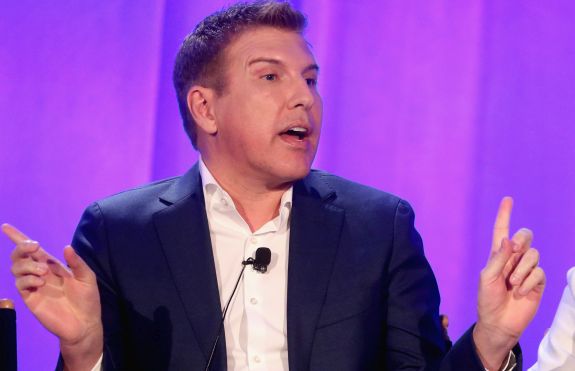 Todd Chrisley is shutting down rumors that USA Network is cancelling his family's reality show in the wake of his arrest for tax evasion and fraud charges.
The Chrisley Knows Best star took to Instagram to deny the recent reports that the network was cutting ties with the Chrisley Clan after Todd and his wife Julie were indicted Tuesday on 12 counts, with charges including tax evasion, wire fraud, conspiracy to commit bank fraud and conspiracy to defraud the United States.
Radar Online reported earlier this week that USA Network was not planning to renew the Chrisleys' contracts for Season 8, and would also be axing the new spin-off Growing Up Chrisley.
Todd, however, denied those claims in a lengthy Instagram post on Thursday.
"We are getting back to work after this distraction and our show hasn't been cancelled," he wrote in the post.
"Please don't fall victim to false prophets, don't give attention to the attention seekers, stay steady on your course, grieve the loss of ones you love that didn't love you, pray for them even though they have wronged you, forgive them for yourself and ask God to move them on," he also told fans.
(Of course the "love ones" who Todd feels have "wronged" him most likely includes his daughter Lindsie, who accused him and his son Chase of trying to extort her into lying about the tax evasion case so that they didn't release her sex tape made with Bachelorette star Robby Hayes!)
Todd and Julie were released on bail of $100,000 each earlier this week. They were made to surrender their passports, and ordered not to change their address, obtain any new bank loans or get extensions from the bank without the approval of their probation officer, according to The Blast.
RELATED STORY: Lindsie Chrisley Claims Dad Todd & Brother Chase Threatened to Expose Her Sex Tape; Todd Reveals Lindsie Had Affairs with Two Guys From 'The Bachelorette'
(Photos: Frederick M. Brown/Getty Images; Instagram)