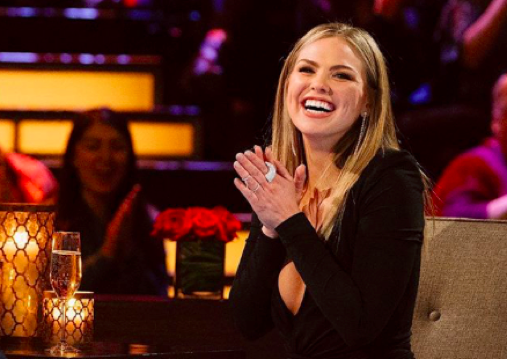 Hannah Brown of the Bachelorette may have found something to fill her schedule now that she's done handing out roses.
According to Us Weekly, multiple sources have confirmed that the former 'Bachelorette' will be putting on her dancing shoes for season 28 of Dancing with the Stars.
The 'Dancing with the Stars' Instagram page teased Hannah's involvement on the upcoming season in a post earlier this week with part of a black and white photo of a woman and a caption mentioning "love."
"We'd LOVE to tell you who this is… But we're going to make you wait a few more days. Any guesses? #DWTS," the caption read.
After seeing the post, many 'Bachelorette' fans began to speculate that Hannah was the mysterious cast member pictured, with some pointing out the reality star's hand freckles that matched the woman in the photo.
The news of Hannah possibly joining 'Dancing with the Stars' comes a week after the star shared with fans on Instagram that she was struggling in her post-'Bachelorette' life.
"I'm struggling. Life is so different," she wrote. "Since last August, I've been a pageant queen, a bachelor contestant, and the Bachelorette. I've been in love with multiple people, I got engaged, I broke off an engagement, and I shared it all with millions of people."
Hannah—- whose 'Bachelorette' run ended with an engagement to Jed Wyatt, who was later revealed to have had a girlfriend back at home the entire time—- went on to say that she missed her friends and family but could "barely keep up with" her own life at the moment.
"I miss my friends and family that have watched my life explode," she said. "I feel guilty because I don't have the time or emotional capacity to fill each of them in on my life right now. I can't keep up with the people that matter most, because I can barely keep up with my own life right now."
Despite her unhappiness, it appears that Hannah— like many 'Bachelor' and 'Bachelorette' leads who came before her— is more than willing to strap on her dancing shoes for a shot at a little more reality TV fame.
Season 28 of 'Dancing with the Stars' premieres Monday, Sept. 16 on ABC.
RELATED STORY: ABC Announces Another Spin-Off is Being Added to 'The Bachelor' Franchise
(Photos: ABC, Instagram)