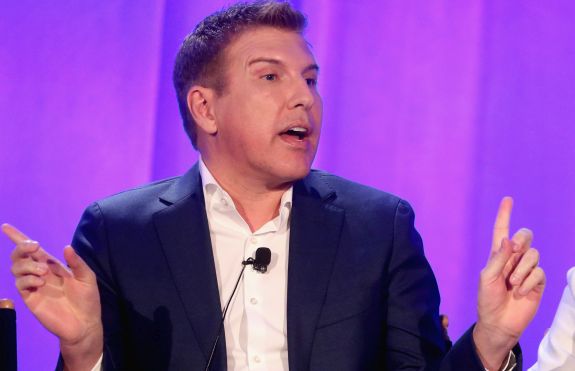 Todd Chrisley marked National Daughter's Day this week by conveniently omitting estranged daughter Lindsie from his social media tributes, an act that had the Chrisley Knows Best star's fans calling him out for his pettiness.
The social media snub from Todd like came as no surprise given the recent drama between the father and daughter. While the two have been estranged for some time, their family feud resurfaced in the public a month ago when Todd and his wife Julie were indicted on charges including tax evasion, wire fraud and more.
Following the news of the Chrisley legal woes, Lindsie was accused of playing a part in Todd and Julie's arrests (something Lindsie has vehemently denied). Unfortunately, the family drama only continued when Lindsie claimed that her father and brother Chase had threatened to expose her alleged sex tape featuring Bachelorette alum Robby Hayes.
While Lindsie didn't receive a special shoutout from her father, Todd did take to Instagram to share posts dedicated to his other daughter Savannah, as well as his granddaughter Chloe, of whom he and wife Julie share custody.
"Celebrating National Daughters Day, @savannahchrisley you have and are the most wonderful daughter any parents could ever ask for, you are kind, compassionate, funny and beautiful (you get all that from me but don't tell your mom) you are fiercely loyal and your faith in God inspires me always keep reaching, with all my heart, I love you with all my heart, always have, always will, … " Todd captioned his tribute, along with some photos of himself and Savannah.
Todd's followers were quick to point out in the comment section of his heartfelt dedication to Savannah that he failed to acknowledge Lindsie.
"Ouch," one comment read, while another encouraged Todd to "be the bigger person here." Another follower found some humor in the situation, reminding everyone "how petty Todd is," adding that they "expected no less."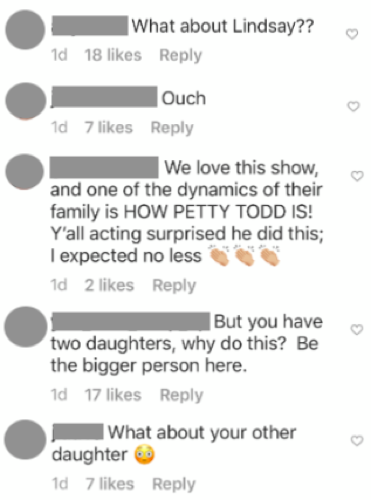 Todd's second National Daughter's Day post was dedicated to his granddaughter Chloe, who Todd called his "little beauty."
Like Todd's tribute to Savannah, Chloe's also drew some criticism from Todd's followers, given that Chloe is technically the daughter of Todd's son Kyle. Todd, however, didn't hesitate to quip back at his haters.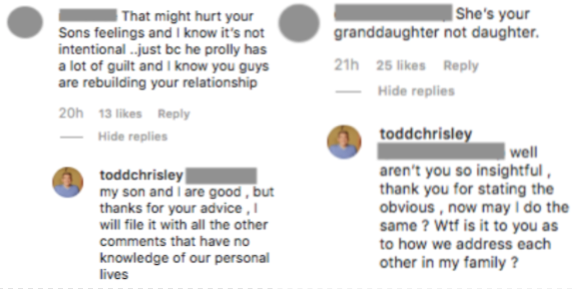 Though the Daughter's Day snub is just another hit Lindsie has taken as a result of her family, the turbulent time has brought her closer to other people in her life, including Robby. The former Bachelor told Us Weekly that the Chrisley family feud/sex tape scandal has strengthened his friendship with Lindsie.
"If anything, it's brought us closer," he said.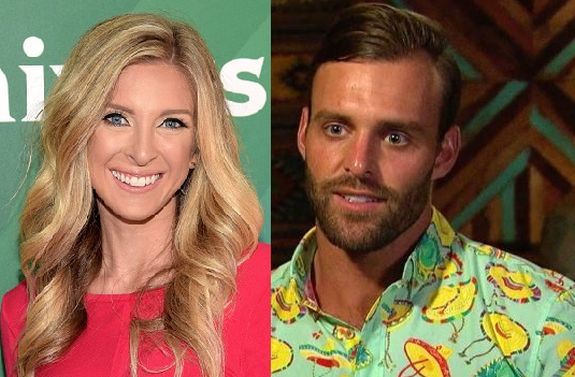 Robby went on to say that Lindsie is "doing all right" despite the ongoing drama with her family.
"It's not easy when your whole family betrays you," he said. "But she's strong, she's very smart, she's well-spoken. Every time I talk to her, she seems headstrong. … I don't feel like I need to make her feel better. So I don't feel like she's struggling too much, and that could be because she has been distancing herself from this family for years now. Not just 'cause this happened."
Lindsie has not yet spoken publicly to her father's social media snub.
RELATED STORY: Lindsie Chrisley Speaks Out On Her "Coffee Convos" Podcast About Drama With Her Parents: "[It] Has Literally Wrecked My Life"
(Photos: Frederick M. Brown/Getty Images; Instagram; Jason Kempin/Getty Images; ABC)