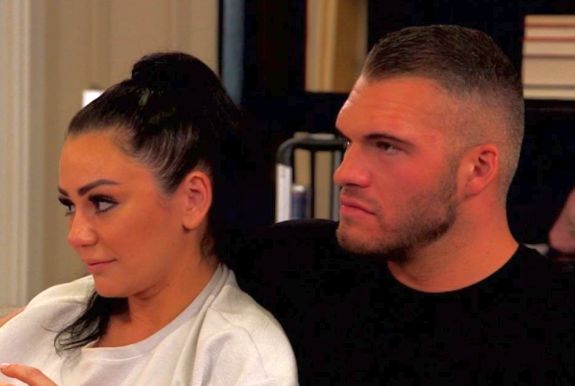 Zack Carpinello is trying to win his girl back!
Jenni "JWoww" Farley's now-ex-boyfriend made a public apology to the Jersey Shore Family Vacation star on Friday, apologizing for his actions during Thursday's episode, which reportedly caused Jenni to break up with him.
Zack (aka "24") also apologized to Angelina Pivarnick, whom he was seen flirting with (and possibly groping) during the episode. (Angelina and Jenni got into a Twitter spat on Thursday while the episode was airing because of what was shown.) Jenni later told her Instagram followers that she had no clue about what had gone down in Vegas until she watched Thursday's episode.
"For 5 months I was naive, probably laughed at and made into a story line that will forever haunt me. My heart hurts on so many levels," she wrote.
In his own message posted to Instagram, Zack apologized to the girls, and assured Jenni that nothing like this would ever happen again.
"I made mistakes that I cannot take back, which I take full responsibility for," Zack wrote. "Jenni does not deserve any damage from anyone else. This is on me."
"I sincerely apologize to Jenni. I apologize to Angelina as well," he continued. "I love Jenni, with everything that I have, I make this known to her every day. I will continue to make this known to her and her kids, who also have my heart."
Zack then promised that, even if Jenni doesn't take him back, he will never act like this again.
"I will make it certain that nothing like this ever happens again, in any way regardless of the outcome," he wrote.
So far, it appears that "the outcome" is that Jenni is through with Zack. She removed most of the photos of Zack from her Instagram, and is no longer following him (or Angelina) on the social media app.
Watch a preview of next week's 'Jersey Shore Family Vacation' episode (in which Angelina and Jenni seem to go head-to-head) below!
Thanks for watching ❤️ … see you next #Jerzday for an all new #JSFamilyVacation 8/7c in @MTV @ItsTheSituation @lauren_pesce @DJPaulyD @JENNIWOWW @VINNYGUADAGNINO @snooki @RealRonnieMagro @DeenaNicoleMTV @angelinamtvjs @sallyannsalsano @drewtappon pic.twitter.com/QeiDqM0ozx

— 495 Productions (@495Prods) October 11, 2019
RELATED STORY: Jenni Farley Allegedly Breaks Up with Boyfriend Zack Carpinello After He Was Shown Flirting with Angelina Pivarnick on Latest Episode of 'Jersey Shore Family Vacation'
(Photos: MTV; Instagram)