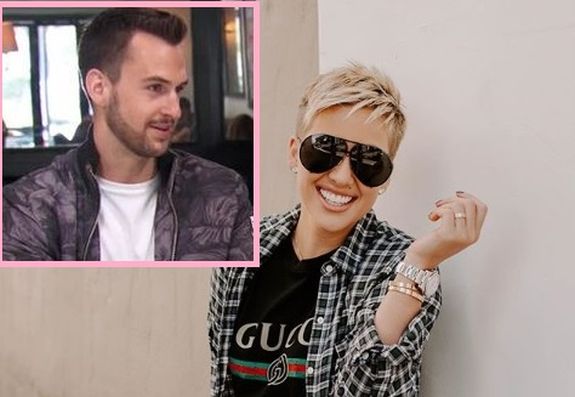 Savannah Chrisley's fiance Nic Kerdiles is shucking off rumors that he has ended his engagement with the Growing Up Chrisley star, adding that he's fine with Savannah's recent dramatic hair makeover.
During an interview with Savannah's parents, Todd and Julie Chrisley on their Chrisley Confessions podcast on Wednesday, Nic revealed that fans assumed that Savannah chopped off all her hair because Nic had broken up with her.
Savannah— who cut her hair into a pixie cut earlier this week— had posted a photo of her new 'do on Instagram, along with the caption, "Ladies…do what YOU want to do. Don't base your looks, opinions, beliefs, etc on a man and what HE wants. It's our world and they just live in it."
Nic says Savannah's makeover had nothing to do with their relationship, and that he likes it…even though he went on to state that she now looks like Todd.
Ouch.
"That woman, she can rock any haircut, it's incredible," Nic said. "She does look a little more like you after that haircut, I have to say.
"But she's beautiful inside and out and she's one strong woman, she's brave, she's courageous. She did this for a lot of reasons and I'm really proud of her."
While Nic (and plenty of others who commented on Savannah's photos) gave her props for having the courage to chop her hair, others were not so kind.
"We live in a time where dudes wanna look like chicks and chicks wanna look like dudes," one person wrote.
"That is God-awful. You do not have the face shape to pull this off. You look very masculine with this. Bad choice!" another wrote.
Todd stated that, while he thinks Savannah, "looks great," he was shocked by her decision…to wear a manly flannel in her reveal pics.
"If you're gonna cut that short, I don't know if flannel should be the thing you should be rocking with it, but, you know, listen, if it's your thing, it's your thing," the Chrisley Knows Best star mused.
Nic– who proposed to Savannah on Christmas Eve 2018— said that fans were also speculating that he and Savannah split because she is often photographed without her engagement ring on her finger.
"It's funny how people read into the smallest things like that," he said. "But I mean, yeah I get that, there's no engagement ring in some of her pictures. I mean, we're together. Savannah and I are fine. We are working on ourselves every single day and our relationship.
"And listen, it's not a perfect road, like we go through ups and downs. There's a lot of stuff that I need to work on, there's a lot of things that she needs to work on, and communication being one of them," he continued. "So, we are very happy. We are in a good place….we're very engaged."
He acknowledged that he and Savannah had issues in their relationship, even before she got the Ellen DeGeneres-esque haircut.
"We're working on ourselves every day," he said. "We don't have an exact date for the wedding yet, but we're working on ourselves right now. And it feels great being engaged to the woman of my dreams, the woman I'm…spending the rest of my life with, and I'm pretty lucky, that's for sure.
"[Savannah and I have] started making our relationship a priority and we are working on ourselves and admitting to the things we've done wrong, and that's been the biggest blessing, it really has," Nic said. "So, for anybody who's doubting whether we're together or not, we are together, we are very happy, and we are continuously working on our relationship."
Listen to the full episode below.
RELATED STORY: 'Chrisley Knows Best' Star Todd Chrisley Snubs Daughter Lindsie On National Daughters Day; Posts Social Media Tributes to Other Daughter Savannah & Granddaughter
(Photos: USA Network; Instagram)