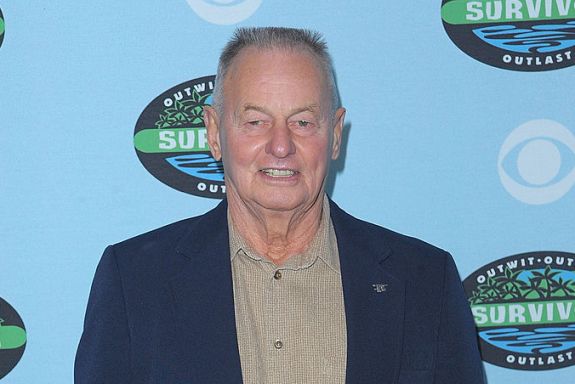 The oldest contestant to ever play Survivor has died.
Rudy Boesch— a popular player from the very first season of the CBS reality TV show— died Friday night from complications from Alzheimer's Disease, TMZ reported.
He was 91.
Rudy— who was already 72 years old when he arrived in Borneo to play the game in 2000— did not win the grand prize that season. (That went to Richard Hatch, in case you've forgotten.) He ended up finishing in third. The retired Navy SEAL returned to the game in 2004 for the "Survivor: All-Stars" season, at the age of 75. He ended up being voted out second that season.
While Rudy never won the big money on 'Survivor,' he did make frequent appearances in the early 2000s at 'Survivor'-related events. He was also chosen to be featured on the 'Survivor' slot machine game with other game favorites.
His most-important accomplishments, though, were during his years in the Navy. TMZ reports that Rudy joined the Navy in 1945 and quickly volunteered for "secret hazardous duty." He was one of the first 50 officers of the original SEAL Team Two. He was awarded the Bronze Star Medal for heroic action during his service in the Vietnam War.
#RIP Rudy Boesch who passed away yesterday at the age of 91. Boesch served in the Merchant Marine during WWII before enlisting in the Navy and becoming an original member of SEAL Team TWO. He gained fame as a gruff, blunt-speaking contestant on the first season of "Survivor" pic.twitter.com/pVsk57vy9U

— U.S. Naval Institute (@NavalInstitute) November 2, 2019
Many 'Survivor' favorites remembered Rudy on social media on Saturday, including "Boston" Rob Mariano (who is appearing on the current 'Survivor' season) and host Jeff Probst.
We lost an original OG @survivorcbs legend… Rudy was always very nice to me. I feel fortunate to have known him and played the game of with him #SurvivorAllStars Our Sincere condolences to his Family. Rest In Peace Rudy😢

— Boston Rob (@BostonRob) November 2, 2019
The Survivor family has lost a legend. Rudy Boesch passed at the age of 91.
He played in the first season of Survivor at the age of 72. He is one is the most iconic and adored players of all time.
And he served our country as a 45-year Navy SEAL.
Rudy is a true American hero. pic.twitter.com/IJxELbcthH

— Jeff Probst (@JeffProbst) November 3, 2019
Ours was an interesting bond, Dear Rudy! You and I helped open minds and undermine predjudces. While your time here has passed, you will remain loved and iconic, dear friend!

— Richard Hatch (@HatchRichard) November 2, 2019
It is with profound sadness I report my friend, Rudy (Boesch), passed away Friday, after a valiant struggle, with Alzheimer's disease. Rudy served 45 years as a Navy SEAL. Oldest cast member (72) Survivor, Seasons 1 (75) and "All-Stars. RIP, Rudy! I'm gonna to miss you!
Joe pic.twitter.com/m1JVuAw4CK

— Joe Del Campo (@excalintel1) November 2, 2019
RIP Rudy! You will be missed!

— Russell Hantz (@russellhantz) November 2, 2019
The first LEGEND in the history of Survivor. Rest In Peace Rudy. https://t.co/lssHmiQ9st pic.twitter.com/x2gaVB5gpQ

— Jonny Fairplay (@JonnyFairplay) November 2, 2019
(Photos: Jason Merritt/Getty Images; Twitter)