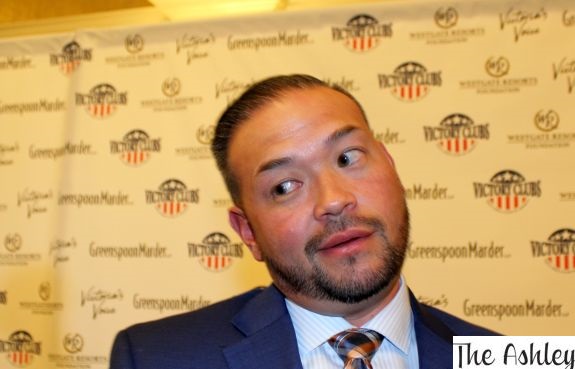 Jon Gosselin won't be walking down the aisle any time soon.
The former Jon & Kate Plus 8 star told In Touch Weekly that, while he is very happy in his relationship with girlfriend Colleen Conrad, there is probably no wedding in their future.
"We just look at each other like 'Eh.' Because we're both divorced so … Is there a point? We love each other," Jon told the magazine on the red carpet of the David & Jackie Seigal's Victoria's Voice, An Evening to Save Lives event, held at the Westgate Hotel in Las Vegas on October 25.
Jon went through a bitter divorce and custody battle with his ex-wife Kate Gosselin, and was only recently released from the 10-year gag order he was under that did not allow him to speak about her or their custody issues publicly. While that divorce may have scarred Jon from getting hitched again, he insisted to In Touch Weekly that Colleen is the woman for him.
"We're committed to each other," he said.
The Ashley, who also attended the Victoria's Voice event last weekend in Las Vegas, spoke to Jon about his son Collin coming to live with him and Colleen last year. Jon also told The Ashley that he enjoys living a "regular life" outside of the reality TV spectrum with Colleen.
"No more reality shows for me, on Monday I just go to work like everyone else!" Jon told The Ashley on the event's red carpet. "I work in the healthcare industry. I do IT for a healthcare system company, and Colleen is a nurse practitioner in the mental health field so she does stuff with adolescents and adults.
"I think a lot of people don't know that I work a real job, I'm a real person," Jon said. "This is like the first time I've actually gotten to talk about it."
Jon and Colleen have been together since 2014, but have known each other since childhood.
"I've known Colleen my whole life," Jon said during a WEtv panel in December 2018. "We grew up three blocks from each other. Her sister used to babysit me."
As TLC viewers know, Jon's ex-wife Kate is still very single, and even attempted to find herself a man (via reality TV, of course) on her dating show Kate Plus Date, which aired earlier this year.
RELATED STORY: EXCLUSIVE! Jon Gosselin Gives Update on Son Collin's Life: Not Talking to Mom or Siblings; Active in School Activities & More
(Photos: The Ashley, Instagram)