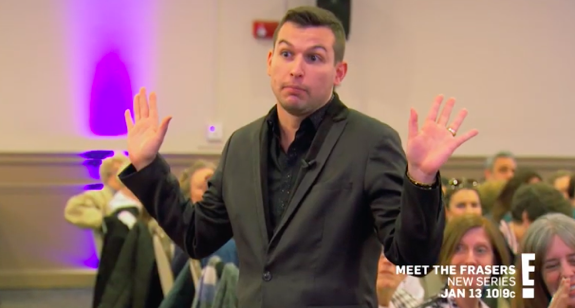 Another medium is coming to E! next year…
The network has announced the January premiere of Meet the Frasers, an unscripted series that follows 28-year-old psychic medium Matt Fraser, his pageant queen girlfriend Alexa Papigiotis and their "overly-involved families." The couple, who are "highly visible local celebrities in their hometown of Cranston, Rhode Island," have big plans for their future, with Matt focused on live events and his upcoming book and Alexa's sights set on another pageant title and getting her hands on an engagement ring.
Based on the trailer for the new series, we can also expect to see the Fraser family cruising to and from Matt's book readings in an SUV with his face plastered on the side of it and butting heads when it comes to the amount of bling on their matching jackets.
You know… the usual.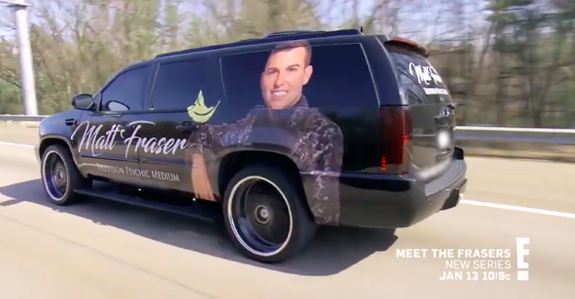 We also get a glimpse of Matt preparing for a work event by squeezing into some shape wear, which his sister Maria unfortunately walks in on.
"I don't care if they call me a fraud, but if they call me fat I'm gonna cry," he tells her.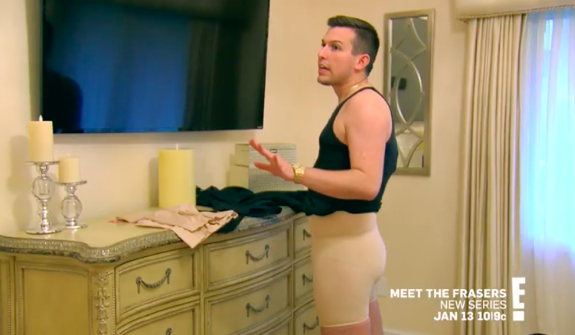 With E!'s addition of Matt Fraser, the network now has two shows featuring psychic mediums — Hollywood Medium with Tyler Henry premiered on E! in 2016, albeit with a very different format.
'Meet the Frasers' premieres with back-to-back episodes on Monday, January 13 at 10 p.m. on E! — Check out the trailer below!
(Photos: E!/YouTube)