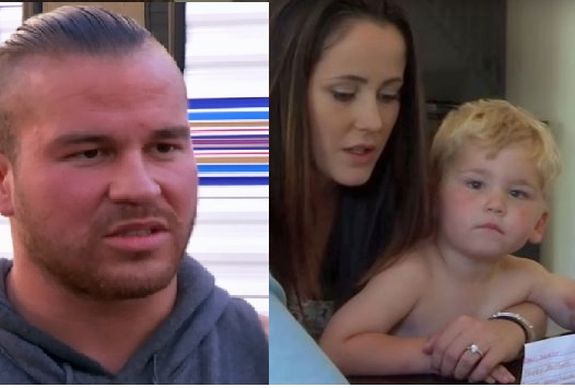 Jenelle Evans and her baby daddy Nathan Griffith are getting along much better these days, now that Jenelle's estranged (and Nathan-hating) husband David Eason is out of the picture. Their improved co-parenting relationship was evident in a photo published by TMZ on Saturday showing Nathan in the background of a pic of Jenelle and a "fan."
Naturally, Teen Mom 2 fans jumped to the conclusion that Jenelle was trying to get her mitts on Nate, since running back to an old boyfriend is Jenelle's typical breakup "modus operandi." However, The Ashley can clarify and give details of what's really going on…
In the TMZ photo, Jenelle is seen smiling with a girl, who The Ashley hears was an employee of the fun center that Jenelle and her two kids Ensley and Kaiser were visiting. Nathan, who is Kaiser's father, is seen in the background of the photo.
Jenelle Evans Seen with Ex Nathan During David Divorce Drama https://t.co/q04KgT93GR

— TMZ (@TMZ) November 9, 2019
"Jenelle's baby daddy, Nathan Griffith, was also on hand … and a source tells us the two did a routine kid drop-off at the location," TMZ reported.
The Ashley's sources tell her that Nathan was there to get Kaiser, and that Kaiser wanted his dad to stay and play with them, which is why Nathan is putting on his shoes in the pic.
"Jenelle has been in hiding so when the employee asked her for a photo, she initially said no, but then felt bad and agreed," The Ashley's source tells her. "The girl then immediately called up TMZ."
The Ashley's media sources tell her that someone from Jenelle's camp called up TMZ and asked that the picture not be posted, or at the very least the location not be shared. TMZ did not share the exact location where the photo was taken, so as not to tip off David to where Jenelle and the kids are. (Jenelle did not have a hand in getting that picture released, despite what people may be thinking. She was actually very fearful about the photo getting out.)
Anyway, the photo did, of course, cause some outlets to run stories stating that Nathan and Jenelle may be getting back together. The Ashley can confirm this is not true at all.
"Nathan was there for his son, and his son only," the source said. "Nathan knows where Jenelle is because she has Kaiser, and now that David is out of the picture, Jenelle has no problem with Nathan seeing Kaiser and spending time with him. Nathan's girlfriend Ashley is aware and supportive of the situation. There is nothing happening romantically. Nathan is grateful that Jenelle is being decent to him and finally letting him see and talk to Kaiser when he wants to."
The Ashley hears, though, that Jenelle is trying to use her newly improved relationships with Nathan and her mother Barbara Evans (who is essentially Jenelle's co-parent for her oldest son Jace) to her advantage.
"Jenelle has made the 'Teen Mom 2' producers very aware that she is now getting along with Nathan and Barb," a production source tells The Ashley. "She has sent them pics of her and her mom, or her and Nathan with the kids, telling them that this is good stuff and that they should be filming it, and that they are missing out."
"The producers who are in contact with Jenelle have told her that, while they do want to film her actually getting along with the people in her life, they are reluctant to put out the money and effort to film her, because they know that she could run back to David," the source said. "Plus, it will be very hard to get a crew together that is willing to film Jenelle at this point. Many of the behind-the-scenes people are genuinely scared to have anything to do with her because of David."
RELATED STORY: Former 'Teen Mom 2' Star Jenelle Evans Gets Restraining Order on Estranged Husband David Eason; He Threatens to File Missing Person Report for Their Daughter Ensley (Exclusive Details!)
(Photos: MTV; Twitter)