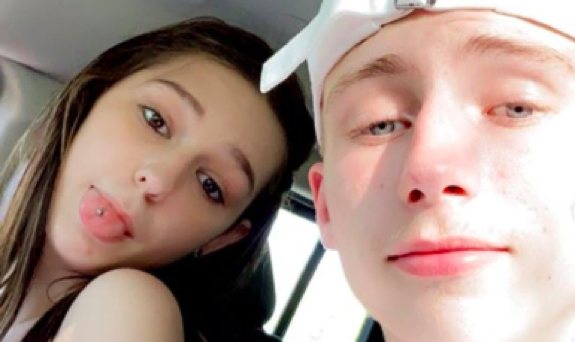 It looks like Unexpected dad Matthew Blevins' baby-mamas-named-Hailey count is getting ready to increase by one.
Matthew's girlfriend Hailey Tilford revealed on Instagram this weekend that she and Matthew are expecting their first child together in April 2020. The couple's pregnancy was speculated by Starcasm back in October after screenshots of a baby registry in the couple's name surfaced online, as well as a photo Hailey posted in which she appeared to be rocking a small baby bump.
In a post to Instagram, Hailey (2) revealed that she and Matthew were not trying to get pregnant. (In other words, the pregnancy was…wait for it…unexpected!)
"In advance to answer what I know will be asked — NO, it wasn't planned nor did we want this right now," Hailey shared on Instagram on Sunday, along with photos of her positive pregnancy tests and sonogram images. "Matthew already has a baby and I was ready to focus on college, but god had a different plan for us. We are so ready to meet you already Baby Blevins!"
The other baby Hailey was referring to in her caption is Matthew's daughter, Kinsley, whom he shares with 'Unexpected' star Hailey Tomlinson — aka his ex-girlfriend and the former best friend of his current pregnant girlfriend named Hailey. (This is, of course, why the show's fans call Matthew's current pregnant girlfriend "Hailey 2".)
Matthew and Hailey (1) welcomed their daughter in April and Matthew reportedly moved on with Hailey (2) just two weeks later.
https://www.instagram.com/p/B4rBvQAprLc/?utm_source=ig_web_copy_link
Despite the drama (and abundance of people named Hailey) on his hands, Matthew seems unfazed by his complicated situation. The soon-to-be father of two shared he and Hailey's pregnancy news on social media, revealing that Hailey is currently 17 weeks pregnant. Matthew also noted that he turned off the comments on his post because "we know y'all are gonna hate."
" … We are happy, excited and could care less about any of y'alls opinions," he continued. "Hailey has been one of my biggest blessings and now she is blessing me with a little baby, our little baby. Nothing could change my feelings about this happening, I'm so happy."
https://www.instagram.com/p/B4ta_13phVe/?utm_source=ig_web_copy_link
Matthew went on to comment on he and Hailey's — the second Hailey, we're assuming — future on 'Unexpected', though his wording made his answer a little Clearblue unclear.
"NO we aren't being on the next season, NO we are NOT going anywhere and NO we didn't plan this," he wrote.
RELATED STORY: Chloe Mendoza's Mom Jessica Accuses 'Unexpected' Star Max Schenzel of Getting Kicked Out of Rehab
(Photos: Instagram)