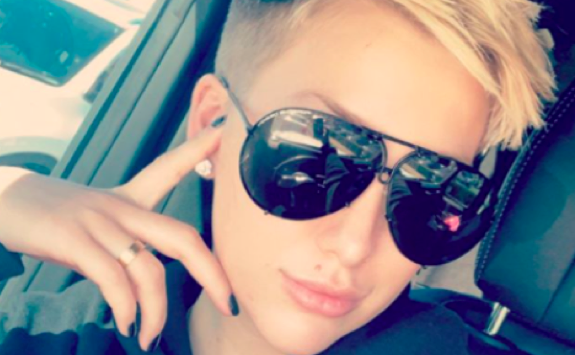 When Savannah Chrisley debuted a significantly shorter hairdo on social media last month, she accompanied her photo with a message encouraging ladies to "do what you want to do." However, Savannah's new look was actually motivated by something other than empowerment.
According to BravoTV, the Chrisley Knows Best and Growing Up Chrisley star had been wanting to go "super short" for a while, but it took a major hair emergency to get her to finally take the leap.
"I've always wanted to cut my hair since Miley Cyrus did hers super short," she said. "But then, recently, I think I got my hair colored too close in time by two different people. And I don't know what happened, but it just fried my hair. So I kinda had no choice because literally back here it was just a straight line cut with bleach. It was not a good day for Savannah.
"So, finally I just was like I'm gonna cut it. I did it and I love it."
Shortly after Savannah revealed her new haircut, her fiancé Nic Kerdiles publicly stated that it made her look like her dad, Todd Chrisley. Nic made the comment to Todd and Julie Chrisley during an episode of their Chrisley Confessionals podcast (after first denying that Savannah cut her hair because he had broken up with her).
"That woman, she can rock any haircut, it's incredible," Nic told Todd on the podcast. "She does look a little more like you after the haircut, I do have to say."
https://www.instagram.com/p/B3vLitoHjJZ/?utm_source=ig_web_copy_link
During the episode, Todd made an effort to show his own support of Savannah's new look — in a very Todd-like fashion, of course.
"If you're gonna cut that short, I don't know if flannel should be the thing you should be rocking with it, but, you know, listen, if it's your thing, it's your thing," he said.
Weeks after debuting the first photos of her hair, Savannah shared another selfie to Instagram, admitting that her shorter hair was "still taking some getting used to."
RELATED STORY: Savannah Chrisley's Fiancé Says Her New Super-Short Haircut Makes Her Look Like Her Dad Todd; Denies Split Rumors
(Photos: Instagram)