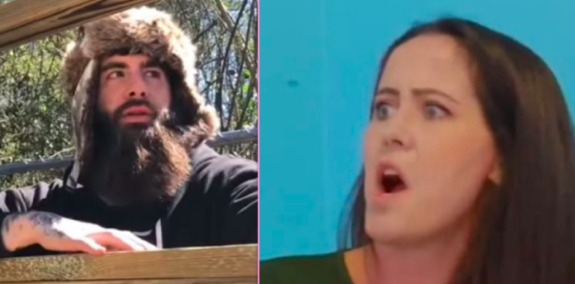 Jenelle Evans may have decided to leave her husband David Eason, but to the surprise of absolutely no one, it seems that David intends to make their break up as difficult for Jenelle as possible.
Days after David was served a restraining order barring him from contacting the Teen Mom 2 star or her kids, and a week after he called Jenelle stupid for reportedly wanting full custody of Ensley, David has taken to social media once again to slam his estranged wife, this time revealing that he plans to expose her deep, dark secrets in court.
David's rant (in part) began after he was called out online for "getting unfollowed by everyone" on social media. David replied to the comment, claiming that his follower count was actually "going up" and that Jenelle would be the one to lose followers after the two of them face off in court.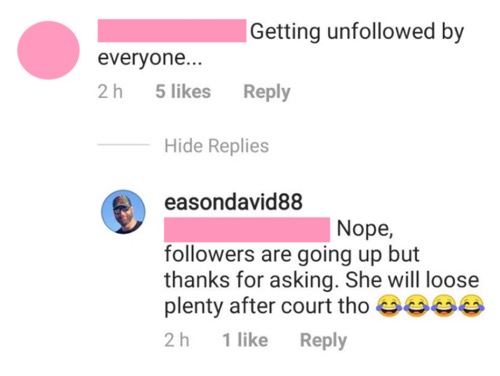 Naturally, David's haters were quick to call him out for mixing up the words "loose" and "lose," though David maintained that the spelling was intentional and meant to be a dig at Jenelle and her promiscuity.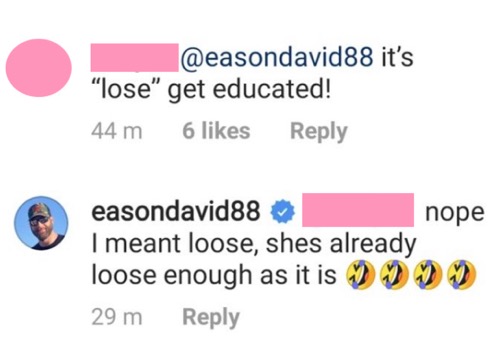 The criticism only continued after David's "loose" remark, with one person calling him out for his immaturity and another asking that he "have some respect" for the mother of his child. David then claimed that he was not talking about his baby mama's nether regions at all. (Sure, Jan…)
"Ever think she's loose cause maybe she had to push your daughter out her vag? Not an easy thing to go through. Have some respect," the comment read.
David then attempted to do some damage control — aka call the commenter a pervert and deny any wrongdoing on his part.
"I wasn't talking about her vagina you pervert wtf. I guess the only thing loose can mean is something sexual? Get a life," he replied.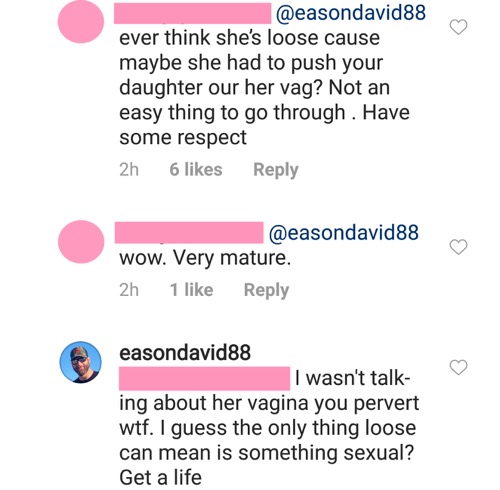 David's social media rant then switched to the topic of reputations, which was likely a response to a Facebook post made by Jenelle recently in which she all but called David out by name.
"You damaged my reputation but I saved yours when I didn't tell my part of the story," the meme she posted read.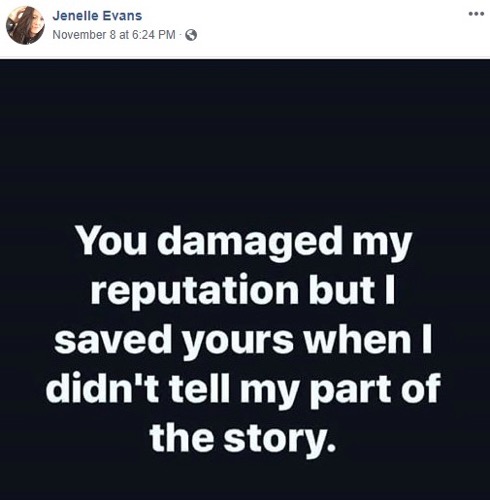 David's (assumed) response to Jenelle's reputation post basically claimed that he was the one who protected others and their reputation, adding that "the truth will come out soon!"
"All I can tell y'all right now is that I have tried to protect ppl and their reputation but the truth will come out soon!" David declared on Facebook.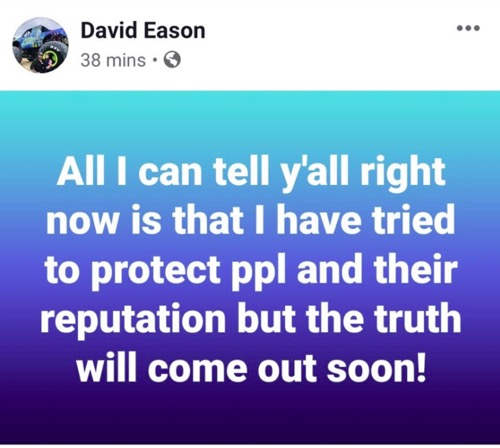 Given Jenelle's recent accusations that David abused her at least 11 times in two years, as well as the concerns of their children's safety on The Land and the fact that David shot and killed her dog Nugget earlier this year, David's priorities of who and what he chooses to protect were called into question.
"Instead of protecting people and their reputations why didn't you protect your wife, your kids and your family dogs," one person commented on social media.
"Maybe that's what I'm talking about, maybe you don't know what you're talking about … ," David replied.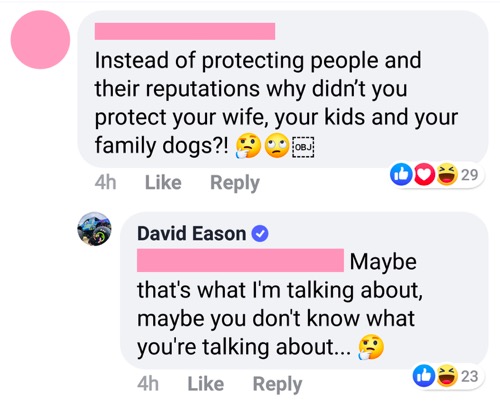 Regarding David's promise to speak his truth, a (rare) supporter encouraged him to make sure he is "paid to do it." While David said he wouldn't be exposing his estranged wife for a profit, he ensured that it "will make all your jaws drop."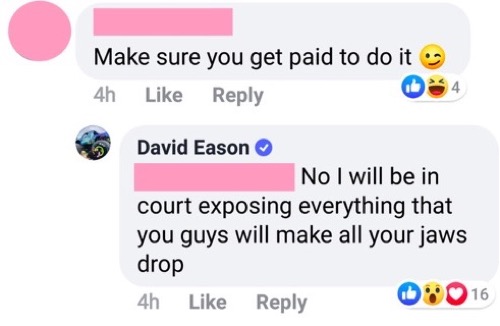 On Monday, David decided to switch his topic of rant to Nathan Griffith, Jenelle's second baby daddy whom she was seen with over the weekend. When someone wrote that "Nathan is wonderful compared to David," David couldn't help but respond…and accuse Nathan of doing the things that David himself has been accused of.
"Nathan is the only one who has ever abused any women or children you fool," David responded.
RELATED STORY: EXCLUSIVE! Jenelle Evans Spotted with Baby Daddy Nathan Griffith: More Details & How Jenelle is Using Her Co-Parenting Relationship to Try to Get Back on 'Teen Mom 2'
(Photos: MTV; Instagram; Facebook)