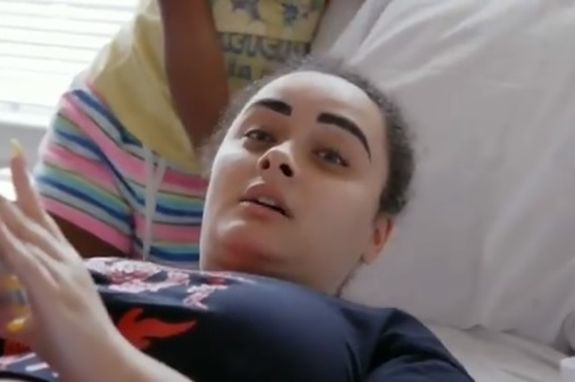 Hey y'all! Gather 'round! It's time for another Teen Mom 2 recap! Things have been getting pretty crazy in 'Teen Mom 2' Land, what with all the assorted baby daddy/assorted trashy family member drama and whatnot. The Ashley realizes she's (STILL) a week behind on these recaps, but, you know what they say: better late than…not getting a period and then finding out your Costa Rican rafting guide has done knocked you up!
Oh, nobody says that except Victoria Messer? My bad…
Anyway, we first check in with Leah down in the holler. She's roundin' up her girlseses, which means picking Ali up from camp. During the car ride home, Leah tells Ali how much she missed her, while Ali tells her she didn't want to leave.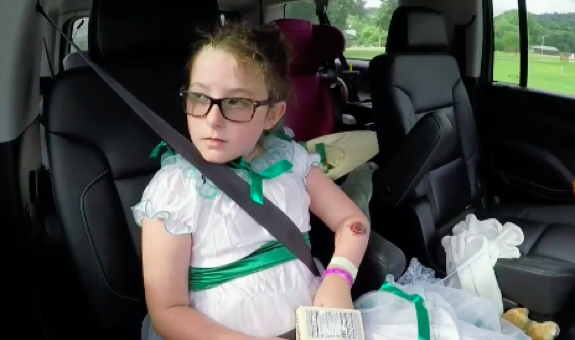 For some reason they've got Ali all fixed up like she's Scarlett O'Hara from "Gone With the Wind." She's got a ruffly dress, complete with hoop skirt, a sun hat and parasol.
So…um…did Ali's summer camp take place at one of those photo places where you take those weird photos that make you look like you're from the 1800s? (Please…for the love of Jesus God Leah…let Mama Dawn be all gussied up like a salon girl…)
When Leah and Ali get home, Addie and Aleeah (well, mainly Addie) are happy to see their sister. (Sadly, Mama Dawn is sans feather boa and fringe-rimmed costume…)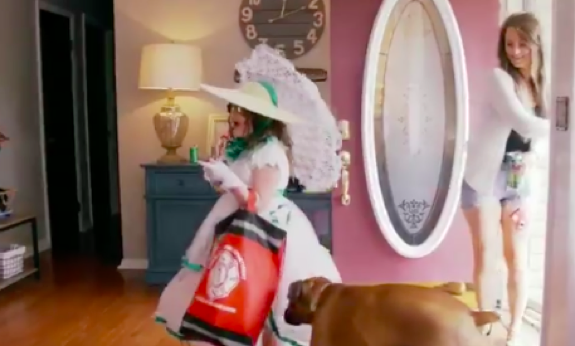 Despite Ali's absence, Aleeah says she still managed to get zero time to herself due in large part to Addie getting on her nerves and Leah "havin' fits" of crying.
That sounds about as healthy as whatever processed meat sandwich Leah was fixin' to feed her kids that night for dinner…but, moving on…
Meanwhile, in South Dakota, it's almost time for Chelsea to launch her clothing line featuring a wide variety of flannel options so she and Layne head to the warehouse to finalize some details.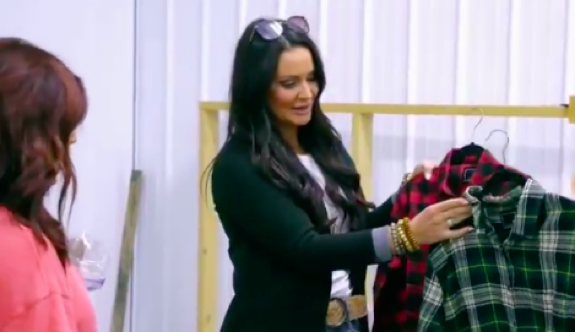 Though Chelsea's new line doesn't appear to come in colors close to the current orange tone she's rocking on her skin, she still pumped to reveal her mom-wear to the masses.
You know, just the regular things every-day teen moms are doing…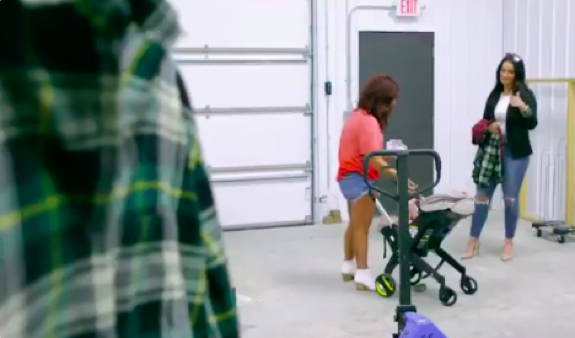 Later on, Chelsea's friend Other Chelsey stops by to hang out while Cole and Chelsea have pictures taken for Layne's first birthday. After a few bites of her smash cake, Layne's photo sesh (and dessert) are interrupted by Pete the Pig, who is clearly not too thrilled about his lack of presence in recent seasons.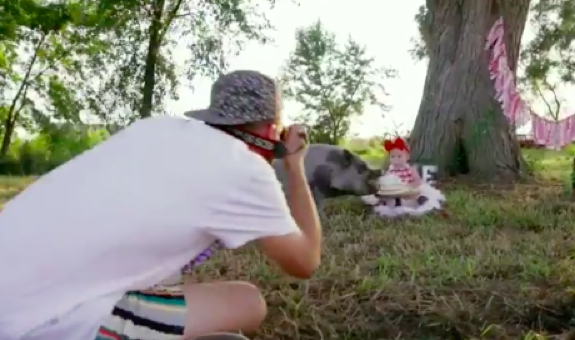 Next, we swing over to Delaware, where Kail is prowling the streets looking for Chris her missing dogs. While in the car, she gets a call from her real estate agent who tells her that the offer on the house she wanted has been accepted. Kail is so excited by the news that she warns her friend, "I'm going to s**t myself."
Her friend advises that she control her enthusiasm (and her bowels) to prevent a mess, but Kail isn't worried because she says has leather seats in her car and "it'll wipe right up."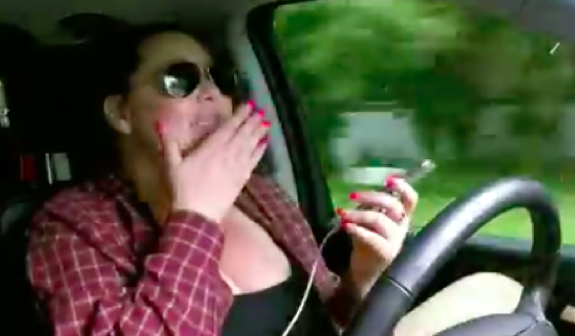 Kail wants to surprise her boys with the big news so she keeps it from them for the time being and calls her friend to rub it in her face instead. In addition to her boys, we also find out that Kail hasn't told Jo about her upcoming move, mainly because she believes he'll look up how much she paid for the house and take her back to court to try to get more child support from her.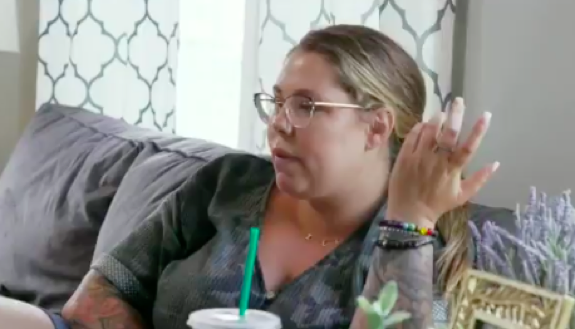 During her phone call, Kail says she and her band of boys have outgrown their current digs and frankly, she's convinced the place is riddled with bad juju. Kail says the new place will be a new chapter for herself and the boys… and any baby daddies named Chris who just happen to feel like moving in, too.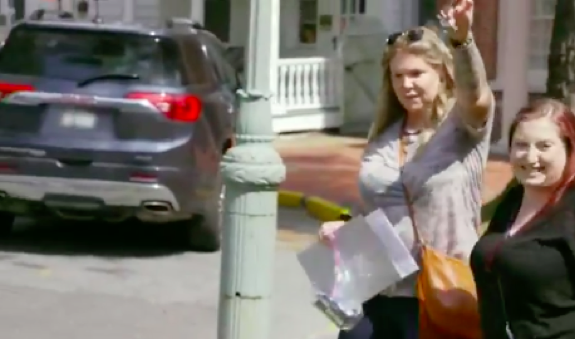 In Indiana, it's business as usual for Jade, which means drama with her family/baby daddy/mailman/credit card company/landlord/local grocer (probably), etc.
Today, it's Jade's mom that's topping her s**t list, so she is less-than-pleased to run into her when she picks up Khloe Chloe Klloie Khloie from her sister.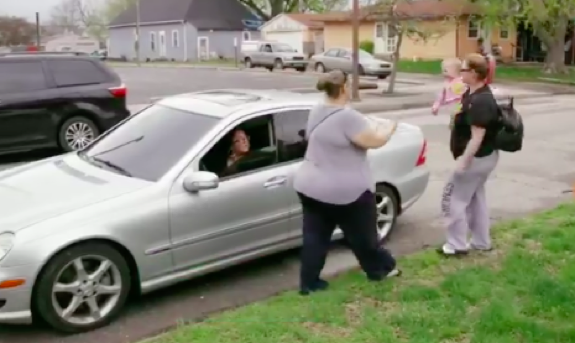 Later on, Jade vents to her sister about their mom and stepdad coming to her house unannounced being that they both "need to get their s**t together" — preferably not on her property.
The next day, Jade takes Khlloey (HOW do you spell this kid's name!?) to the park and on her way home, she gets a call from her mom asking her to come bail her out of jail.
As you do.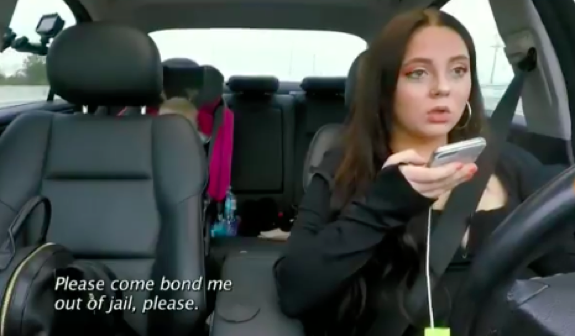 Jade's mom asks for $500 so she can get out of the slammer, which she assures Jade she'll pay her back. Of course, we all know there's a better chance of Barbara Evans dressing up as the Bail Bond Fairy and going door-to-door delivering cash (and doughboys) than Jade ever seeing a dollar she uses to pay her mom's bail.
Jade tells her mom she doesn't have the money right now but will try to figure something out. Might we suggests asking MTV for a small advance? With all of the chaos Jade's been serving this season, they certainly can't say she hasn't earned it.
Jade ends up calling her grandmother to talk about what a disaster her mom is, noting that she still doesn't know why she got arrested in the first place, though she suspects it's drug-related.
Finally, we head to Florida to see what (or who) Briana is doing this week. She's back from her trip to Long Island and says things are still weird between her and John. Because Briana is planning to open up a skincare studio, she decides to use Brittany as her beauty guinea pig.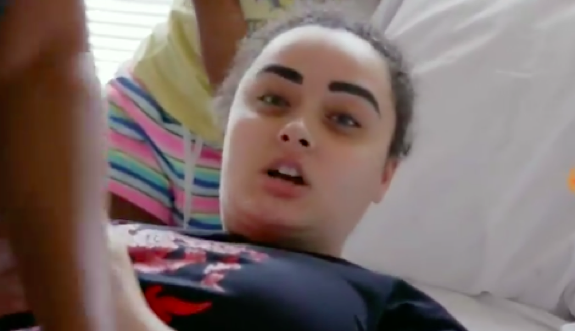 Later on, Devoin comes by the DeJesus apartment to visit Nova and even Stella is pumped to see him. Seriously, Devoin isn't used to getting these sort of welcomes at this apartment.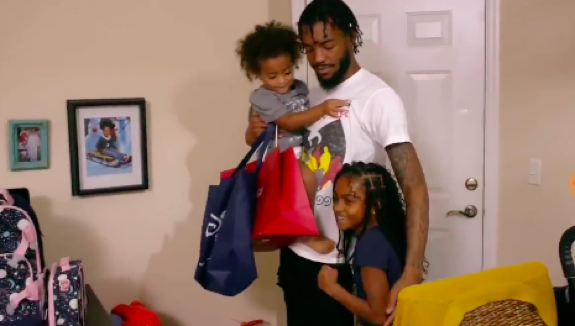 Because he's pretty much been MIA since the infamous party-for-one at the pool incident, Devoin comes bearing gifts — exactly what that place needs… another toy with 100 small accessories to shove into random places.
Back in The WV, it's Corey's weekend with the twins so Leah meets up with him for a kid hand-off at the Ye Olde Food Fair. Ali is still dressed up like she's starring in a bad Civil War dinner theater production, and Corey doesn't even question it.
He tells her that he enjoyed seeing the photos from when Ali was at camp.
"I could tell from the pictures we got that you was pretty happy," he tells her. "I was hoping you was havin' fun…"
Oh, she were..
Corey then reaches for one of Ali's orange cheese snack crackers, but Ali smacks his hand out of the way.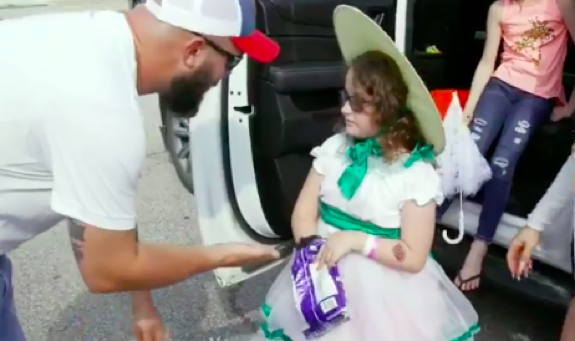 In South Dakota, Cole picks Aubree up from school and they head home to celebrate Chelsea and Layne's shared birthday. Chelsea (in her birthday flannel, naturally) opens up some homemade gifts courtesy of Watson and then she and Cole gift Layne with a babydoll, which she then tries to eat.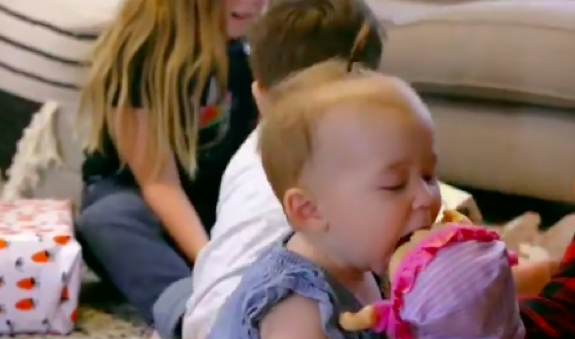 You just know Chelsea tried to spin this into Layne's way of telling them she wants a younger sibling. After all, they have to fill up that hunk of vacant land they're moving to somehow. (Of course, earlier in the day, when Chelsea randomly asked Other Chelsey if she should get pregnant again, Aubree screamed "NOOO!" so we know her feelings on the issue.)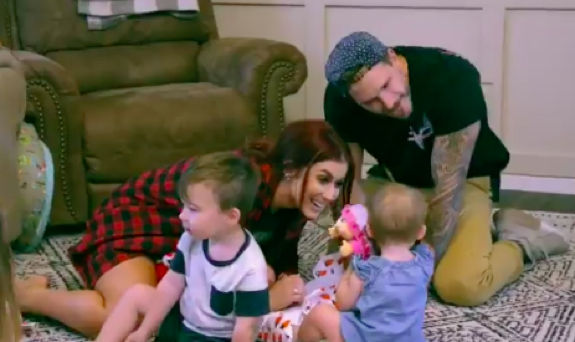 In Indiana, Jade may not have the money to bust her addict mom out of jail, but she does have the cash to go get her nails done and to that we say, good for you, Jade — this may be your circus, but the those are not your monkeys.
In the middle of her manicure, Jade gets a call from her Aunt Kim who tells her that her mom and dad got arrested — her dad for possession of marijuana, possession of a controlled substance, possession of methamphetamine and possession of drug paraphernalia and her mom for the same thing, without the marijuana charge. Good to know she draws the line somewhere, we guess?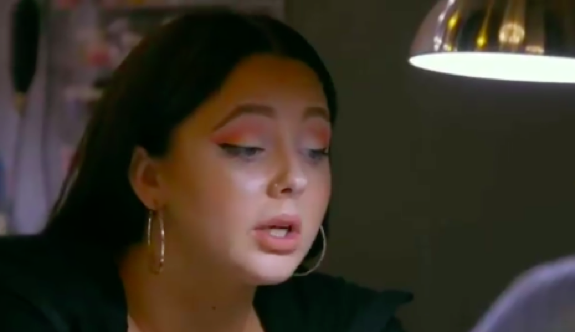 Jade and her aunt agree that Jade's parents are better off in jail than they are roughing it on the streets so they decide to let the two of them get comfortable in their concrete accommodations for now.
I think that's nice…
Over in Delaware, Kail starts to move in some of her wooden "family" wall signs and such before the boys get back from their respective fathers' houses. While talking about the projects she has planned for the house, Producer Patrick pretends to be interested while secretly trying to figure out which rooms will be off limits to the crew once Chris moves in.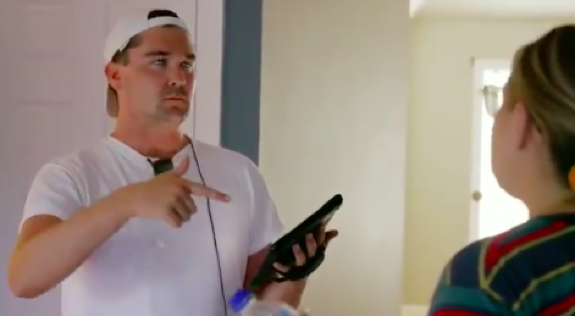 In Florida, it's Nova's first day of 2nd grade and everyone is there to see her off to class: Roxanne, Briana, Devoin, Brittany, Brittany's eyebrows…
Before saying goodbye to Nova, Brittany sends her off with a piece of advice that I think we all should live by.
"Stay lit, Nova. Forever and always."
After school, Briana and Brittany take Nova out to celebrate her first day/talk about how "lit" her new classmates are.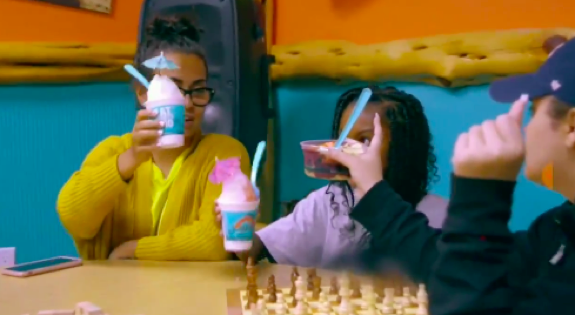 Later on, Briana and Brittany talk about actually leaving their cluttered to hell apartment. While their lease isn't up for a few months, we hope they get a kickstart on packing because judging by the look of that place, it's going to take a minimum of a year and a half to sort through.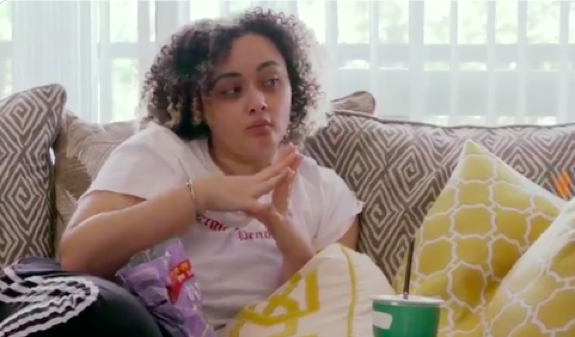 That's all for this episode! To read The Ashley's previous 'Teen Mom 2' recaps, click here!
(Photos: MTV)