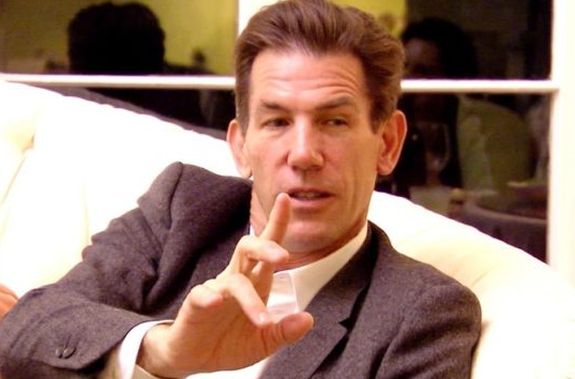 Thomas Ravenel has made peace (for now) with his ex and baby-mama Kathryn Dennis and it looks like he's also made peace with never making a return to Southern Charm.
The disgraced politician took to Twitter on Tuesday to shoot down the "stupid rumor" that he wants to go back to the Bravo show, along with the price it would take for him to actually consider it.
"There's this stupid rumor that I want to go back to Southern Charm. I wouldn't go back for $1,000,000 per episode," Thomas wrote. "But if they want to discuss $1,000,001 per ep, I might consider it. Lol."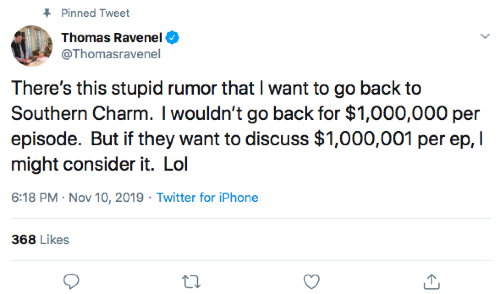 As The Ashley previously told you, Thomas revealed in August 2018 that he was leaving the Bravo show, months after Haymaker (the company behind 'Southern Charm') announced it had begun its own investigation regarding sexual assault allegations against the father of two. Thomas went on to stand trial for the allegations made by Nanny Dawn, his children's former nanny, ultimately pleading guilty to third-degree assault and battery and avoiding jail time by agreeing to probation and paying a $500 fine.
Given Thomas's involvement in recent scandals, his joke about returning to 'Southern Charm' led some fans of the show to share their thoughts on the idea of him making a comeback.
"Trust and believe honey, we don't want you back," one person commented, to which Thomas reiterated that he was only making a joke.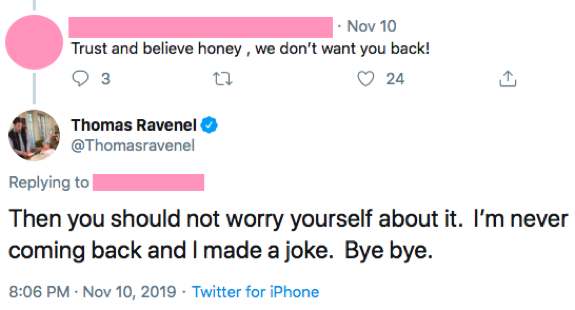 Another person suggested that a return to 'Southern Charm' was likely impossible for Thomas. (A solid point given not only his court drama, but also the fact that earlier this year, Thomas called his appearance on the show "the worst mistake of my life.")
"Too bad all those bridges are burned," one person tweeted.
Thomas went on to assure the person, "I never burn a bridge I'd like to recross."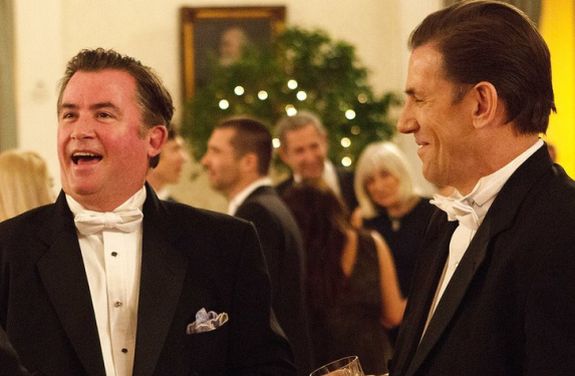 Despite Thomas having called it quits (forcibly or not), he said he hopes the show continues to be a hit.
"Please don't misunderstand, all kidding aside, I hope the show goes well and thrives, but without me being a part of it," he tweeted.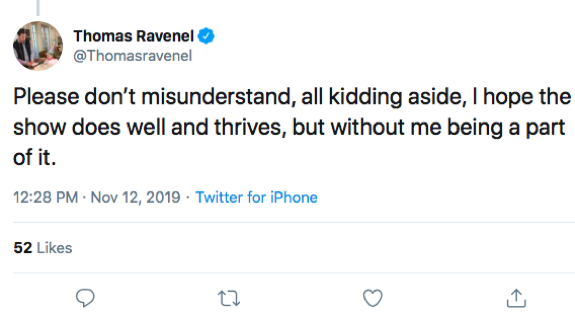 In addition to his thoughts on 'Southern Charm,' Thomas also took to Twitter recently to seemingly confirm that he and Kathryn are actually on good terms following the recent resolution of their bitter custody battle. Thomas retweeted a statement posted by Kathryn, in which she commented on the pair's joint custody arrangement.
"Just want to let my fans hear from me officially that Thomas and I have resolved all matters related to our children," Kathryn's tweet read. "I believe that this joint custody arrangement is in our children's best interest. Happy to move forward."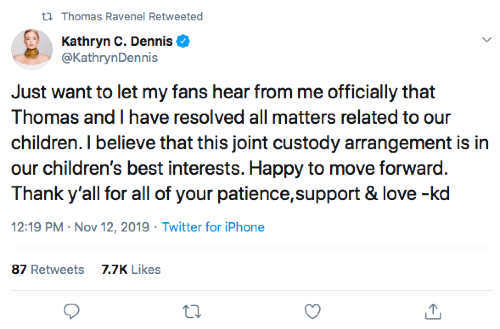 Thomas was touched by his baby mama's gesture, apparently.
"That was quite nice of her," he tweeted.
RELATED STORY: Kathryn Dennis & Thomas Ravenel's Custody Agreement is Finalized; Judge Rules Thomas Gets Final Say, No 'Southern Charm' Viewing for Kids & More
(Photos: Bravo, Twitter)