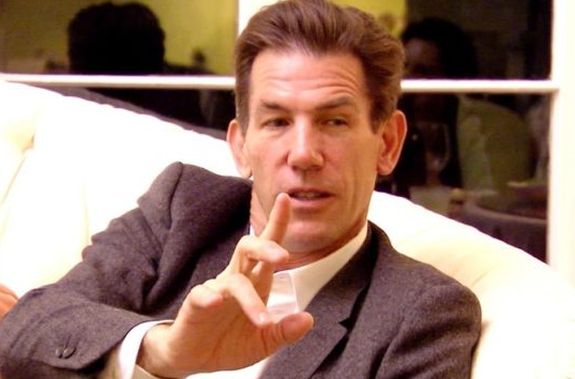 After five seasons, two kids, one failed political campaign and more gratuitous polo matches at the plantation than we can count, Thomas Ravenel has announced he is leaving Southern Charm.
Thomas shared the news of his departure today on his Twitter page, which has since been set to private.
"I'm not doing the show anymore," he tweeted.
He went on to explain why he was making his exit from the hit Bravo reality show.
"In the contract they have the right to fictionalize your story," Thomas wrote. "They took advantage of me. I decided I've got too much to lose and informed them I'm not coming back."
The news of Thomas' departure comes as the former politician is still being investigated by South Carolina police for allegations of sexual assault brought against him by his children's former nanny and at least one other woman. Due to the ongoing allegations, Thomas did not attend the Season 5 reunion, though his now-ex-girlfriend Ashley Jacobs did show up to take her place on the couch.
Back in May, Haymaker, the company behind 'Southern Charm,' announced that it had begun conducting its own investigation after the allegations were made against Thomas.The company has not publicly disclosed the results of that investigation.
Those who follow Thomas on social media may not be too shocked to hear of his leaving 'Southern Charm' as he recently claimed he was facing some criticism for his on-screen behavior. People magazine reported this weekend that in a now-deleted Instagram post, Thomas addressed some of the "lies" that have stemmed from the show.
"Lot of lies on #SouthernCharm," he posted. "For example, I am sadistic [because] I requested 3 drug tests of [Kathryn Dennis] per week. Fact is I requested only 3 tests over the course of an entire year."
The post referred to Thomas' ex, Kathryn, with whom he shares daughter Kensie, 4, and son Saint, 2. Back in 2016, Kathryn lost custody of the kids after failing a drug test, though she has since completed rehab and regained 50/50 custody. Despite the new custody arrangement, Kathryn continues to take drug tests mandated by Thomas and during the reunion she claimed to have taken "probably 15" recently.
This is not the first time that Thomas has announced that he was leaving the show. Back in 2016, he tweeted that being on 'Southern Charm' pays "peanuts and [will] destroy your life in the process." He eventually did return to the show, but in 2017, Thomas once again declared he was quitting. (His resignation didn't last that time, either, and he returned to the show for another season.)
The rest of the 'Southern Charm' cast has yet to comment publicly on Thomas' departure from the show.
RELATED STORY: It's Over! Controversial 'Southern Charm' Stars Ashley Jacobs & Thomas Ravenel Have Reportedly Split
(Photos: Bravo, Instagram)