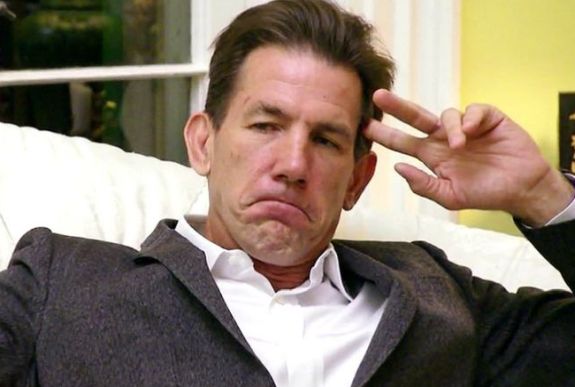 Two weeks after making a brief, yet not brief enough cameo on the Season 7 premiere of Southern Charm, former cast member Thomas Ravenel is back to slamming the Bravo series.
In a since-deleted tweet, Us Weekly reports, Thomas called the show "boring," insulted the cast and asked to be left "the hell alone" after making a second cameo – this time in name only – on the most recent episode of 'Southern Charm.'
His former costar, Shep Rose, says Thomas is lying when he says he hated being on 'Southern Charm.' In a recent Watch What Happens Live interview, Shep said that Thomas "freaking loved being on TV. I know it. We all knew it."
"Is that show THAT BORING WITHOUT ME," Thomas tweeted on Monday. "Please move on [and] leave me the hell alone. I'm sorry your cast is that weak. I gone. Live with it!!"
Thomas announced in 2018 that he was leaving the show following allegations of sexual assault by more than one person. Days later, he was arrested and charged with assault and battery, after which, Bravo confirmed Thomas would not be returning to the show for Season 6. Despite his resignation, Thomas revealed last month that he had filmed a scene for the upcoming season with ex and baby mama Kathryn Dennis "as a favor to Kathryn."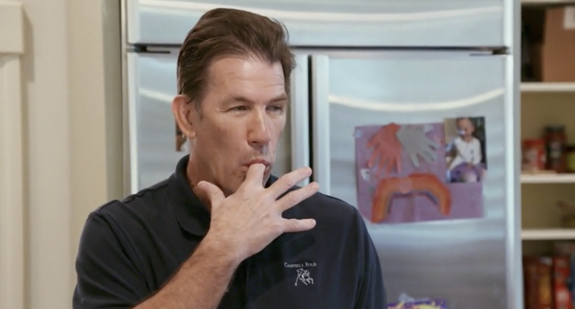 "I just let them film a little segment with the kids as a favor to Kathryn," Thomas said. "I wasn't paid. At the time, she was staying at my house in the guest room because her house was being painted and was unsafe for her and the kids."
Thomas, who shares daughter Kensie and son Saint with Kathryn, was rumored to make a cameo during the season premiere; however, Thomas told Us Weekly at the time that he didn't think Bravo would actually end up using the footage.
Still, fans of 'Southern Charm' were already anticipating Thomas to be a somewhat of a storyline in the new season, as the Season 7 trailer showed Kathryn telling Danni Baird that "Thomas got a girl pregnant" – a storyline that began to unfold on last week's episode.
(The 58-year-old and his then-girlfriend Heather Mascoe went on to welcome son Jackson in June. Thomas revealed in October that he and Heather rekindled their romance and now plan to get married.)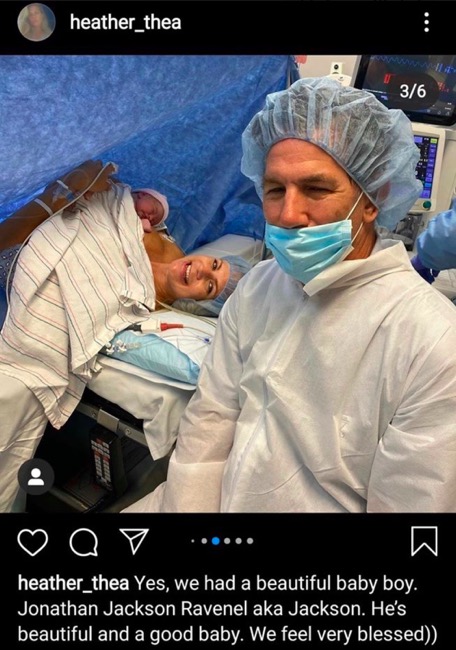 Considering that Thomas has consistently bad mouthed 'Southern Charm' since leaving the show, his recent appearance was a bit shocking. According to Page Six, T-Rav's brief return even surprised Andy Cohen, who discussed the cameo with 'Southern Charm' cast member Shep Rose during an episode of Watch What Happens Live.
"It makes no sense," Shep said. "What it goes to show you is that he freaking loved being on TV. I know it. We all knew it. He loved the notoriety and stuff like that. So he can bad mouth it all he wants but we know the truth. I mean, he loved taking pictures with fans and all that stuff."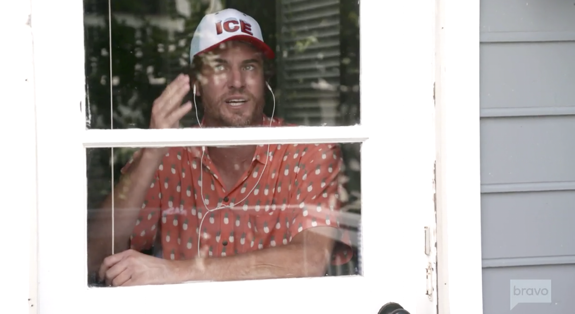 Shep made similar statements last month, telling Us Weekly that T-Rav's cameo "just pisses [him] off" given all of the "shouting and hollering negatively" Thomas does about the show.
"It's not anybody on the show's fault, anything bad that might've happened with him," Shep continued. "And also, he really enjoyed it when he was on it. I mean, let's be real honest here. He loved whatever fame and notoriety. He had a lot of fun with it, so don't cry over what you perceive as spilled milk, you know, because it was a lot of fun."
Still, Thomas maintains his 'Southern Charm' days are behind him. When sharing the news of his upcoming nuptials last month, he confirmed (yet again) that he will "absolutely not" be returning to the show.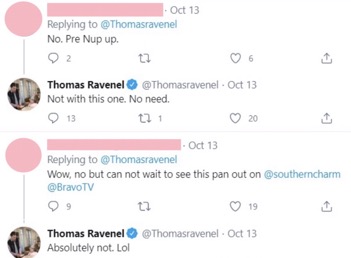 RELATED STORY: Former 'Southern Charm' Star Cameran Eubanks Announces Upcoming Book About Reality TV & the Hardships of Motherhood
(Photos: Bravo; Instagram; Twitter)