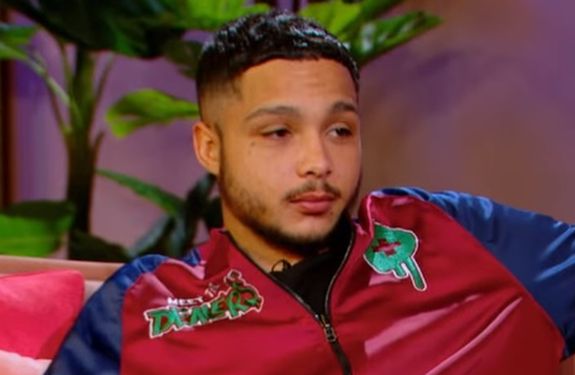 Another day, another "legally challenged" dad from the Teen Mom franchise!
The Ashley can confirm that Teen Mom: Young & Pregnant star Bariki Smith— the baby daddy of Ashley Jones— has been released from jail, following his arrest on Friday in Antioch, California.
According to an arrest record obtained by The Ashley, Bar was picked up in Ashley's hometown of Antioch on Friday, August 10 at around 10 a.m. He was charged with one count of misdemeanor  "Battery on a Spouse/Ex Spouse/Date/Etc."
While the arrest record did not confirm that Bar's alleged victim was Ashley, the 'Teen Mom: Young & Pregnant' star (as well as Bar's outspoken mother Shen Williams) posted about it on their social media accounts following the incident.
On Friday night, Shen posted on Facebook that "Bar in jail smh Ashley done put him in jail." After that, Ashley posted her own side of the story to social media. (Hat tip to Starcasm for snagging the transcript to Ashley's posts before they were taken down!)
"I didn't put anyone in jail," Ashley wrote on Instagram. "Maybe if you taught your kids to keep their hands to themselves more of them would have college degrees instead of criminal records. I found my courage today. And I thank the officers that came out and helped me.
"@shenandoah know your facts before you speak," Ashley added. "You can't wait to run and tell everyone's business well tell them how your son was arrested for domestic violence. You're a trash excuse of a mother." (To read the full transcript, click here!)
Shen seemed to be taunting Ashley when she posted some photos to her Facebook page on Tuesday that showed her and her fresh-from-the-slammer son smiling while holding T-shirts that read "Quick Release." (They appear to be a gift from her bail bonds company which is…special.)
"Haha this is not funny. Just messing around with my stinky," Shen captioned the photos.
This is not Bar's first arrest. Back in May, he was arrested after getting into an altercation with Ashley's parents. In 2015, Bar–then only 18– was arrested after getting into a fight with Ashley's family at a local hospital (as you do). Bar was charged with one count of possession of meth, one count of trespassing and one count of giving false information to police. For the 2015 incident, Bar pleaded not guilty to all three misdemeanor counts. According to Starcasm, two of the counts —meth possession and providing false information to police— were dismissed in March of 2016. For the trespassing charge, Bar received a deferred judgment.
As The Ashley previously told you, Ashley initially quit 'Teen Mom: Young & Pregnant' before starting to film for Season 2. However, The Ashley's sources confirm to her that film crews have, indeed, been sent several times to Ashley's home to film.
Watch Bar and Ashley talk about their relationship– and their relationship with their future in-laws– in this clip from the 'Young & Pregnant' Season 1 Reunion:

RELATED STORY: 'Young & Pregnant' Star Ashley Jones Blasts MTV: "Joining This Show Was By Far the Worst Decision of My Life" 
(Photos: MTV, Facebook)