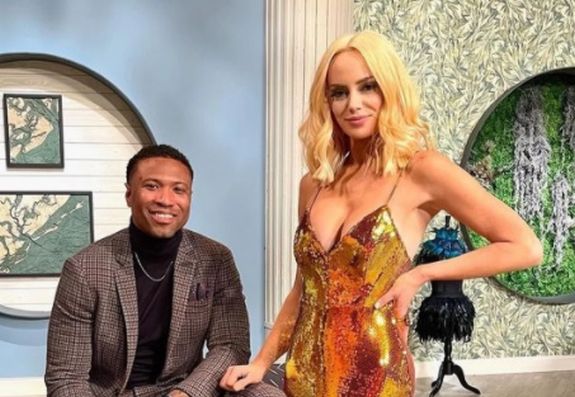 Kathryn Dennis may be struggling in her quest to regain more custody of her two kids, but her love life is thriving!
The Southern Charm star proudly declared on Instagram that she and Chleb Ravenell— her boyfriend since last summer— have moved in together. She posted a photo of her and Chleb in their new apartment in Charleston, South Carolina.
"So we got our first place together!" she captioned the photo. "Let @thehomeedit and peel and stick projects begin #theonewheretheymoveintogether."
The move comes at a difficult time for Kathryn. As The Ashley previously reported, the 'Southern Charm' star lost primary custody of her two children— Kensie and Saint—in February to their father, Kathryn's ex Thomas Ravenel .
View this post on Instagram
Although the exes had settled their bitter custody battle in 2019, Thomas suddenly filed for full custody in October and requesting that Kathryn only have supervised visits. He stated that this was due to her allegedly using drugs and neglecting the kids during her time with them… along with some other unsavory accusations.
In February, a judge granted Thomas primary temporarily custody of the kids, and reduced Kathryn's time with them to supervised visits every other weekend. She is reportedly only allowed to have those visits during the day.
That same month, Kathryn told People magazine that she and Chleb are "building a life together."
"It's very much an adult relationship, he and I — and we've definitely become much more of adults over the last year," she said. "I'm just so excited that I really do feel like I have a partner."
She stated that her kids "love" Chleb, and that she plans to have children with Chleb at some point.
"I really do want more kids, and my family isn't done being built," Kathryn said. "That experience definitely made me realize that one day I do want that with him. I really mean it when I say that, too."
On Sunday, Kathryn posted a photo of her and the kids wearing matching pajamas in her new apartment.
View this post on Instagram
Thomas has yet to publicly comment on Kathryn moving in with Chleb; however last month he stated (in a now-deleted tweet) that, should he lose the kids for some reason, they would not go to Kathryn. Instead, they would enter the foster care system.
RELATED STORY: Former 'Southern Charm' Star Thomas Ravenel Says His Kids Would "Go Into Foster Care" Before Kathryn Dennis is Granted Full Custody
(Photos: Instagram)