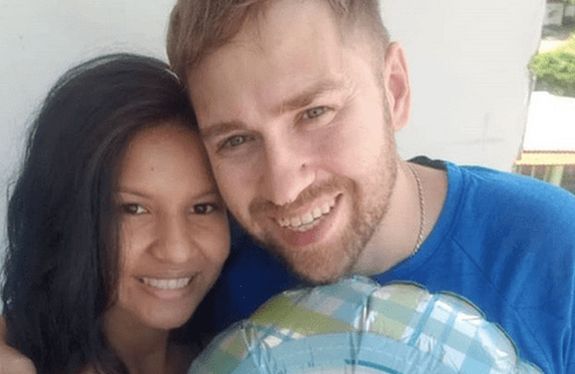 It looks like (more) trouble in paradise for 90 Day Fiancé: The Other Way couple Paul Staehle and Karine Martins…
Karine reportedly confirmed to Us Weekly on Tuesday that she and Paul are heading for divorce, and that she is "looking for a lawyer now."
Karine's comment comes one day after Paul revealed on social media that Karine planned to file for divorce.
Paul's announcement came in the form of an Instagram story featuring a crying GIF and a message in Portuguese claiming that Karine had started divorce proceedings in Manaus, Brazil.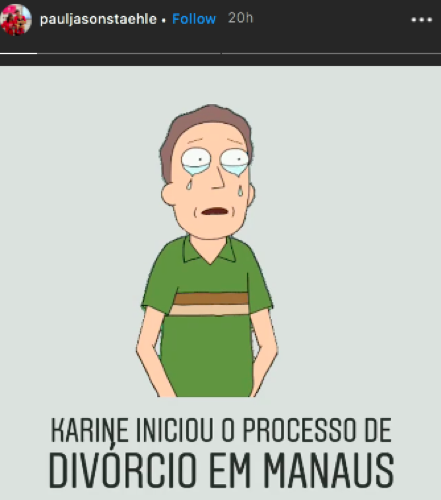 Paul's post was followed by a video of he and Karine's seven-month-old son, Pierre, with Paul stating "daddy's gonna miss you" in the background.
On Tuesday night, Paul spoke more on social media about he and Karine's split, informing followers that he "will be unbookable" for Cameos for the time being as he may be traveling soon.
"I will probably go up [to] the Amazon to try to convince [Karine] to live with Pierre in [the] USA with or without me," he added. "I just want the best possible life for my son."
Just last week, Paul and Karine shared on social media that their home in Brazil had been burglarized and "everything of value" had been taken.
"I discovered today that our home was severely burglarized in Manaus…. They entered my balcony door and took everything of value… even Karine['s] stuffed animal collection," Paul wrote on Instagram. "My stuff, Pierre's stuff, Karine's stuff … I am devastated."
After the incident, Karine said the family was "fine, that's what matters now."
In his lengthy Instagram story on Tuesday, Paul said he and Karine would not be creating a GoFundMe as a result of the burglary, nor would they be "filing any type of insurance claim" for damages.
The news of Paul and Karine's possible split isn't the only drama the couple has faced this year. In September, they were exonerated following a Child Protective Services investigation regarding the well-being of Pierre, whom Karine gave birth to in March. The investigation began after a video uploaded to social media sparked concern from followers due to the condition of Karine and Paul's home.
Paul also spoke of a possible split between he and Karine in September when he claimed in a now-deleted Facebook post that their marriage was over.
"Karine asked me to remove our photos. And let everyone know that she doesn't want me in her life," his post read, adding that he had received a call from Karine's divorce lawyer.
Earlier that month, he hinted that there were issues in the marriage by posting an Instagram poll gauging his followers' thoughts "out of curiosity." The poll asked followers if they believed a wife should divorce a husband "over his mother buying gifts daily spoiling their son" and if a grandmother should "be banned from seeing her grandchildren over spoiling them and a husband be divorced for defending his mother's actions."
Paul and Karine first appeared on Season One of 90 Day Fiancé: Before the 90 Days in 2017. The couple tied the knot the same year.
RELATED STORY: Paul Karine Staehle of '90 Day Fiancé: The Others Way' Exonerated By CPS After Fans Report Suspected Abuse or Neglect to Authorities
(Photos: Instagram)