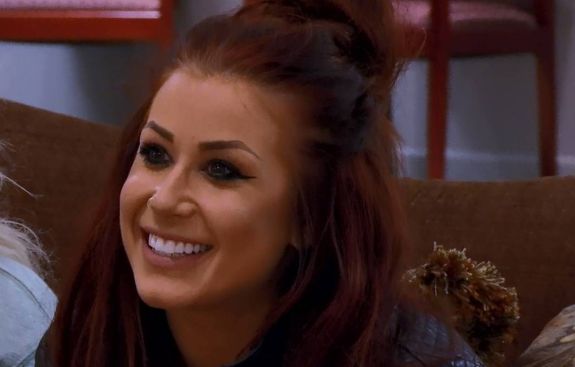 Chelsea Houska recently chatted with the Don't Tell Mom podcast about everything from how long she thinks she'll remain on Teen Mom 2, her marriage to Cole DeBoer and how she deals with the haters and creepers that come from reality TV fame.
The interview– which was posted to the podcast's YouTube page earlier this week– is a rare one, since Chelsea very seldom gives interviews. Unlike her fellow 'Teen Mom' co-stars– who are usually all too happy to chat with tabloids and gossip websites–Chelsea tends to hold back.
During the interview, she revealed why she rarely does interviews.
"I probably should have gotten permission technically to do this podcast," she said. "To even do articles, we're supposed to go through MTV Press, but I don't think people do that anymore. I don't like to break rules!"
(The Ashley can confirm that, technically, the girls are supposed to obtain permission from the network's press department before doing any sort of on-the-record interview, magazine article or making any type of public statement. Of course, though, as the years have gone on the once strictly upheld rule has become lax and the girls rarely– if ever– ask first before they give interviews.)
Anyway, The Ashley has broken down the interview and include the most-interesting tidbits below!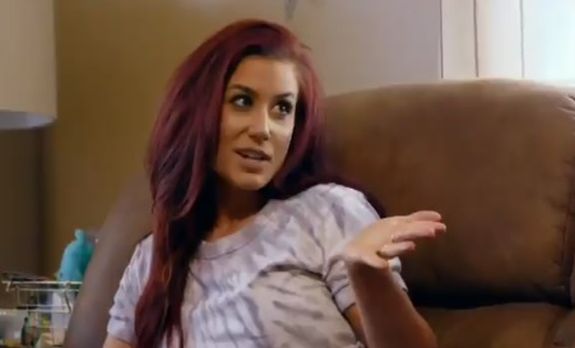 On coming out of her shell lately:
Recently, Chelsea has been a much bigger presence on social media and in the press than ever before. During the interview, she explained why.
"This last year I feel like I'm kind of growing as a person," Chelsea said. "Before I used to hide in my house, literally, hide in my house, all the time. Now I'm trying to put myself out there a little bit. We are so lucky for the opportunities we have due to this platform, so I'm finally being able to be like, 'Listen, if you want to make the most of this, and anyone should, you've got to put yourself out there,' and that's what we're trying to do now."
On the rumors that Adam is coming back to 'Teen Mom 2':
During the current season of the show, Adam Lind– who is the father of Chelsea's daughter Aubree– was seen on-screen. Adam notoriously quit the show years ago and has not had his mug on-camera since then. When he was shown on a recent episode, fans assumed that he had rejoined the cast, but Chelsea (and The Ashley's sources) say that's not so.
"No, I think that might have been a little click bait because he made an appearance on one episode because he showed up to one of Aubree's softball games when we were filming," she said. "So they caught him on camera. I don't think he's coming back. Not that I know of."
(The Ashley's show sources tell her that because Adam had signed a consent to be filmed form in the past they were able to film him and show his face without it being blurred. He has not signed on to film future episodes.)
On the hate she gets from being on the show: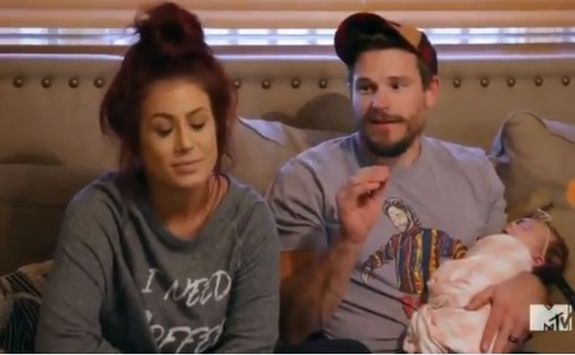 Chelsea has been very vocal about the fact that she takes fans' criticism hard, even stating once that she no longer allows herself to go on Reddit because of all the mean things she says people write about her on there.
"I'm very sensitive, and I just want people to like me. I care a lot," she said. "Luckily, our following is so supportive, and for the most part everyone is really sweet to us. We're really lucky because I know some of the ['Teen Mom'] girls get hit pretty hard by [haters]. It makes me feel really bad for them. But we all get it."
Chelsea said she has been sensitive to the haters since her first days on MTV.
"I remember when I first started the show, someone had written an article about [me], the next girl who was going to be on 16 and Pregnant. I remember calling my dad crying," she said. "I called MTV and I wanted them to not even play my episode because it scared me so badly to see [the negative comments]. I didn't know. I wasn't prepared for that part. It took some getting used to.
"I read [comments online] for a little bit and when I see one negative one, I'm like, 'Alright I'm done.' Otherwise you get sucked in," she added.
On how she deals with people talking negatively about her husband Cole: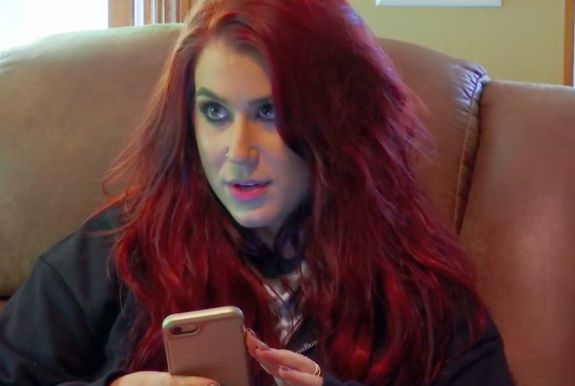 "When people say something mean to Cole, I'm like, 'NO! You don't be mean to Cole because he's like an angel!'" she said, later adding, "He had to accept a lot. He had to accept me with a kid, me with a baby daddy who's a little sketch and also the show."
Cole, who joined the interview at one point, said he gets very angry when he reads mean things written online about his family.
"There's been a couple comments where I almost gave [the person] my address and said, 'I'll be outside,'" Cole said.
"Whatever! If they actually showed up, he'd be like, 'Hey buddy, how you doing?'" Chelsea joked.
On having more kids: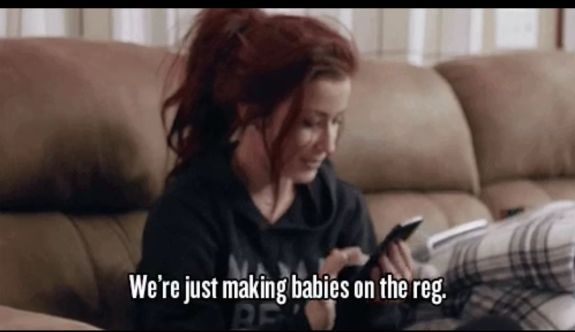 Chelsea and Cole already have Aubree, as well as son Watson and daughter Layne, but they say they're not done growing their family.
"We definitely want one more [baby]," she said. "At least one. Aubree's older so she's easier now…she was a good baby. Watson's a tiny Cole, really sweet and sensitive and the easiest baby ever. Then Layne came and she's the wildest, feisty baby. Before [she came] we were like 'Let's do two more' but now we're like 'Maybe one.'"
On whether or not the drama on the show is manufactured: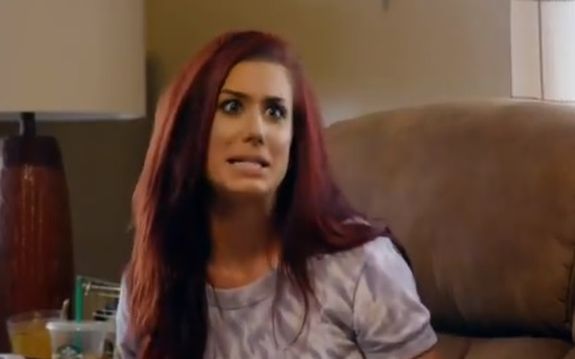 "I know that it's different with each girl and it matters who they're working with," Chelsea said. "I know some people are shadier than others. I love my team that I have. None of the stories are fake or set up or anything. But they're not always here [filming] either. If we have something going on…say, like when we got robbed. They obviously weren't here for that but they came that week after it happened, and we were able to discuss how we're feeling. They do miss some things."
Chelsea said things are handled very differently now than they were in the early days of 'Teen Mom 2.'
"I feel like in the beginning, they definitely wanted that drama with Adam," she said. "They would be like, 'You should film with him to get this closure' or whatever. But it's come a long way from that, I would say."
Chelsea praised her current crew of producers and camera people.
"My field producer, Mandi, I'm obsessed with her," she said. "We have all had a couple different field producers, because you have to find someone you feel comfortable with. That's the person who's asking you some personal freaking questions and getting all up in your grill. They're in your house, they're playing with your kids. It's hard to find someone that you mesh with."
When asked if she's had some really bad producers, Chelsea said that she had.
"I wouldn't say really bad," she said. "I don't open up. I think I open up to women and gay men more. I've never had a producer who's a manly man. I don't open up to people, and it just hasn't worked out. There's just been sketchy people, I don't know…"
On what would cause her to quit filming 'Teen Mom 2':
"I feel like we would eventually get— I don't feel it now—– but I've been through ups and downs, where I'm like 'Can I keep doing this? Is this healthy for my mental state?' You go back and forth. We're in such a good place now, we enjoy it, but if it ever got to a place where it was not healthy for us, [we would be done].
"If [Aubree] was like 'I truly don't want to do this' we'd tell them she's done," Chelsea said. "Our family and our marriage is number one."
Watch the full interview below!
RELATED STORY: Think You Know the 'Teen Mom' Franchise? Take The Ashley's 'Teen Mom' A-Z Quiz
(Photos: MTV)