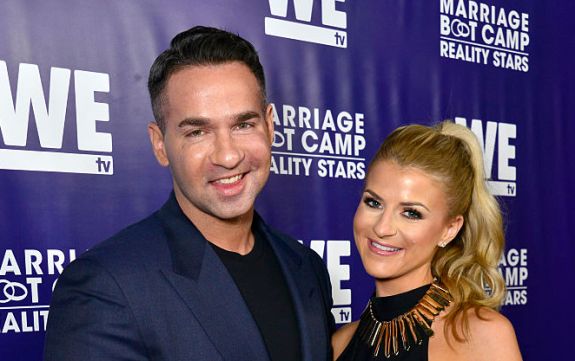 Mike "The Situation" Sorrentino and his wife Lauren are opening up about the miscarriage Lauren suffered after Mike's release from prison.
The Jersey Shore Family Vacation stars revealed during an appearance on Good Morning America on Monday that they conceived a baby on the night in September that Mike was released after spending eight months behind bars.
"Being the Type A personality that I am, while Mike was away, I was tracking my cycle," Lauren said. "It worked out perfectly that when he came home I was ovulating within two days. So the night he came home we actually conceived."
Sadly, though, around seven weeks into the pregnancy, she miscarried the baby.
"It was heart-wrenching," Lauren said. "When I found out we were pregnant I felt like this is why we went through all these challenges for years and that this was our time and it was our blessing."
Lauren said they relied on their faith to get them through the difficult time.
Time to live my best life with my beautiful wife @lauren_pesce #freesitch pic.twitter.com/H1lHP6rcF6

— Mike The Situation ☝🏻 (@ItsTheSituation) September 12, 2019
"Especially the challenging things we've gone through, if I didn't have my faith I wouldn't be here," she said.
Lauren and Mike agreed to publicly reveal the miscarriage because they felt it may help others going through the same heartbreak.
"We've shared so much of our life, and we've already shared so many negative things that we've gone through that I didn't want to hold this in," Lauren said. "I wanted to share it for other people going through it and just be honest so I can kind of heal through the process."
Mike and Lauren celebrated their one-year wedding anniversary on November 1. The couple has been very vocal about wanting to start a family.
"We are both one of four kids, so I think we definitely think the more the merrier, but it gets expensive!" Lauren told People in May 2018, one month after she got engaged to Mike. "So we'll have to see. Definitely more than one."
"But one at a time, for sure," Mike added.
Watch a clip of Lauren and Mike's appearance on 'Good Morning America' below.
COMING UP: Mike 'The Situation' Sorrentino and his wife Lauren open up about her miscarriage #SSK #exclusive @ItsTheSituation @lauren_pesce 1p E/12p C/P pic.twitter.com/TkOXAbiaNW

— Strahan Sara and Keke (@StrahanSaraKeke) November 18, 2019
(Photos: Jerod Harris/Getty Images; Twitter)