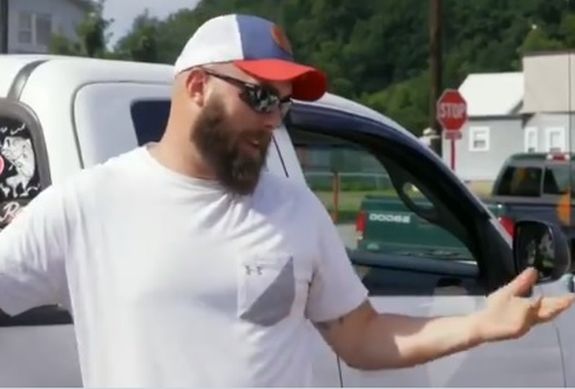 Corey Simms is defending his actions, as well as those of his wife Miranda after his ex-wife Leah Messer and Jeremy Calvert bashed them during Tuesday's Teen Mom 2 Reunion.
After taking to Twitter to defend himself on Tuesday night, Corey released an exclusive statement to The Ashley on Wednesday. In the statement, Corey addressed many of the claims made by Leah and Jeremy during the Reunion, including that he has missed many of his daughter Ali's doctor's appointments, and that Miranda doesn't want anything to do with Corey and Leah's twin daughters.
"I feel that I am on defense right now because of what was said when all I really try to do is be the best dad I can be to all of my kids," Corey— who also has daughter Remy with Miranda— told The Ashley. "It felt as it was a personal attack on me and Miranda and it was upsetting.
"I feel that if these issues were so big [then] they should have been handled personally to protect the co-parenting relationship before throwing it out on national TV," he added.
Corey— who did not attend the 'Teen Mom 2' Reunion and tweeted that he was not allowed to Skype in to give his side of the story— talked to The Ashley about the issue of Ali's doctor's appointments. During the Reunion, Leah claimed that Corey only attended Ali's appointments while she was battling him for custody of the twins. In his statement, Corey explained this.
"The thing with me not going to doctors appointments with Ali is simple also," he said. "When the custody battle was going on and [Leah and I] had no trust in each other and the co-parenting relationship was rough, if I couldn't make it to the appointments I made sure someone from my family was there to relay the information to me so I knew what was going on with Ali's condition.
"And at the beginning of our journey when we wasn't sure what was going on [with Ali] I was at every doctors appointment that I could possibly be at. Now we know what's going on and most of the recent appointments have been all positive, and ever since Leah and I settled our custody issues and we became better at co-parenting and we had more trust with each other, it was easier for her to take Ali to the appointments in Ohio while I worked and provided health insurance for the girls."
Corey said that he and Leah were "both on the same page about it" and that if something came up with Ali that was unusual, he made sure he was at the appointment. Corey— who has custody of the twins for the majority of the week— stated that he has limited vacation time to use, unlike Leah whose only job is filming for 'Teen Mom 2.'
Had a fun time at Double Dare Live with Ali girl this evening while grace was finishing up cheer season! pic.twitter.com/0DsRH5VRFn

— Corey Simms (@coreysimmsMTV) April 7, 2019
"There were days throughout the year that Ali or Aleeah got sick and I would take off work to get them to a doctor which also calls for time off of work," Corey explained. "As of right now I have two weeks of vacation time. One week is for the annual family vacation and the other week is spaced out through the year to make sure everything is done that needs to be done for the kids/family. Before the Jeremy issue came up, I had already planned on going to Ali's appointments at the end of the year since vacation time will start over in January."
Corey also defended his wife Miranda, who was another main topic of the Reunion conversation.
"Never once since Miranda has been in the picture has she mistreated the girls and she definitely hasn't treated them differently since Remi's arrival," Corey said. "She loves and cares for them as her own and that should be noticed and understood. I don't know why Miranda always has to be the scapegoat to get heat off someone else.
"When Miranda and I met and began our journey together she was aware of me being on the show and that I had twin daughters," he added. "She took on the challenge anyway and has been there for all of us through the ups and downs. She wasn't a big fan of being apart of the show from the beginning but did it to support me, not knowing that she was going to be called the 'evil step mother.'"
After The Ashley posted the story about Corey taking to Twitter to defend himself and Miranda, Corey's mother, Donna, sent in a comment. She also defended Miranda, stating that her daughter-in-law has been a great parent to Ali and Aleeah. (Donna has declined to film for 'Teen Mom 2' and has only been seen a few times in the show's 10-year run.)
"No one really knows all what Miranda does for the girls!" Donna wrote. "While their mother is traveling for her own selfish reasons. I know firsthand. I also decided not to be apart of the s**t show. And I have kept my mouth shut for 10 years not wanting anything but the best for my son and grandchildren. Miranda is first class all around. Our family was blessed beyond measure receiving her as a daughter-in law , and a stepmother for the girls! We have always cheered Leah on wanting her to do well for her girls. And for Jeremy shame on you!"
Leah and Jeremy have yet to speak out about Corey's rebuttal of their claims.
RELATED STORY: Corey Simms Speaks Out After Jeremy Calvert & Leah Messer Bash Him & His Wife Miranda During 'Teen Mom 2' Reunion
(Photos: MTV, Twitter, Instagram)