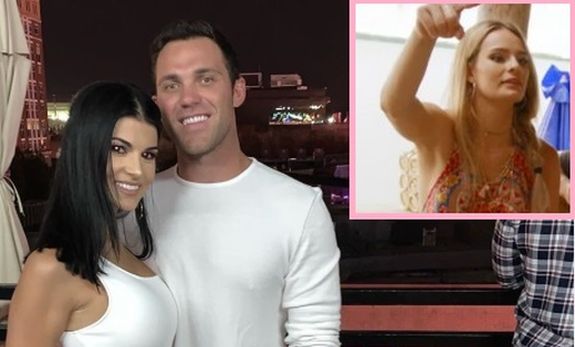 Social media shots have been fired in Siesta Key!
Alex Kompothecras' recent announcement that he and his new girlfriend Alyssa Salerno are expecting a baby together didn't quite go as planned.
Right after Alex announced on Instagram that Alyssa is pregnant with his baby girl, Alex's ex Juliette Porter made a social media announcement of her own. Juliette revealed that Alex cheated on Alyssa with her "several months ago," which, if true, means Alex cheated on Alyssa while she was pregnant with his child.
View this post on Instagram
On Sunday, The Morning Toast reposted Alex's Instagram announcement post. In the comment section of the repost, Juliette left a scandalous comment.
"Weird how he cheated on her with me several months ago but ok," Juliette wrote.

Alex has yet to comment on the allegations against him, but appears to be overjoyed to have a "little princess on the way," based on his IG post on Sunday. The post's comment section did not disappoint, and it appears that the show's fans are ready for some drama to ensue!
"He better name her baby Juliette," one comment read.
Another stated, "Oh my gosh! I bet Juliette is pissed!"
Videos posted to Alyssa's Instagram show her and Alex finding out they are expecting a girl. The gender reveal was done via a plane flying by releasing pink smoke.
Alyssa has yet to publicly address Juliette's comments.
Alex and Juliette have nasty dating history that has played out on the last two seasons of 'Siesta Key.' Aside from being a less-than-stellar boyfriend, Alex has hooked up with nearly every girl on the show including Juliette, Kelsey Owens, Maddison Hausburg and Amanda Miller. (Let's also not forget about the time he had two girls in his bed at once, but claimed not to have cheated on Juliette!)
View this post on Instagram
Back in February, Juliette opened up to 'Us Weekly' about splitting from Alex for good.
"We went back and forth a lot; I broke up with him in October for about a month. It was a toxic relationship. We tried again until about a month ago," she explained. "After that, I was like, 'We just have to rip the Band-Aid off.'"
More recently, Juliette accused her ex of dating Alyssa because he was jealous of her short-lived relationship with Bachelorette star Robby Hayes.
"The first time I saw them together I could just tell he was just like, 'Oh, and Alyssa does this and Alyssa does that.' I'm like, 'That's so awesome. Congratulations.' But it went downhill from there and yeah, they're still together and good for them," Juliette said.
'Siesta Key' Season 3 premieres Tuesday, January 7 on MTV.
(Photos: MTV; Instagram)