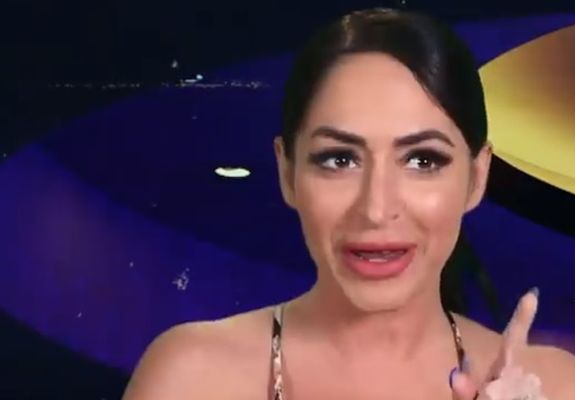 Angelina Pivarnick says her wedding may have been ruined by her female Jersey Shore co-stars, but she's not going to let them ruin her livelihood too.
The Jersey Shore Family Vacation star chatted with Page Six on Monday about whether or not she plans to stay on the MTV reality show, considering the mean-spirited speech that her co-stars Deena Cortese, Jenni Farley and Nicole Polizzi delivered at her wedding last month.
"I am [staying]," she said. "I'm not quitting the show."
As The Ashley previously reported, Angelina made her 'Shore' co-stars bridesmaids at her wedding to Chris Larangeira in November. The girls delivered a speech in which they called Angelina the "trash to their bag," "the fly to their s**t" and other mean-spirited things. (You can listen to the full audio here.)
Following the speech, Angelina reportedly left her reception in tears. She has not spoken to the girls since, and the tacky trio has received plenty of criticism online for what they did.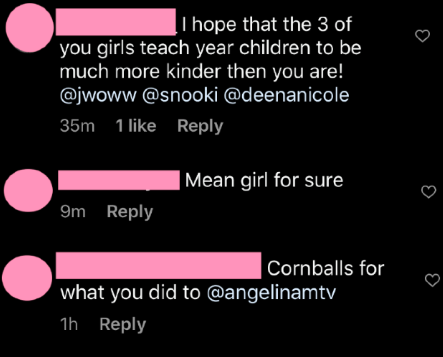 Anyway, Angelina told Page Six that she does not want to leave 'Jersey Shore' because she feels like the show's fans are finally starting to get to know the real Angelina.
"I don't know what the future holds for me with everything, but I like the way things are coming out — it's just that one thing," she said.
"[Chris] is like, 'I'm glad that people are seeing you for who you are,' because nobody really did years ago, because I was on [the original 'Jersey Shore' for] such a short amount of time, but now I love it. At least people think I'm funny now. I'm actually funny in real life. It's so much better."
Angelina added that the show's fans have rallied around her following the release of the leaked audio of the bridemaids' speeches.
"There's so much more support, and I thank everybody for that. I really do," she said.
While Angelina may be staying on 'Jersey Shore Family Vacation,' Nicole is not. Earlier this month she announced that she is retiring from the show. She stated that one of the reasons she's leaving is because she doesn't like to be away from her three kids during filming, but added that she feels the show has become too dramatic. She even likened the filming experience to "a nightmare."
RELATED STORY: Nicole "Snooki" Polizzi Says She Won't Do A 'Jersey Shore' Spin-off with Her Family; Reveals More Details About Her Decision to Leave 'Family Vacation'
(Photos: MTV; Instagram)