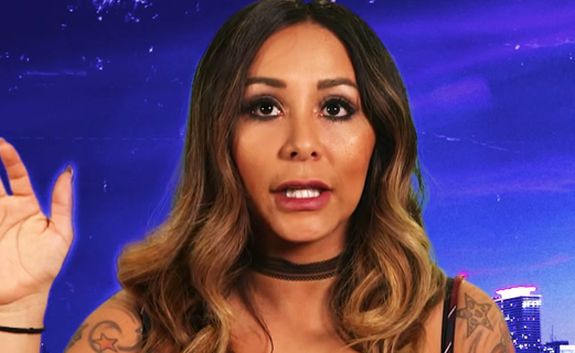 Nicole "Snooki" Polizzi is putting to rest the rumors saying she left Jersey Shore Family Vacation in order to secure a spin-off show for her family!
The Jersey Shore star, who announced last week that she was "retiring" from 'Family Vacation' and would not be part of the show's fourth season, made it clear when asked by TMZ on Thursday that she had no desire to put her kids on a show of their own.
"Nah, no," Nicole answered when a TMZ cameraman asked her if there's any chance for a Snooki Family spin-off.
"I don't want my kids to be degenerates like me!" she added.
Nicole, who shares sons Lorenzo and Angelo and daughter Giovanna with husband Jionni LaValle, stated in her 'Jersey Shore' sign-off announcement that having to leave her kids was one of the main reasons she was exiting the show.
"I don't like partying three days in a row, it's just not my life anymore and I wanna be home with the kids," she explained on her podcast on the day she made her announcement. "It's just really hard on me to leave the kids and film the show. That's one reason."
She also stated on her podcast that was unhappy while filming previous seasons of 'Family Vacation.'
"I think when I was, like, actually forcing myself to be in a situation that I wasn't happy in. Like, I was forcing myself to be 'happy,' and I'm like, 'That's not me.' I'm not genuinely happy," she said. "That's when I'm like, 'I'm out.'"
Aside from 'Jersey Shore,' Nicole (and Jionni) have appeared on the spin-off Snooki & Jwoww as well as Nicole & Jionni's Shore Flip.
RELATED STORY: Nicole "Snooki" Polizzi Announces She's Leaving 'Jersey Shore Family Vacation': "It's Turning Into a Nightmare"
(Photo: MTV, Instagram)